Google initiative aims to get girls involved in coding, computer science
Google is investing 0 million in a new initiative aimed at getting young girls interested in computer science in an effort to close the gender gap that still exists in the technology industry today.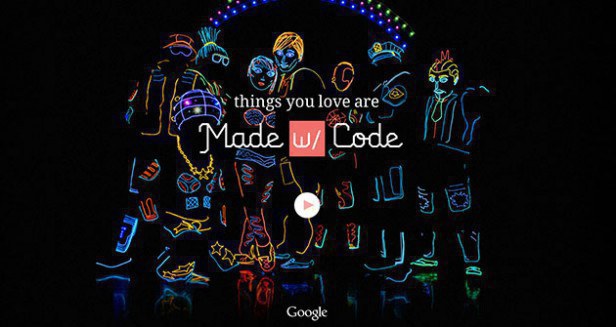 Google is investing $50 million in a new initiative aimed at getting young girls interested in computer science in an effort to close the gender gap that exists in the technology industry today.
Called Made With Code, the program shows girls how computer coding creates a number of the things used in everyday life, including mobile applications, web sites, television shows and movies, and how they can apply knowledge of coding to their own passions.
"Nowadays, coding isn't just a skill useful for working at a tech company; engineering isn't just for engineers," wrote YouTube CEO Susan Wojcicki on Google's blog. "No matter what a girl dreams of doing, learning how to code will help her get there. Their future — our future — is made with code. Let's do what we can to make sure that future is as bright as possible."
Google announced the initiative Thursday at its Made with Code conference featuring philanthropist Chelsea Clinton and actress and writer Mindy Kaling. The two will be joining Google on the project, along with organizations such as the MIT Media Lab, Girl Scouts of the USA, Girls Inc., Girls Who Code and the National Center for Women and Information Technology.
What's #madewithcode? The bracelets @mindykaling & I are wearing and so much more: http://t.co/XIhSNPe290 pic.twitter.com/R773rcVrHB
— Chelsea Clinton (@ChelseaClinton) June 19, 2014
According to Google, just 17 percent of its technology employees are women, a prominent trend throughout Silicon Valley. There will be 1.4 million computing jobs available in 2020, but only 400,000 computer-science graduates from U.S. universities to fill them. Part of the problem is that only 12% of computer-science degrees go to women, and in order for Silicon Valley to survive and thrive, it must be able to recruit more engineering talent from the rest of the population.
Google found that most girls decide before they even enter college whether they want to learn to code — so the tech world must win them over them at a young age. They also found that there were four major factors that determined whether girls opted into computer science: social encouragement, self-perception, academic exposure and career perception. So the company created the Made With Code website to target these influences.
The program includes:
Introductory Blockly-based coding projects, like designing a bracelet 3D-printed by Shapeways, learning to create animated GIFs and building beats for a music track.
Collaborations with organizations like Girl Scouts of the USA and Girls, Inc. to introduce Made with Code to girls in their networks, encouraging them to complete their first coding experience.
A commitment of $50 million to support programs that can help get more females into computer science, like rewarding teachers who support girls who take CS courses on Codecademy or Khan Academy.
The company also posted videos about women who are using code in their dream jobs and developed a few steps parents can take at home to get their daughters excited about computer science.
Google is also collaborating with DonorsChoose.org to reward teachers who support girls who take computer science courses on Codecademy or Khan Academy. The company is also working with the Science and Entertainment Exchange to get more depictions of female engineers on television and film.
"The numbers hurt: Women constitute more than half of the professional workforce, but only a quarter of workforce in tech," Lucy Sanders, CEO and co-founder of the National Center for Women and Information Technology, said. "It's a problem, bordering on a crisis. We won't solve it easily, or quickly. But Made with Code is a great step in the direction of reversing this trend, and getting more and more girls to use coding to accomplish amazing things by doing what they love.
To introduce girls to coding before they even attend programs or camps, Google created 13 different coding projects for girls on the site. One allows girls to code their own bracelet in five to 10 minutes; the bracelet is then 3-D printed and sent to them in the mail. The creators hope that the fun projects, designed for beginners, will connect to interests that girls already have.
"You can't be what you can't see," says Reshma Saujani, founder of Girls Who Code. "That's one of the things that the Google Study shows: people still don't really know what it means to be a computer scientist. They still think it's a white guy typing at a computer in a basement somewhere. And as much as we can show them a connection between computer science and the things that they're interested in — international development or graphic arts or dance or medicine — and show them how technology can help them in that search, that's powerful. That's how we can convert them."
Read more about the initiative here and view a video on it below.