Google puts $2 million behind prison-based coding academy
The funding will be used to expand The Last Mile's courses beyond California facilities and into the Midwest.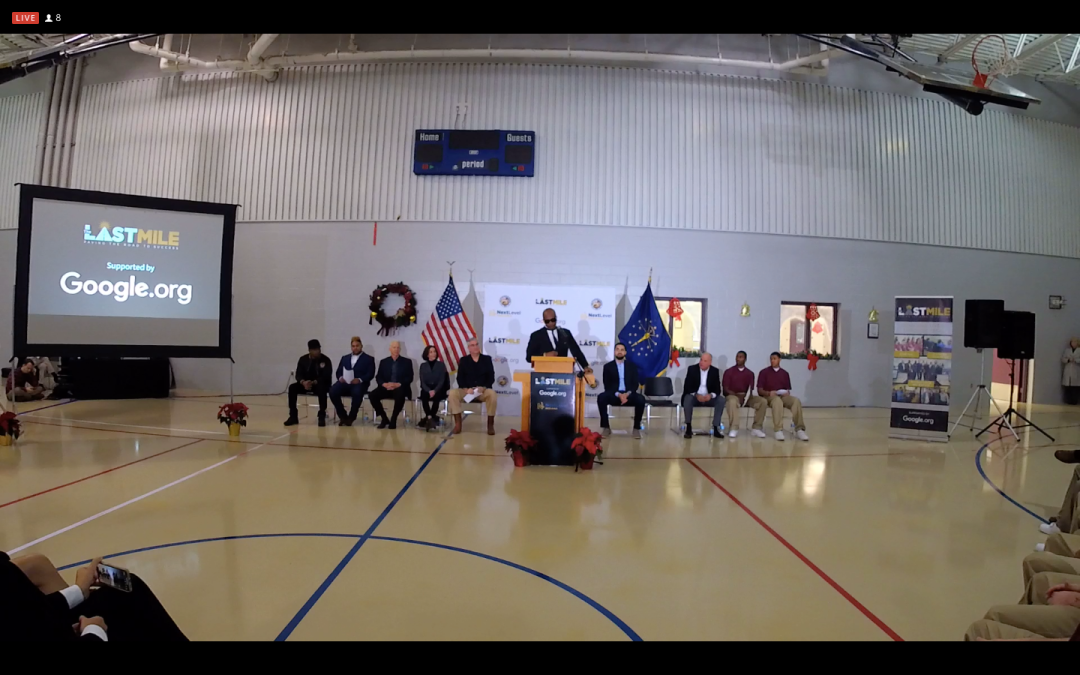 Politicians, celebrities, technologists and inmates gathered at a juvenile correctional facility in Indiana on Tuesday to announce the expansion of The Last Mile, a vocational rehabilitation program that trains prisoners in technology skills to improve their chances of employment upon release.
Google.org, the search giant's philanthropic arm, announced $2 million in funding to support the nonprofit's expansion in the Midwest, and continue a program started earlier this year at the Pendleton Juvenile Correction Facility, which is now preparing a second class of inmate students.
Founded in 2010 at San Quentin State Prison in California, The Last Mile now has 11 classrooms inside correctional facilities. Pendleton Juvenile, located northeast of Indianapolis, is the first program outside California. The expansion has gone smoothly so far, said Indiana Corrections Commissioner Rob Carter, who praised the state's chief information officer for helping to build out the technological capabilities needed to operate a coding curriculum inside of a facility that, by design, does not have internet access.
"In other states, it's twice as hard to get this stuff done, so we're very fortunate to have Dewand Neely," Carter said.
Frequently consulting the internet to answer questions and troubleshoot errors is an indispensable practice in computer programming, and to overcome its absence in prisons, program organizers set up a learning management platform on a "fake internet" that contains enough resources for students to complete their work. Beverly Parenti, a co-founder and executive director of The Last Mile, told an audience that included some juvenile inmates that 55 graduates of the program in California have been successfully reintegrated with their communities upon release.
"I hope you see this as a source of pride and you look at this opportunity for what it holds for your future," Parenti said to the Indiana youths.
Google.org, which has to date given about $32 million to nonprofits working in data science, data visualization, policing and criminal sentencing, will provide funding as well as employee brainpower to the program. Justin Steele, who leads the charity's programs in the Americas, said Google employees will help The Last Mile develop an online lecture series and expand the curriculum to keep it relevant for young people.
"Google's mission is to organize the world's information and make it universally accessible for everyone," Steele said. "And we recognize that certain people don't have full opportunity to access things like the internet and the power of technology. We want to level that playing field and make sure there's equal access."
Nineties rap icon MC Hammer, who was The Last Mile's first board member, also took the podium and talked about struggles he has witnessed his friends go through as they entered the prison system and searched for any purpose or meaning in life that might guide them out. Hammer said the program's popularity, and limited class sizes, has prompted some of his friends who are incarcerated to ask him to "pull some strings" to get them in.
"You can see not only the hope, but the progress the men have made, how inspired they were," Hammer said.
Another board member, Sirius XM Radio host Sway Calloway, told a similar story of a childhood friend who was incarcerated and eventually became a systems engineer.
"He wanted something better for himself," Calloway said. "All he needed was someone to stand by his side to do so."
Former San Quentin inmate Jason Jones told his story of being an eight-year-old child without a family who eventually found himself in prison at the age of 21. After a decade in prison and a transfer to San Quentin and another 10 months with what he described as a poor attitude, Jones said he eventually found "some really wonderful people" who cared about his future.
"They saw something in me that my eyes were blind to," Jones said. "I learned not only technology on a deep level but another world I never knew existed."
Today, he said, he is fluent in the Javascript, PHP and Ruby programming languages, and now works as a software engineer for a tech company in San Francisco.
Jones' experience is a success story that The Last Mile's founders say they hope to replicate across the country with the aim of reducing recidivism. A study by the U.S. Department of Justice held between 2005 and 2014 found that 68 percent of those released from prison were arrested again within three years.
Indiana Gov. Eric Holcomb called Jones' story "inspirational," and told his state's youth inmates that The Last Mile program represents "a future you get to chart, a course you can define that puts the American dream more than in reach."
"This program gets you to a new place in life," Holcomb said. "It doesn't just mean you can put yourself through college. It means you can put your kids through college. It's for you."