Georgia board endorses more electronic voting machines
The new machines would make paper receipts, but advocates of hand-marked ballots say they don't go far enough to secure the state's elections.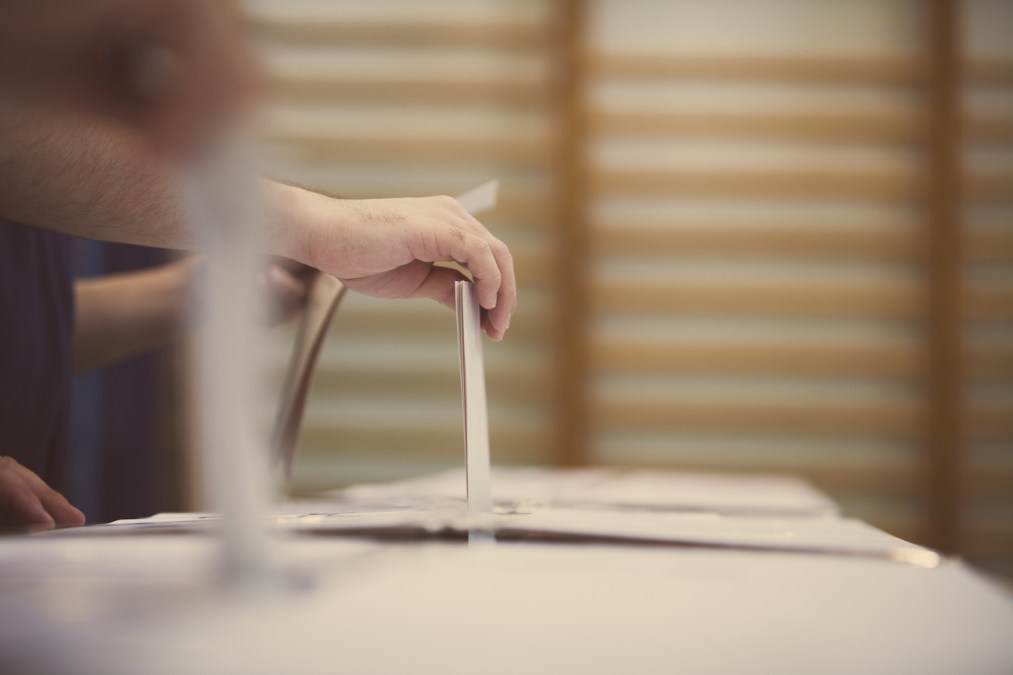 A 16-member panel in Georgia has recommended the state continue using electronic voting machines, overriding the objections of cybersecurity experts who have urged a move toward hand-marked paper ballots. But it also said that future elections in Georgia shouldn't be entirely digital, endorsing touchscreen devices that also produce printed ballots, an asset for post-election audits that the state's current inventory of voting machines does not produce.
The Secure, Accessible & Fair Elections — or SAFE — Commission voted 13-3 on Thursday to support a replacement of the state's 16-year-old voting machines that could cost the state more than $100 million, which the Georgia state legislature will consider when it begins its new session next week. Republican Gov.-elect Brian Kemp created the commission last April, while still serving as secretary of state. The three dissenting votes came from two Democratic lawmakers and Wenke Lee, a computer science professor at Georgia Tech and the body's lone cybersecurity expert.
"Some of the election officials say that paper ballots are not perfect because a voter can make mistakes," Lee said, according to the Atlanta Journal-Constitution. "But the point is that those mistakes are individual mistakes, not widespread, large-scale mistakes."
Fully electronic machines, he went on to say, can malfunction on levels that affect hundreds of votes, potentially swinging the outcome of an election.
A track record of requests for paper ballots
Georgia is one of five states that currently conducts all its elections using touchscreen devices — known as direct-recording electronic machines, or DREs — that do not produce paper backups of votes, making it difficult to audit the results. The current inventory of machines has made the state a frequent target of election reform advocates and cybersecurity professionals, who argue that paper ballots fed through optical scanners are the most reliable way to count votes.
A recent analysis of voting machines in South Carolina, another of the five paperless states, found examples of equipment double-counting votes and shifting some votes to the incorrect race during elections in 2018. While neither instance changed the result of an election, they both showed how vulnerable electronic voting equipment is to software glitches and human error, the study concluded.
The National Academies of Sciences, Engineering, and Medicine also published a report last year calling for DREs to be removed from circulation as quickly as possible in favor of hand-marked ballots.
'The only kind of record' not vulnerable to errors or hacking
Georgia officials, including Kemp, have been resistant to outside calls to replace the voting machines the state purchased in 2002. A federal judge also rejected a lawsuit last year that sought to force Georgia to use paper ballots during the 2018 election. Brad Raffensperger, a Republican elected last November to succeed Kemp as secretary of state, had previously endorsed purchasing DREs capable of printing receipts, and said during the SAFE commission hearing that he had consulted with county elections officials on the costs and ease of use of new equipment.
Supporters of hand-marked ballots pleaded with the commission in the days running up to the hearing that it should endorse paper-based voting.
"Hand-marked paper ballots offer better voter verification than can be achieved with a computerized interface," Marian Schneider, the president of election-reform group Verified Voting, wrote in a Jan. 4 letter to the SAFE commission. "A paper ballot that is indelibly marked by hand and physically secured from the moment of casting is the most reliable record of voter intent. A hand-marked paper ballot is the only kind of record not vulnerable to software errors, configuration errors, or hacking."
She also wrote that paper ballot systems are much less expensive; during the hearing, supporters told commissioners a paper-based voting system could cost Georgia as little as $30 million, compared to the nine-digit figure the state faces if it goes with a new generation of electronic devices.
All but decided
Still, an overwhelming majority of commissioners were unconvinced. While the SAFE commission's vote is not binding, it is expected to be followed by the majority-Republican state legislature.
Lee, the Georgia Tech professor, wrote in a LinkedIn post explaining his vote that the commission's recommendation still calls for more reliable equipment than what the state uses, even if he opposed it.
"A voting system must provide a voter-verifiable paper audit trail that clearly shows all votes cast by each voter," he wrote. "The best solution is to use paper ballots that are hand-marked (so that the voter casts and verifies their selection in a single act), optically scanned for tabulation, and dropped into a safe box for physical audit before certification of election results."
But he added that there are still concerns that the current generation of electronic ballot machines are still vulnerable to recording votes incorrectly, and that voters are not willing or able to accurately verify their selections or correct errors before printing out a receipt.
"In short, we cannot use [devices] with paper receipts because the printouts are not guaranteed to be valid and therefore are insufficient for a post-election audit," Lee wrote.