Election misinformation abounds, but states are pushing back
Spammy text messages, careless mailing campaigns and confusion surrounding vote-by-mail are just a few of the things secretaries of state are trying to educate the public about before Nov. 3.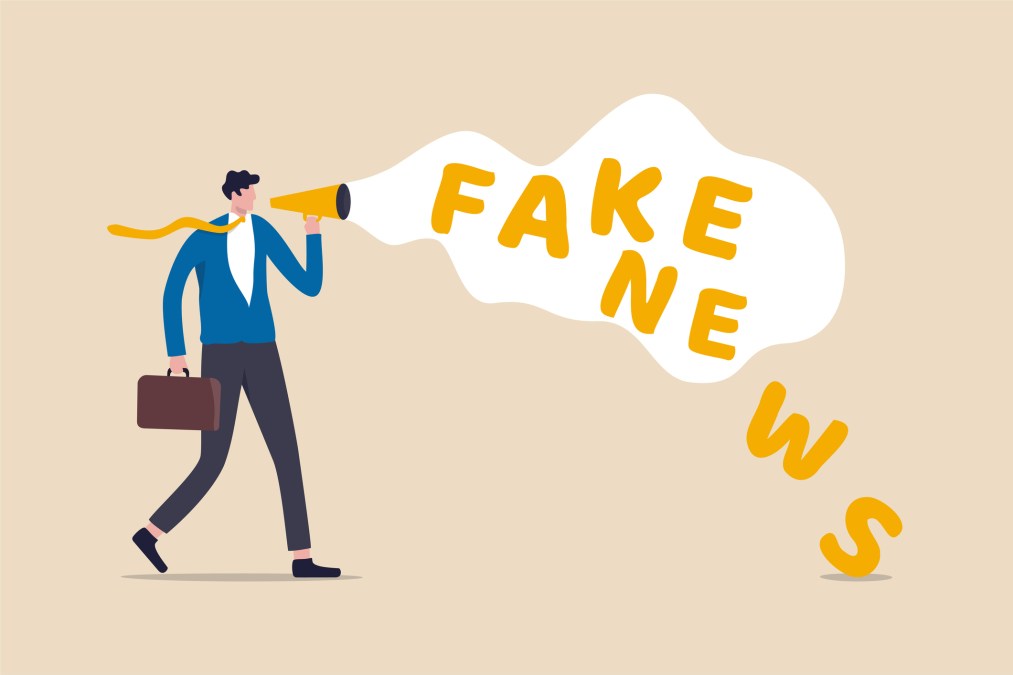 Kentucky Secretary of State Michael Adams has spent much of the past week pushing back against two waves of bad information about the upcoming election, one involving spammy text messages about voter registration that directed recipients to a phony website, and one very analog push involving mailers from a nonprofit organization.
The website that the text messages linked to disappeared not long after Adams and Kentucky Attorney General Daniel Cameron issued a public advisory, while Adams wound up in a public feud with the Center for Voter Information, which he accused of confusing Kentuckians by telling them to register to vote, even if recipients were already on the voter rolls.
But to Adams, a Republican elected in 2019, both the text messages and the unwanted mailers represented misinformation with the potential to derail the election he's trying to administer over the next several weeks.
"We're the ones who have the information," Adams said of himself and his fellow election administrators. "There's never been a harder time to combat disinformation."
Adams is one of dozens of secretaries of state around the country who are trying to oversee a contentious presidential election that's playing out against a backdrop of an ongoing pandemic, racial tensions and, in many states — Kentucky included — massive expansions of absentee and early voting. And though election officials have spent the past four years making investments in stronger cybersecurity policies and new voting equipment, the landscape over which misinformation and disinformation can spread has never been broader.
Other disinformation and misinformation efforts revealed in just the past few weeks include Facebook pages stoking the QAnon conspiracy theory operated by a Russian troll farm and a robocall, possibly placed by a pair of right-wing scam artists, that used racist tropes to discourage Black voters in Michigan and other states from casting ballots by mail.
While those incidents were malicious, as were the text messages that went around Kentucky, well-intentioned efforts can also be disruptive if they don't contain accurate information. The Center for Voter Information, which describes itself as nonpartisan, irked officials in Virginia last month when it sent more than 2 million absentee ballot applications, many of which included return envelopes addressed to incorrect election offices. The group also has a history of basing its mailings off of commercial address lists, rather than voter files.
But the impact is the same, Adams said.
"There are people who are well-meaning and people who have bad intent," he told StateScoop. "And [the impact of] neither is worse than the other."
Wildcards
As Nov. 3 draws nearer and the threat of disinformation and misinformation continues to grow, election officials are trying to ensure they don't lose control of the narrative to bad actors. The tabletop exercises that the Cybersecurity and Infrastructure Security Agency has conducted with state and local administrators have included units on disinformation campaigns, including both the national tabletop event CISA convened in July and state-focused exercises such as one held in Iowa last week.
The wave of disinformation could also accelerate in the final weeks before Election Day. On Wednesday, Jared Maples, director of the New Jersey Office of Homeland Security and Preparedness, issued an unclassified report warning of ongoing attempts by foreign actors and domestic extremists to fan civil unrest and spread confusion about COVID-19 and the presidential election.
"Efforts to delegitimize the elections and spread dissent among the electorate can include inventing and circulating conspiracy theories about voter fraud, post office failures, ballot errors, miscounting, and criticism or support of frivolous lawsuits challenging the election," it reads.
The report, which was assembled earlier this summer, also lays out multiple "wildcard" scenarios that disinformation actors could exploit, including a sudden Supreme Court vacancy, upon which the outcome of the election could hinge if the results are litigated. (President Donald Trump has said he wants the Senate to confirm his nominee to succeed Associate Justice Ruth Bader Ginsburg, who died Sept. 18.)
"Nation-state threat actors" could, the New Jersey report states, "employ disinformation campaigns targeting the judicial system to alienate voters and cause the electorate to distrust the election system, judges, and government institutions."
'Give people facts'
"Meanwhile, disinformation and misinformation specifically about mail-in voting continues to run at high levels, and Adams acknowledged the difficulty he and his counterparts have had in giving people assurances about voting processes that many may be using for the first time in 2020.
"Right now states have made it easier to vote than ever before," he said. "But it's hard to assemble people. We've been cutting budgets due to the pandemic, and there's never been a greater need to make information available to voters."
Adams recalled that before Kentucky's June 23 primary, held during the initial wave of coronavirus infections that greatly reduced the number of polling locations, he was pilloried by members of his own party for working with Democratic Gov. Andy Beshear to expand the use of mail-in absentee voting, which was already being attacked by Trump as inherently fraudulent, despite a paucity of evidence supporting the president's claims. But Adams said GOP voters wound up largely embracing absentee voting in the primary after explaining the ballots' security features, including inner and outer envelopes, round-the-clock monitoring of drop boxes and signature-matching procedures.
"Ultimately 60% of Republicans voted absentee," he said. "If you give people facts, you explain anti-fraud protocols, they'll understand."
Delivering information to the public about voting procedures is one of the most crucial components of any state's election security, Derek Tisler, a fellow at New York University's Brennan Center for Justice, told StateScoop.
"We're certainly encouraging people to consider their communications plans," said Tisler, the co-author of a new report on the security improvements of 12 battleground states. "How can they get the right information out to voters as possible? We know there will be bad actors trying to discourage people from voting, casting doubt on the election."
Trustworthy sources
Maples, the New Jersey homeland security chief, released his report a day after the FBI and CISA issued a warning that foreign adversaries and cybercriminals may try to sow uncertainty about the results of the election by spreading disinformation about the counting of absentee ballots, which may lead to the presidential race and other contests not being called on the night of Nov. 3.
"The increased use of mail-in ballots due to COVID-19 protocols could leave officials with incomplete results on election night," the advisory read. "Foreign actors and cybercriminals could exploit the time required to certify and announce elections' results by disseminating disinformation that includes reports of voter suppression, cyberattacks targeting election infrastructure, voter or ballot fraud, and other problems intended to convince the public of the elections' illegitimacy."
The advisory went on to tell people to "seek out information from trustworthy sources, such as state and local election officials."
Adams was confident that Kentucky voters won't have to wait very long for unofficial results. With a 6 p.m. closing time, the commonwealth is one of the first states to close polls, and Adams said he is working with county clerks to increase the capacity for counting absentee ballots. It doesn't hurt either that Kentucky is highly unlikely to be competitive in the presidential race, and that a high-profile U.S. Senate race is also unlikely to be close, Adams said.
"Historically, we're one of the first states to put points on the board," he said.
Still, Adams admitted his ability to push back against disinformation depends on the facts he has at hand, and that those efforts also depend on voters and local officials reporting suspicious and untrustworthy content. He said he still doesn't know how many people received the phony voter-registration text messages he called out last week.
"We're really just relying on the information we receive," he said.