Amid Hawaii's volcanic eruption, drones and maps revealed hidden fissure
A volunteer team in Hawaii last month is thought to be the first to use drones to collect critical images and data from above a volcano during emergency response efforts.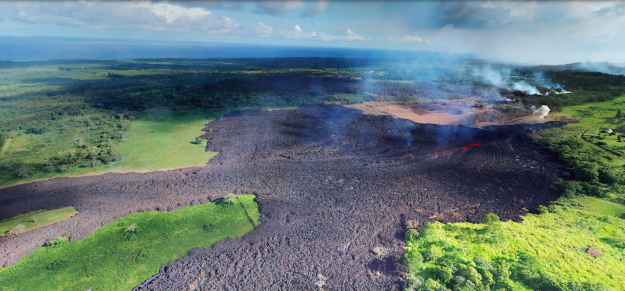 Lava moves slowly, but relentlessly. And pinpointing where it will flow is tricky. That's why about a week after the May 3 eruption of Hawaii's Kilauea volcano, a team from the Center for Robot-Assisted Search and Rescue, or CRASAR, a nonprofit volunteer group that surveys disaster sites with unmanned vehicles, shipped to the Big Island and started flying its aerial drones over the widening lava flows.
CRASAR, which was spun out of Texas A&M University about a decade ago, has sent unmanned ground and aerial vehicles into disaster zones around the world since first forming after the September 11 terrorist attacks. Since then, it's also surveyed hurricanes, wildfires, mudslides, mine collapses and the 2011 nuclear meltdown in Fukushima, Japan. Kilauea was the group's first volcano, and the first known instance, the group says, of small unmanned aircraft being used in an emergency response to a volcanic eruption anywhere in the world.
But the footage CRASAR collected in the 44 flights it made over the volcano have proved essential to Hawaii's response, especially the images it collected during one of its 16 nighttime operations, when manned aircraft were not allowed over the affected area. On one of those operations, the camera identified a new fissure that teams on the ground had not been able to spot. That fissure — now referred to by local authorities as Fissure 8 — has become one of the most active of the entire eruption, pumping lava through the community of Leilani Estates and toward the Pacific Ocean, where it has completely filled Kapoho Bay, a popular swimming and diving destination for tourists.
But raw footage doesn't do much to tell a worried public how it should respond to an unfolding emergency. So CRASAR partnered with the geospatial imaging company Esri to overlay its volcano images onto a satellite map that could then be used by Hawaii's civil defense agency in figuring out who needed to be evacuated next. So far, the volcano has destroyed between 600 and 700 buildings, including the home of Big Island Mayor Harry Kim, while another 2,000 people have been evacuated from their homes.
To track the lava's speed and start building the map, CRASAR's team positioned its drones over leading edge over a lava flow, pointed the camera straight down, and hovered over that position tracking its latitude or longitude, said Dave Merrick, the group's executive secretary. It repeated those steps about 20 to 30 minutes later to determine how fast the flow was moving. The drones were flown as low as 100 meters above the surface, which can reach temperatures of up to 1,400 degrees and ejects hazardous fumes.
For Esri, opening its mapping software to the CRASAR team was a continuation of a partnership formed last year when Hurricane Harvey bore down on Texas. The company supplies governments with maps designed to be updated in as close to real time as possible, which becomes more urgent during an emergency.
"Our side is really to help [CRASAR] process those images so those first responders can access that information and make better decisions," said Ryan Lanclos, the head of Esri's public safety team.
CRASAR uploaded its 360-degree footage to Esri's cloud, where it was then integrated with map layers showing roads and structures, creating an updated look at the volcano zone that could then be used by Hawaii Civil Defense. A research group from the University of Hawaii at Hilo also contributed footage. From there, officials could show a map of lava flows and evacuation routes to a population hungry for information about where the volcano might next hit.
"Time is of the essence, especially when the evacuations start coming in," Lanclos said. "And everyone's going to hit the site."
Lanclos pointed to maps the company created last year after Hurricane Irma in Florida and Hurricane Maria in Puerto Rico, which he said had "an astronomical number of hits."
While the CRASAR volunteers are well-practiced after nearly two decades of surveying all kinds of disaster sites, Kilauea still astounded them.
"We'd done almost every kind of world event except a volcano," said CRASAR's president, Justin Adams. "Just the breadth of seeing nature as I've never seen it before. It doesn't care what's in front of it, it just takes it away."