Alaska networks were probed by Chinese university after governor's trade mission, cybersecurity researchers say
An IP address associated with a top Beijing University that's been linked to previous geopolitical hacking efforts scanned Alaska's state government and telecom firms, though no breaches were detected.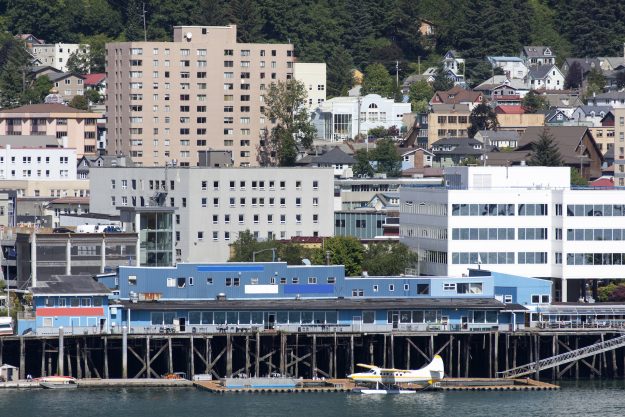 State agencies and private companies across Alaska experienced greatly increased amounts of online reconnaissance sourced to a Chinese university this spring, around the time an Alaskan trade delegation visited China, according to research published this week by the cybersecurity firm Recorded Future .
The reconnaissance activity was linked back to Beijing's Tsinghua University, which has previously been associated with global hacking campaigns designed to advance the Chinese government's economic agenda, CyberScoop's Patrick Howell O'Neill reports .
Between April 6 and June 24, an IP address associated with Tsinghua connected more than 1 million times to Alaska's government agencies, including the state's Department of Natural Resources. Several telecommunications companies, including Alaska Communications, Alaska Power & Telephone Company and TelAlaska were also probed. The scanning was "likely conducted to ascertain vulnerabilities and gain illegitimate access," Recorded Future Found.
The bulk of the scanning occurred not long after Gov. Bill Walker led a trade mission seeking greater Chinese investment in Alaska, particularly in a $43 billion natural-gas pipeline project for which the state is courting Sinopec, China's state-owned oil company. The Alaska representatives were in China from May 19 to 26, during which time Walker met with President Xi Jingping and toured government and corporate locations around the country. Around that same time, trade tensions between the United States and China ratcheted up as President Donald Trump levied a series tariffs on a host of Chinese goods.
Activity on Alaskan networks traced to the Tsinghua IP address picked up dramatically on May 28, a few days after Walker and company returned home, Recorded Future found. But there's no evidence any systems were actually breached, a spokesman for the governor told the Anchorage Daily News on Thursday.
"There is no way to tell if the activity is related to the recent trade mission to China, and a review by the Office of Information Technology has found no evidence that state networks were hacked in this instance," the spokesman, Austin Baird, told the paper.
Tsinghua University is considered one of the best technical colleges in the world. Along with its ties to hacking efforts on behalf of Chinese economic policy, it's also been linked to a cyberespionage campaign against Tibet, which the Chinese government considers part of its territory.
Read the full story on CyberScoop .