Alaska enacts law aimed at improving 911 call location accuracy in large facilities
Legislation signed by Gov. Bill Walker could require multi-line phone operators to upgrade their emergency location-tracking capabilities starting next year.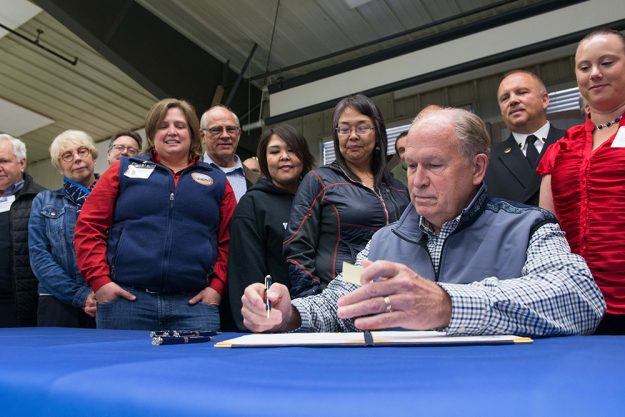 Alaska Gov. Bill Walker signed a bill into law this week designed to provide 911 call centers with enhanced location accuracy for callers using multi-line phone systems in large buildings.
At a public signing on Thursday, Walker touted the legislation, Senate Bill 215 , as an important step toward improving response time for the state's emergency services.
"With enhanced 911, if you call for help, someone is on the way to find you. Period," Walker said in a press release.
The new law gives municipalities the option to require multi-line telephone system operators either to upgrade their existing phone systems or install new ones that can handle the enhanced location tracking capabilities. Multi-line phone systems are often used in hotels, office buildings, schools and other large structures.
New or upgraded phone systems "must arrange to update the automatic location identification database with an appropriate master street address guide, valid address and callback number for each multi-line telephone system telephone, so that the location information specifies emergency response location of the caller," the legislation reads.
The new law goes into effect January 1.
Brian Fontes, CEO of the National Emergency Number Association, said Alaska's law comports with a common requirement seen in other states. There's been growing interest in recent years, he said, to improve location accuracy of multi-line phone systems after several years ago emergency responders were not able to find a man calling for help from a large campus in the Maryland area. He was later found dead.
In February, President Donald Trump signed Kari's Law, a law requiring that businesses enable their phones direct access to 911 service. The law is named after Kari Hunt Dunn, who was fatally stabbed by her husband in a hotel room in 2013, as her 9-year-old daughter attempted to dial 911, but was unable to reach an emergency operator because she didn't understand she was required first to dial "9" to reach a number outside the hotel's internal phone system.
"It isn't a direct comparison, but it is an indicator of the need to locate somebody when they dial 911," Fontes said of Kari's Law. "In some situations, only the address of the main office of the building will show up if you're dialing 911 from a multi-line telephone system."
There's an expectation when a caller dials 911 that emergency responders will be able to locate that person, but if that person is calling from a multi-line phone system, that isn't necessarily the case in many places today, Fontes said.