Advice for 'smart cities' includes social equity, grid modernization and garbage
Former Energy Secretary Ernest Moniz said any smart city plan needs to start with a modern electrical grid. Then the apps and gadgets can follow.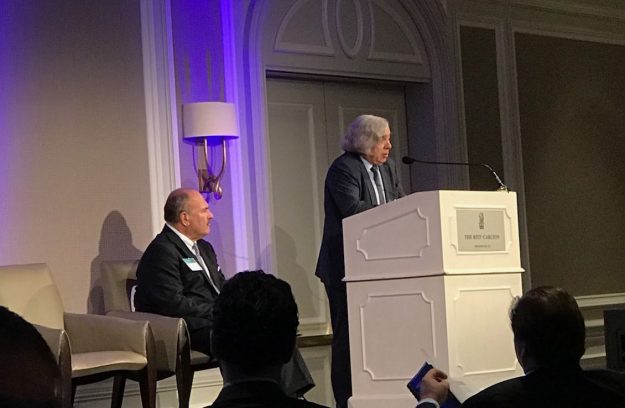 Any local government that wants to become a "smart city" needs to ignore the buzzwords and identify the projects that actually improve its constituents' lives. That was the advice Michael Allegretti, a senior vice president of waste-management company Rubicon, had for attendees of a smart cities conference Thursday hosted in Washington D.C. by the law firm Dentons.
The event featured panels addressing high-tech solutions to environmental issues, telecommunications, transportation and security, as well as a keynote address from former Energy Secretary Ernest Moniz, who warned a roomful of attorneys and consultants that "smart cities" need to develop a playbook that doesn't leave large numbers of people behind.
"A lot of it is BS and we have to cut through to the stuff that actually saves money and makes people's lives better," Allegretti said.
Allegretti's firm provides data analytics to municipal waste haulers to help them remove trash more efficiently. Since 2016, the company has outfitted garbage trucks in its home city of Atlanta with devices measuring how many miles the vehicles traveled, how many stops they made and how much waste they carried.
"It's good to pick up the garbage more efficiently," he said. "What cites need to do to be a 'smart city' is to save money and be more interconnected."
Rubicon placed its equipment in 80 Atlanta garbage trucks serving about 96,000 households, Allegretti said. After six months, he said, the company was able to make recommendations on garbage routes that saved Atlanta city government about $700,000 annually.
"Some of this stuff is really basic," he said. "Cutting down on miles traveled had a direct impact on money spent on road maintenance and an impact on carbon emissions."
Everyone wants to be smart
Energy efficiency was mentioned often during the event as an area where smart city initiatives become more realistic.
"The alternative to not being a smart city is obvious," said Jason Hartke, the president of the nonprofit Alliance to Save Energy. "Nobody wants to be the dumb city."
Hartke pointed to a program in San Francisco in which data has been compiled to the point that maps can identify specific buildings' size, energy use and dependency on city services.
"You could identify a building down to the square meter in your databases," he said. "Housing, energy, any social service — there are ramifications for how we develop buildings in the future."
But Hartke's enthusiasm carried a reminder that the term "smart city" doesn't really have a firm definition. To explain, he cited smart-city evangelists' favorite upgrade: streetlights .
"Back in 2006, every city was plagiarizing each other putting in LEDs," he said. "Now it's not even an energy saving play. Now it's about putting in Wi-Fi, sensors. There's really no limit for what a smart-city designation looks like."
Not an option
In his keynote speech, Moniz said cities — smart or otherwise — will need to focus on energy and environmental issues if they want to modernize and serve residents equitably.
"We have the Paris accord targets, typically in the 30 percent reduction range [of carbon emissions] by 2030," Moniz said, referring to the 2015 international climate agreement he negotiated and from which the United States withdrew last year. "But keep in mind that can only be the first step toward a deeper de-carbonization. We must have dramatic improvements in energy efficiency, and we must have an electricity system that leads the way."
To that end, Moniz said, any government with aspirations of being "smart" first needs to modernize its electrical grid, instead of simply buying gadgets and apps. With that approach, a city can dive into efficient waste management, water-quality monitoring and deploying internet-connected devices to collect all sorts of data. Skipping over those steps risks making cities more unequal, he said.
"The backbone starts with an integrated cutting-edge electricity system and telecommunication systems, linked with data and real-time modeling," Moniz said. "In my view, the apps will follow. Things like smart thermostats will look primitive once that infrastructure is laid down."
But Moniz also warned it's easy for people to get left behind.
"Let's face it: in our cities we have challenges in income disparities and in age and diversity issues," he said. "'Smart city' is not an option — it's going to happen. The question is if we [start right now] managing the processes for the technology and for the social equity."