StateScoop's Top Women in Technology 2017
StateScoop's Top Women in Technology 2017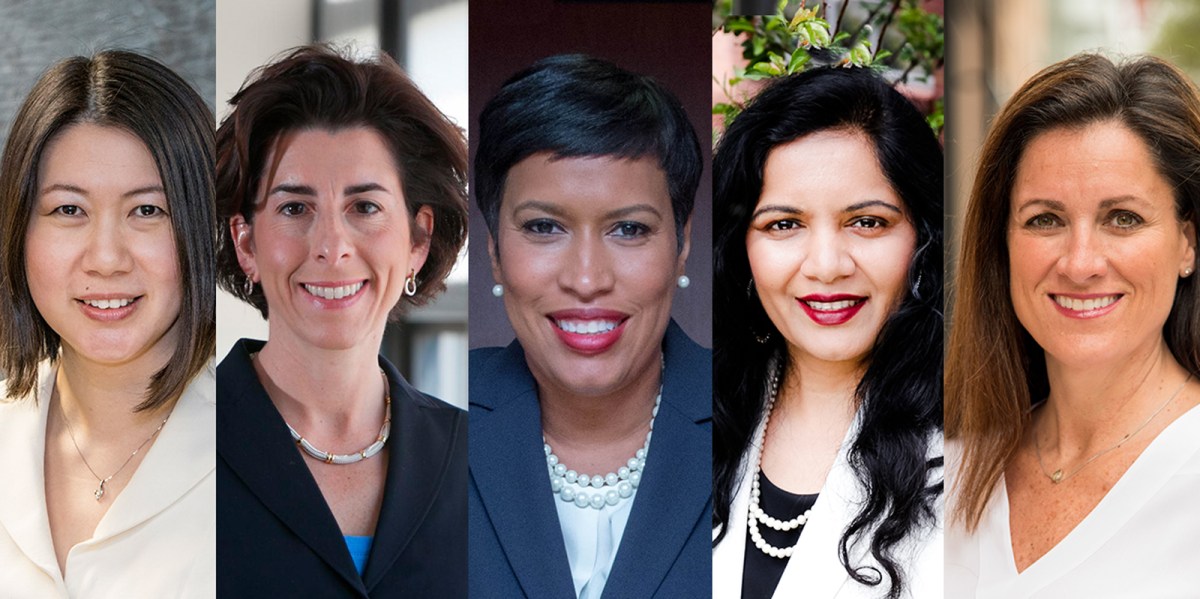 ---
Yessica Jones
Interim Chief Technology Officer
State of Arkansas
Yessica Jones' typical day starts before she actually makes it to work.
As the interim chief technology officer for the state of Arkansas, Jones begins her day with a commute in which she goes through all the things she needs to get done that day and prioritizes them. Once she arrives, she hits the ground running and kicks off a series of meetings that will take her through the day.
"Most of my days go by in meetings," Jones told StateScoop. "From introductory meetings with vendors, setting strategy with my staff, status updates, upcoming projects, senior staff meetings and of course meetings with customers."
For Jones, customers are essentially important. Since taking on the interim CTO role, she's put a premium on meeting with every member of Gov. Asa Hutchinson's cabinet to establish a relationship, figure out their business needs and determine how the work underway in the Department of Information Systems can plug into work underway in the agencies.
What's the biggest thing you and your team have achieved over the last year?
The biggest thing we have achieved over the last year is our cybersecurity risk assessment. The assessment helped identify security issues and close cybersecurity gaps that could put sensitive state government and citizen information at risk of a data breach. Also, we have almost completed the agency's strategic plan, which will be wrapping up this month. At our agency, we believe that growing IT demand and rapid technology evolution must be balanced with good stewardship of state resources. This requires developing a focus and set of priorities that will maximize their impact on behalf of the citizens of the state of Arkansas whose tax dollars fund the work. Also, our K-12 broadband project is going very well. Our network and security teams had a great year, and so far we have upgraded 214 out of 276 sites.
What piece or pieces of advice do you have for aspiring female leaders on making a difference in their organizations and the greater tech community?
One piece of advice I would give to aspiring women leaders on making a difference in their organizations is to stay true to themselves. All leaders have received some kind of guidance or advice from others and we need to do the same thing for others. Find a mentor, learn from others, see things from different perspectives. Set your pace and don't forget to have a good work/life balance. It is important to take care of ourselves and our families, unplug so that every day you can start fresh and recharged. Build strong partnerships and surround yourself with people that lift you up. Be a great listener, a true listener. Build trust and maintain it.
Keep up with the industry, read or follow key industry leaders on social media. As a technology leader you need to embrace change. Inject innovation principles in your team, be curious, read on what others are doing, borrow ideas, challenge tradition and find new ways to solve problems.
How are you working to empower other women to follow in your footsteps?
I think the first step is to lead by example. I like women to know that anybody can have success in the way they define it. I like talking to younger women about their career and their aspirations. I like to encourage them to take risks early in their careers and to strive to be at the top. It is natural for some women to take a step back in their career when they consider having children so it is best to have gotten as far as possible in their career so that they can be in a better position to be able to negotiate work terms while being a mom.
---
Agnes Kirk
Chief Information Security Officer
State of Washington
For Agnes Kirk, Washington state's chief information security officer, leading cybersecurity for the state is more than just overseeing security.
Kirk is responsible for setting the strategic direction for the state's IT security efforts. In that realm, Kirk sets policy for statewide security and standards. She also advises the governor, legislators and cabinet members on all things cybersecurity. Unlike a lot of state CISOs, Kirk told StateScoop she also holds many briefings with the legislature.
"Right now, we're in legislative session, so I spend a lot of time committees will ask me to testify or come in and educate them,"Kirk said. "Some of the committees have come to my office. We have a security operations center, so they can see what we do. It's so hard when we talk about security it's all kind of nebulous, and so they get to see all the tools and see the kinds of things that we see and how we process."
In addition to internal-facing security advisement and policy, Kirk also works closely with external organizations like the Multi-State InformationSharing and Analysis Center. She also sits on the advisory council for cybersecurity for the Department of Homeland Security. Also through DHS, Kirk participates in a working group to set a national cyber information sharing policy with federal agencies, the FBI, the CIA and others.
What's the biggest thing you and your team have achieved over the last year?

I'd say one of the biggest is that last year we held the governor's first cybersecurity and privacy summit. The role of that summit was to bring together policy leaders state, private and federal to talk about and really raise awareness on policy issues. Cybersecurity is now a policy issue because there are so many states trying to make laws about it, and the feds are into it, but the policy and the laws that are currently there have not kept up with the technology, so we really needed to start.
It's finally dawned on me and my state CIO that really the role of state government is continuity of commerce. Cybersecurity is now a key player in continuity of commerce and continuity of government operations. Because we're so interconnected, everything is tied to everything and every computer is connected. It's no longer something that we can ignore. If the people that I rely on to deliver the services that the government has to offer are attacked and they go down, I can't deliver those services, just as if my government operations doesn't stay up, it doesn't really matter that we have the infrastructure to deliver those services. If I am down because of a cyber attack, we don't have any continuity of commerce or continuity of government operations, so we depend on each other and in doing that, our policies and our laws need to catch up or at least be educated that this is a team problem.
We can't be in silos any longer, so that was kind of the beginning of that, and it was a great two days. It was invitation-only from the governor's office and we've continued to educate in that area. I've done a lot of briefings for our legislators, but I've done quite a bit of speaking nationally and at the Department of Homeland Security.That was my theme in talking about that continuity of commerce, continuity of government operations in a public private partnership and really states need to shift their thinking. So for me, that's a huge accomplishment, if we can change the conversation and talk about the realities of that partnership and that government is not a standalone operation and nor is commerce.
What piece or pieces of advice do you have for aspiring female leaders on making a difference in their organizations and the greater tech community?
One of the biggest ones is to build relationships, especially in security trust. Trusted relationships need to be built before you need that relationship in either an incident or helping solve problems, so I would say you need to learn how to build trusted relationships you need to learn how to partner with people. None of us can afford to do everything we need to do on our own, so it's going to take leveraging those relationships and the skills and the resources that other people have to help us. I spend a lot of time building great relationships across the country, both with my peers in other states but also in the private sector. I would also say one of the things that's really important is you need to be right and do it well. People need to know that they can count on what you say, they can count on your integrity and that goes a long ways in moving the needle, not only for your career, but for your organization as well. And to remember to help others around you succeed. One of the things I would emphasize especially for people wanting to make strides in this area, is that security needs to be an enabler. So you need to change the conversation from a technical one to a business conversation, because our job is to make our organization successful. Help them accomplish their mission, help them reduce risk, help them protect their reputation and help reduce cost.
How are you working to empower other women to follow in your footsteps?
Nationally, the Multi-State ISAC has a mentoring program, so I have been a part of that. That is super helpful, and I think the thing about mentoring is that you learn as much as you teach. And sharing, you can learn from each other, so it's not a one-way street. It's all about building those relationships. I think one of the things I spend time doing is teaching security professionals how to talk about security to executives and legislators. It's a very difficult topic to make easy to understand and to be compelling in a way they get it, so that's why it's important to have the business conversation. I spend a lot of time helping people how to talk to the executives and legislators. Messaging is everything, but here we participate in some local organizations where you can share information and be part of that team, but I have people that are private sector that come up from Portland just to have lunch and talk about the challenges, talk about brainstorms, problem-solving, those kinds of things. I have monthly calls with two or three women that are CISOs across the country. We talk every month share information, share how we're educating. In my office, we allow people, state agencies, to have their security professionals come in and spend three months with us learning things that they might be interested in everything from developing policy to being part of a security operations center to doing security assessments. Anything we can do to help educate and empower them to take what they've learned and share it and build those relationships is a win-win for everybody.
---
Tara Kyvik
Chief Planning Officer
State of Florida
Chief planning officer is not a very popular title across the state and local government information technology sphere, but that doesn't mean the work that Tara Kyvik is bringing to Florida's Agency for State Technology isn't moving the needle forward for the state.
In her role, Kyvik oversees a team of senior staff who lead IT strategic planning, IT project assurance and strategic statewide technology procurements.
"Ihave the best team members,"Kyvik said. "They're clever, thoughtful about their work, funny and they keep me honest."
Kyvik and her team's work on strategic planning feeds directly into AST's roadmap for IT in the state. In addition, her procurement team is working with the state's purchasing divisions to explore new ways for vendors to interact with the state.On the project management side, Kyvik's team oversees and provides monthly oversight on IT projects greater than $10 million.
What's the biggest thing you and your team have achieved over the last year?
Trust. I'm so proud of the relationships we have established with agencies. We had a tough hill to climb given Florida's past attempts at a central IT agency. We have demonstrated competence and lived up to commitments to deliver value. I want all of our stakeholders to consider us trusted partners. We still have opportunities to improve, but I'm delighted that we've come this far so quickly.
What piece or pieces of advice do you have for aspiring female leaders on making a difference in their organizations and the greater tech community?
Integrity matters a lot. However, don't be naive or too hard on yourself. Sometimes it's hard (nearly impossible) to say and/or do the right thing. But, there will be times when your courage to do the right thing will inspire your team/peers/boss to do the same.
Be yourself. You can't lead effectively if you're distracted by maintaining a facade. Good people will trust and support you if you're genuine.
Communicate, communicate, communicate. Proactively manage expectations: your boss', your team's, your customers', your peers', your suppliers'.
Surround yourself with people who know more than you and take great care of them. Trust and empower your teams to do the jobs they were hired to do remove obstacles and give them support.
How are you working to empower other women to follow in your footsteps?
I've been blessed to have mentors who nurtured my potential by challenging me to push my limits. I strive to do the same for other women who are interested in a career in the IT field. I enjoy mentoring and sponsoring hard-working women (and men) who are interested in IT careers.
---
Debra Lam
Managing Director, Smart Cities and Inclusive Innovation
Georgia Institute of Technology
Debra Lam has only been on the job as theGeorgia Institute of Technology's managing director for smart cities and inclusive innovation for a few months, so she doesn't quite know what the daily routine looks like, but what she does know is that the job won't get done without partnership.
Working alongside the vision of University President G.P. "Bud"Peterson, Lam's role has her looking nationally and internationally in addition to the university's home city of Atlanta to determine opportunities to create a framework for smart cities strategies and to provide thought leadership in that space.
"I'm still learning a lot, and I think that's what's great about any job is that there's that learning that's always present,"Lam said. "Ultimately, when you think about smart cities, it goes beyond certain smart technologies and I think that's something that is resonating."
Before coming to Georgia Tech, Lam was the chief innovation officer in Pittsburgh, Pennsylvania.
What's the biggest thing you and your team have achieved over the last year?
I think what I'm really proud about with Pittsburgh is innovation didn't start or end with me, but what we really worked hard in was institutionalizing innovation and performance. That's what really proved itself when I left, the team just stepped up and I continue to keep in touch with my managers and my team and they've continued to embrace the mission and the vision of innovation and performance, which is through the intersection of technology, sustainability and performance to make Pittsburgh a world-class city. And I think that is the legacy. It's not any one program, any one initiative, it's really building that team so they can carry on and they've become true leaders in themselves.
What piece or pieces of advice do you have for aspiring female leaders on making a difference in their organizations and the greater tech community?
Don't be afraid to fail. There's always going to be failure that's connected to this space and trying new things. There's no set path or clear guidelines and many known and unknown challenges that come with this. Failing is inevitable. Embrace the bruises and scars because that becomes part of the your story.
How are you working to empower other women to follow in your footsteps?
Building a network of allies is really important. This includes reaching out to mentors, but also to peers and those who are more junior. This network should not only serve as your cheerleader, but also challenge you and speak honestly when there is disagreement. Just as you build your own network, also actively support other's networks. It is this system that will help you develop both professionally, and personally.
---
Rosa Lara
Deputy Chief Information Officer
State of Pennsylvania
As the Keystone State's deputy CIO, Rosa Lara works alongside the state's chief information officer to provide oversight and direction to the 47 agencies under the state's executive branch.
Lara oversees budgeting and human resources, and also project manages a few state enterprise-wide initiatives like eGrants and the Commonwealth Identity Portal.
"I work on a varied set of activities on any given day, and the best part is that my day rarely goes as planned,"Lara said. "I may have a general framework for the day, but that is typically interrupted by some issues that need immediate attention."
What's the biggest thing you and your team have achieved over the last year?
We have accomplished a lot of big things in the past year, but the one that stands out most to me is the implementation of an enterprise-wide solution for grants management. This is a project that was attempted numerous times in the past, but for various reasons could never get off the ground. We had multiple agencies supporting their own grants management systems, while agencies that couldn't afford to buy or build a solution continued to do everything on paper. Today, Im happy to say that we have an enterprise solution that fully automates the end-to-end process and can be leveraged by any agency that distributes grants to recipients.
What piece or pieces of advice do you have for aspiring female leaders on making a difference in their organizations and the greater tech community?
I would give three pieces of advice. First, don't take yourself out of the game before it has even started. As women, we are often our own worst enemies because we want to be perfect or know absolutely everything about a topic.Second is to not make your gender a factor. The majority of the time, I am the only female in the room and I have never let it stop me from saying what I was thinking. Third, remember that being a woman in a male-dominated field is an asset. You bring a different set of skills to the mix that are very much needed. Don't shy away from it embrace what you have to offer and makes your perspective unique.
How are you working to empower other women to follow in your footsteps?
Recruitment and retention of talent is something we are focused on in Pennsylvania, not just for IT but across all of our jobs. We have a significant number of employees who are eligible to retire. At the same time, we are below average in the number of millennials in our workforce. We are also committed to diversity. I have participated on numerous panels to discuss opportunities for women professionals in the IT field. Last fall, we held a Women in Technology event that attracted over 200 attendees from area colleges. It was a great opportunity for students to meet and network with women IT professionals across different industries. The panelists shared tips for young female professionals considering a degree in tech from the skill sets needed to navigating an environment that is largely male-dominated. We plan to continue offering events to high school and college students so they understand that many degrees can lead to careers in technology.
---
Lauren Lockwood
Chief Digital Officer
Boston, Massachusetts
When Boston's chief digital officer, Lauren Lockwood, thinks about the work she has yet to do, it comes down to continuing to build out her "insanely talented"team.
Indeed, Boston has been incredibly active in the smart cities and citizen engagement space. Over the last few months, they've solicited content for a smart cities request for information and officially rolled out a website they built in the open on alpha.boston.gov.
In addition to staffing up,Lockwood is still working to prioritize projects and build meaningful and valuable digital service interactions with residents.
"There are so many [projects] we'd like to work on that we unfortunately can't tackle all at once,"Lockwood told StateScoop. "[We're] working closely with other departments who know the most about their users and the complexities of their work to build simple, human and useful digital experiences."
What's the biggest thing you and your team have achieved over the last year?
We're using digital tools to make it easier for people to engage with government (e.g. mobile responsive design, jargon-free content). Importantly, we're using that touch point with users to change their impression of government. Feedback we often get is that users are "surprised" when they have a great experience with our website, usually doing something painful like paying a parking ticket. We're doing our job right when those interactions that should suck end up being surprisingly easy.
What piece or pieces of advice do you have for aspiring female leaders on making a difference in their organizations and the greater tech community?
Make sure you work with and for people you respect. Be the type of leader others can respect.
How are you working to empower other women to follow in your footsteps?
With anything, it helps to see someone doing the type of work and managing the work/life responsibilities you'd like to someday manage yourself. I've had terrific mentors (men and women) in my career who have coached me, let me bounce ideas off them, and led by example. I try to lead by example and make myself available always to others looking for guidance or a thought partner on anything from a project to their career.
---
Rosetta Lue
Senior Advisor
U.S. Department of Veterans Affairs
It's been a busy couple of years for Rosetta Carrington Lue.
The former director of Philadelphia's 311 contact center became a presidential executive fellow in the federal government after more than seven years in the city of brotherly love and now is bringing her work to transforming the Veterans Affairs department's contact centers, which handle more than 140 million calls every year.
"There's so much to do because we have a new VA secretary who is very focused on achieving the mission of the organization to ensure that the veterans who have served their country are able to get access to service when they want it, based on the channel they want to communicate with us,"Lue told StateScoop. "We have to begin to really turn the organization into the21st century where you have a lot of folks that are on chat, texting, web and mobile."
That entire contact modernization process has its roots in what Lue did in Philadelphia, and there's still work on the horizon to make it even better, she said.
What's the biggest thing you and your team have achieved over the last year?
I got recruiting in on one of their major initiatives, which was to launch a single access platform for veterans to remember one number to call for services and inquiries throughout VA, because currently, what we have right now is over 1,000 different numbers that are floating out there for veterans who need help to try and figure out this complex system and it's very hard for them to get accurate information at the right organization when they need it. So instead of trying to remember 'which of these thousands of numbers should I call?' the former secretary at the time and the myVA transformation group that came in in the last couple of years, this was one of their big initiatives that they brought me on board to launch, which was the myVA 311 single-access platform.
What the platform does right now in its first phase is really the single number for veterans to call if they have a crisis or they need help.There are homeless services and a plethora of services that are on there. That type of project typically in federal government would take about two and a half, three years to complete. We were able to do it in nine months. That was with quality and with oversight from the secretary. And that's because with the experience I brought to the table, along with a lot of great VA employees we were able to really stay focused on the mission and we overcame a lot of typical bureaucratic 'why we can't do' certain things, and with that drive was able to deliver that platform on Veterans' Day 2016.
What piece or pieces of advice do you have for aspiring female leaders on making a difference in their organizations and the greater tech community?
One of the things I would say, we have to recognize that it is a challenge when it comes to women leaders, especially in government. You don't often see these folks that are at the top, when it comes to governing, even in the IT space, and the federal government spends about 80 billion when it comes to the IT services and platforms. But for women, you don't see a lot of women leading those organizations.We can't give up hope, because just like the last couple of years, VA had a CIO, LaVerne Council, who headed that organization and who has begun to really turn and transform the organization around. There are a number of other women leaders who are out there as well that they know it's a challenge, but they're very open to helping other women within the ranks.
If you're a female in this organization, don't put any limitations on yourself. Try and partner, find a mentor within the organization or outside the organization. Because, like everyone else regardless of gender there's only so many spaces at the top, and you need to continue to improve your skills, you need to continue to be successful, you need to be able to continue lead others, not just tell others what to do, but actually lead them along the way. And you will be recognized. But getting a mentor and getting an executive sponsor is one of the keys to success and just being persistent and not giving up.
Because it is hard. It is very hard. You're going to be criticized, you're going to be second-guessed. You're going to have credit taken away from you sometimes. That comes with the territory, so you're not the only one. What separates you from the crowd is the fact that you don't give up, you stay focused, and you continue to deliver. At the end of the day, it's all about delivering.
How are you working to empower other women to follow in your footsteps?
I think it's critical that we recognize we didn't get to where we are by ourselves. I have a great personality, I can talk to anyone, but somebody extended a hand out to me, and I'll never forget that person. Her name was Valarie Alvarez and I was actually a customer service agent when I was working at USAA. For some reason, she approached me and started talking to me. I didn't even know she recognized me or knew who I was. And it wasn't like I was trying to go out and be a mover and a shaker. I was really a customer service agent, just doing my job. She being a supervisor, not even at the top of the food chain, came up to me and she said, 'You know what, I think there's this thing called contact center management and I think you would be really great for that.' And if it wasn't for her doing that, I would not be in the position that I'm here in today.
And again, that person made a difference in my life.So I tend to do that, and I remember what she did for me. What she saw and what she nurtured in me was there, but it was just the fact that somebody acknowledged it and they were very supportive of me. That's all I needed to begin the process of moving forward.
I do that not just for females in my group, but others in the organization who may not get that recognition. There's something about them that if you just stop and say 'hi' or ask them, 'Where do you want to be? What can I do to help you?' It's amazing how you just put a smile on their face and they begin to think outside of their box. We put ourselves in boxes all the time and other people put us in boxes of 'this is all you're going to be able to do.' But if you extend yourself out to folks and they are willing to listen to you and they're motivated, sometimes it will just be amazing in terms of the difference you can make in someone's life.
People are always looking at you. If you're a leader on the front line or management or executive management, people look at you. They look at your reaction, they look at the way you handle things. Carry yourself as if you are where you are supposed to be at the top.
---
Kim Majerus
General Manager, State and Local Government
Amazon Web Services
Kim Majerus has been at the helm of Amazon Web Services' state and local government business for just three months, but she already sees an "exciting opportunity" for the company in the space.
"Cities around the world are beginning to see the power of data as they work to innovate on behalf of their citizens,"Majerus told StateScoop. "Great data-driven initiatives often require agile, scalable and affordable IT infrastructure and that's where cloud computing is, and will continue to make a big impact."
She came to AWS after more than a decade at Cisco and in her first months on the job she's spent her time talking to customers, learning about their challenges and figuring out how cloud can fit in.
What's the biggest thing you and your team have achieved over the last year?
Im so proud of the work the teams done around the AWS City on a Cloud Innovation Challenge, which is now in its 4th round, and recognizes local and regional governments around the world as hubs of innovation based on their use of cloud technology. This program really highlights our customers, allows them to share best practices with their peers and encourages others to implement similar solutions locally. AWS has received applications from more than 30 countries and has recognized winners from around the globe. In 2016, we had 15 winners, including the City of Los Angeles, the New York Public Library, Peterborough City Council, the City of Denver, and Utility Inc, which makes body-worn cameras.
What piece or pieces of advice do you have for aspiring female leaders on making a difference in their organizations and the greater tech community?
At AWS we have a leadership principle called learn and be curious, and I think that is one of the best pieces of advice I could give to any aspiring leader. If you continue to learn throughout your career and stay curious about new opportunities and new connections, you'll be set up for success wherever your career leads. It's been true in my career I learn something new from my team and my customers every day!
How are you working to empower other women to follow in your footsteps?
As a mom of two little girls, my mission in life is to make it easier for girls and ladies to find success in our technology world.Someone once told me to "be bold, be brave you've earned a seat at the table. When I started in technology at a very young age, there were few woman to interact with and/or aspire to be. Now that Im in a leadership position, I make sure I help others grow in their careers by offering myself as a coach, mentor, and connector. If I can impact the success, speed and support or any bumps along the way, Im committed to offer myself!
---
Kay Meyer
Principal Industry Consultant
SAS
Kay Meyer never could quite get out of the state government sphere.
From working in several different agencies in North Carolina state government, to eventually overseeing the statewide data integration efforts in the state's then-IT office, she moved into the private sector in 2014 where she consults on data analytics, governance and management forSAS on industry trends related to state and local government.
"I have the amazing opportunity to collaborate with government customers as they seek solutions to address some of the most compelling issues faced in serving our citizens,"Meyer said. "My work offers the chance to share experiences and best practices and help organizations realize the value and impact of using data to drive action."
Meyer spends her days listening and understanding the challenges that customers face when trying to make well-informed decisions. After listening sessions, Meyer partners with customers to identify the ways that data and analysis can help gain insights and positively impact their work.
What's the biggest thing you and your team have achieved over the last year?
I am so fortunate to work in the company of incredibly talented people individuals with highly technical data science and analytic expertise as well as those with great depth and knowledge of government domain areas. In the last year, our team has helped government understand and take action on a number of "top of mind" issues. Whether it is providing insights into the exploding opioid and heroin addiction epidemic, protecting the tax payers dollars from fraud, waste and abuse, or better understanding the risk and needs of vulnerable children and youth, our team is committed to finding innovative ways to meet each customers unique business needs.
What piece or pieces of advice do you have for aspiring female leaders on making a difference in their organizations and the greater tech community?
Opportunity comes in a lot of different forms in order to make a real difference in the work we do, we have to be willing to step into new challenges that stretch our experience, our knowledge and our comfort level. And those paths are not always easy. A remarkable leader in my organization speaks to the importance of finding the "no" quickly.Not so you can give up so you can analyze the problem from a different perspective, evaluate different approaches and find alternative and maybe unexpected ways to continue to move forward toward the goal.
Remember to engage, value and acknowledge the talented people around you these are the people who help you achieve success and make a difference.
Always keep learning.
How are you working to empower other women to follow in your footsteps?
Throughout my career, I have had the privilege of learning from wonderful leaders and mentors who have impacted my outlook and approach to my work. We all can share our experiences and knowledge to empower women in our field. I have enjoyed the opportunity to speak and share experience in various conferences, seminars, and networking groups as well as to engage in the exchange of ideas and experience through individual mentoring relationships. I am also excited to see continuing engagement with young women in STEM opportunities through school and community programs.
---
Suma Nallapati
Chief Information Officer
State of Colorado
For Suma Nallapati, the chief information officer for Colorado, the daily work as the state's IT lead is about more than the here and now it's about "future proofing" the state's operations and workforce for what's next.
"That means collaborating and updating the Office of the Governor and the Cabinet on the vision and needs to serve Coloradans through technology," Nallapati told StateScoop. "[It also means] getting the red tape out of the way so that my team can perform."
That collaboration has paid dividends as Nallapati's office has worked with Gov.John Hickenlooper to pioneer a cybersecurity information sharing center in Colorado Springs and that's only the beginning.
What's the biggest thing you and your team have achieved over the last year?

We hired the states first digital transformation officer. We had a good year for metrics there was a drop in incidents due to a robust incident management program; we increased our service excellence rating by 20 percent(exceeding our goal of 15 percent); increased employment engagement by 8 percent); and reduced our overall information security risk score by 38 percent.
During the last year we worked hard on maintaining the right balance between the equally important maintenance activities that are often referred to keeping the lights on while implementing newer, more cost-effective and sustainable software, hardware, systems, applications, and services.
We implemented several projects that strengthened the internal infrastructure that will serve the state well for years to come.We continued to collaborate with our customers the states executive branch agencies on many exciting initiatives that will help make it easier for Colorados residents and businesses to interact with their government. This includes multi-year projects such as the overhaul of the drivers license and registration system and developing an integrated offender management system. One of the fun things we got to do was work with the Department of Transportation to design, implement, test and launch the interconnected network on the states first inter-regional express bus service. Each "bustang"includes free Wi-Fi, USB outlets and 100-volt outlets, among other amenities. OIT will continue to work with CDOT to add systems that turn the busses into roving weather and road condition reporting mechanisms. We are also continuing to research and investigate developing a statewide portal that will make it significantly easier for Coloradans to interact without having to search the many different websites to find just the right agency.
What piece or pieces of advice do you have for aspiring female leaders on making a difference in their organizations and the greater tech community?
Be true to yourself and take responsibility for your own career path.Challenge preconceived notions, your own fear, and any cultural challenges. For example, in my culture, women are taught to not speak until she is asked. In this culture, that is seen as a weakness and I have had to work to overcome that part of my upbringing and speak up.
How are you working to empower other women to follow in your footsteps?

My focus is on encouraging girls and young women to pursue careers in STEM. There is a critical need for more people to enter the IT workforce and we cannot meet the coming demands without women's participation. I thrive on visiting high schools and participating on panels where I can share my enthusiasm and encourage girls to take the hard courses. It is exciting and fulfilling to help them see that they can do this!