Senators ask DOJ to enforce accessibility rules for state and local websites
Ten senators, led by Tammy Duckworth, D-Ill., want updated standards for website accessibility under the Americans with Disabilities Act.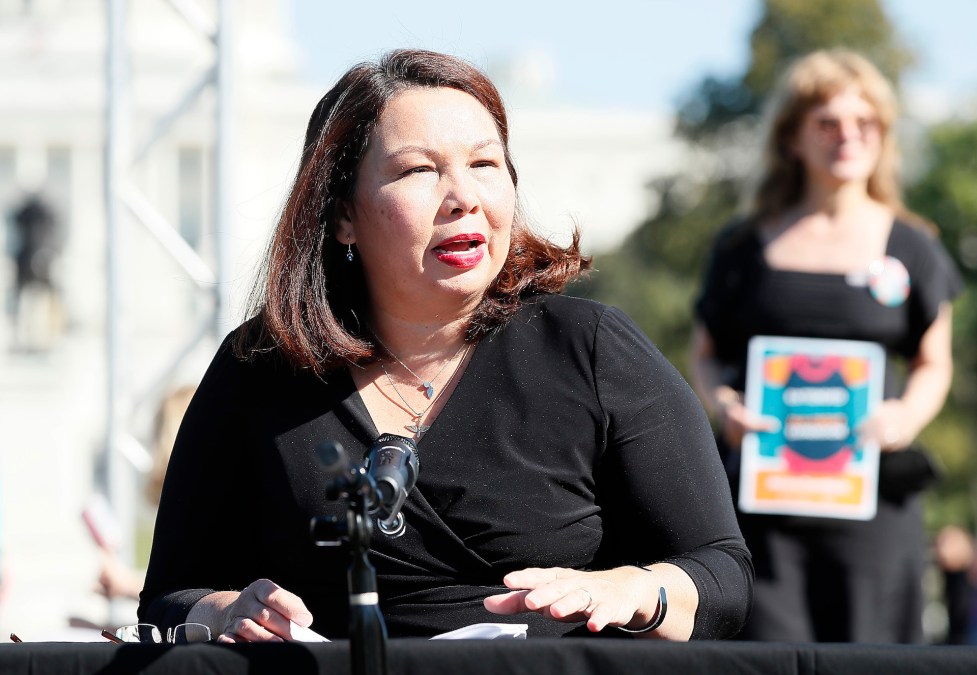 A group of 10 Democratic senators last week asked the Justice Department to ensure that websites and other digital services offered by state and local governments are complying with the Americans with Disabilities Act.
The letter, sent Friday, comes a few months after the Civil Rights Division updated its web accessibility guidance for state and local governments for the first time since 2003, when most state and local governments were still new to the internet.
But the senators, led by Tammy Duckworth of Illinois, wrote that the department needs to follow that refreshed guidance with enforceable standards to reduce the risk of government leaving people with disabilities behind as digital services become the norm.
"Although the Department has clearly stated that the ADA applies to such digital spaces, the lack of specific requirements or technical compliance standards incorporated in regulation has led to a widespread lack of meaningful digital accessibility for people with disabilities," the letter read. "It is past time for the Department to issue robust clarifications and remedy this exclusionary status quo."
The ADA was signed in 1990, and the law's sections pertaining to state and local government and businesses were soon seen as extending to the internet. But until this year, the Justice Department's recommendations to state and local entities came from an era when the novel digital interactions with government included "renewing library books or driver's licenses," "providing tax information and accepting tax returns" and "applying for jobs or benefits." That document, dated June 2003, recommended then-new technologies like screen readers for people with limited vision and verbal-command software for people who could not operate a mouse or keyboard.
Nearly two decades on, the guidance the Justice Department published in March acknowledged that "a multitude of services have moved online and people rely on websites like never before for all aspects of daily living," noting now-standard experiences like telehealth services and up-to-the-minute transit times. It also listed accessibility features that've emerged in recent years, like plain language, more captions on photos and videos and stronger color contrasts. It also included links to accessibility guides from digital-first agencies like 18F.
Improving compliance, though, has also been a drawn-out process. According to the senators' letter, the Justice Department in 2010 issued a notice of proposed rule-making regarding its website accessibility guidelines, but that effort was rescinded in 2017.
Even with the federal lag in firming up standards for website and other digital services, some states have moved on their own in recent years. Minnesota adopted accessibility standards in 2009, which proved critical during the COVID-19 pandemic when the state government needed to quickly implement digital services responding to the health crisis, and nudge virtual meeting software — like Zoom — to add features, like automatic captioning, that helped workers with disabilities stay connected.
Also last year, Colorado adopted a law requiring all state agencies and local governments to meet strengthened accessibility requirements by July 2024. Statewide agencies are also required to submit their compliance plans by this July 1.
Section 508 of the 1973 Rehabilitation Act requires information and communications technology operated by the federal government to be accessible to people with disabilities. And many — but far from all — states have equivalent standards of their own.
In their letter, Duckworth and her colleagues argue the rate at which tech changes makes revising regulatory standards all the more urgent: "Regulatory action by DOJ in this area is critical: there is a virtual flood of new and emerging technologies entering the marketplace and being incorporated into our daily lives," it reads. "If these technologies are inaccessible, they will leave behind many people with disabilities."