Pandemic has heightened IT's accessibility issues
Jay Wyant, Minnesota's chief information accessibility officer, said in a NASCIO publication that ensuring access for workers and users with disabilities is everyone's job.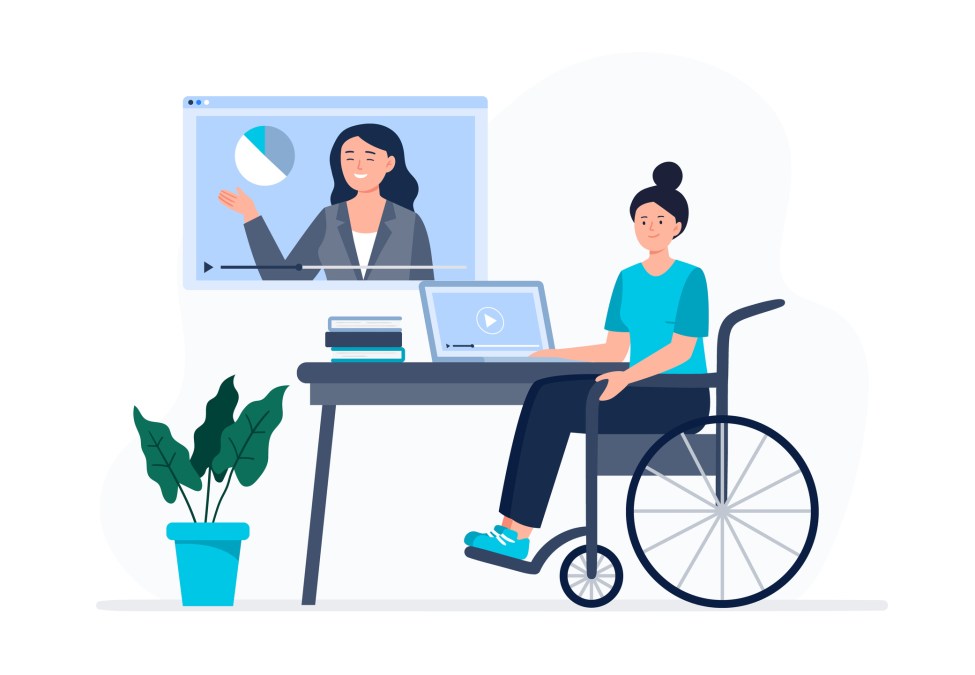 The past two years have exposed technology accessibility problems across all sectors, but especially for state governments that've had to make sure that employees with disabilities can stay connected to their agencies during long periods of remote work and that vulnerable constituents can receive vital services, according to a new publication from the National Association of State Chief Information Officers.
In a printed interview with Meredith Ward, NASCIO's policy and research director, Jay Wyant, the accessibility officer for Minnesota IT Services, said that the virtual meeting tools that became ubiquitous during the pandemic initially made it difficult for state workers with physical disabilities to interact with their teams and that the vendors behind these pieces of software were slow to catch up.
"Online meeting software vendors ramped up their accessibility support, but for many employees, it was still months before they were able to effectively attend a meeting," Wyant said. "Eighteen months later, employees still face certain challenges."
'No time to test'
But the shift hasn't been all bad, he said. Virtual conferencing apps have made it easier for employees with limited mobility to join meetings, and many apps have improved accessibility features, like live-captioning. (Zoom, for instance, recently made auto-generated captions a standard feature for its free accounts.)
Still, 20 months into the pandemic, and with many government agencies sticking with liberal telework policies, there's more that can be done: Captioning services can be improved further, and few online meeting tools effectively integrate sign-language interpreters into their video feeds, Wyant said.
But Wyant also told Ward that the breakneck pace of pandemic responses gave IT officials little time to test the software they had to scale up.
"Processes that normally took months or even years now had to be done in weeks," he said. "Accessibility remained a requirement, but there was little to no time to test or confirm."
One contributing factor, Wyant continued, is that many tech vendors don't give accurate information when they fill out Voluntary Product Accessibility Templates, an industry-standard form meant to describe how products meet the needs of users with disabilities. Those inaccuracies could arise because the person filling out the form isn't knowledgable in a state's accessibility requirements, and faulty forms leave procurement officials with an incomplete picture, he said.
"The pandemic demonstrated the need for stronger enforcement for state contracts," he said. "If a vendor claims that their products are digitally accessible, but it's shown to be otherwise, there needs to be a way for the state and the vendor to come to a clear resolution — quickly."
'Everyone needs to be involved'
On the public-facing side, Wyant said states also need to take more steps to ensure their websites — especially those offering services related to the pandemic — are accessible to all users. A federal law known as Section 508 requires federal-government sites to meet certain accessibility requirements, though many states have laws or standards of their own, including Minnesota, which adopted its digital accessibility standards in 2009.
Wyant said his state's vaccine website was rated as the second-most accessible — behind only the federal government's — by Johns Hopkins University.
More states have moved toward ensuring their websites are usable for all. In July, Colorado adopted a law mandating that all state and local agencies have until 2024 to make it possible for users with disabilities to "perceive, understand, navigate, and interact with the web," including interoperability with tools such as screen magnifiers and voice-to-text software.
Wyant said the journey toward digital accessibility shouldn't be fobbed off on the local IT department.
"Make accessibility a policy for all government agencies," he said. "We've had people say, 'accessibility is an IT problem,' therefore it's up to IT professionals to deal with it. On the contrary, everyone needs to be involved and held accountable – agencies who want the software/service need to require it be accessible, staff who create digital content need to make it accessible, and IT professionals need the skills and knowledge to support all this."