'Road Vision' traffic metrics app wins D.C. app challenge
The app, which uses mobile-phone and surveillance-camera footage to analyze traffic, won $25,000 and a beta-testing opportunity with the D.C. government.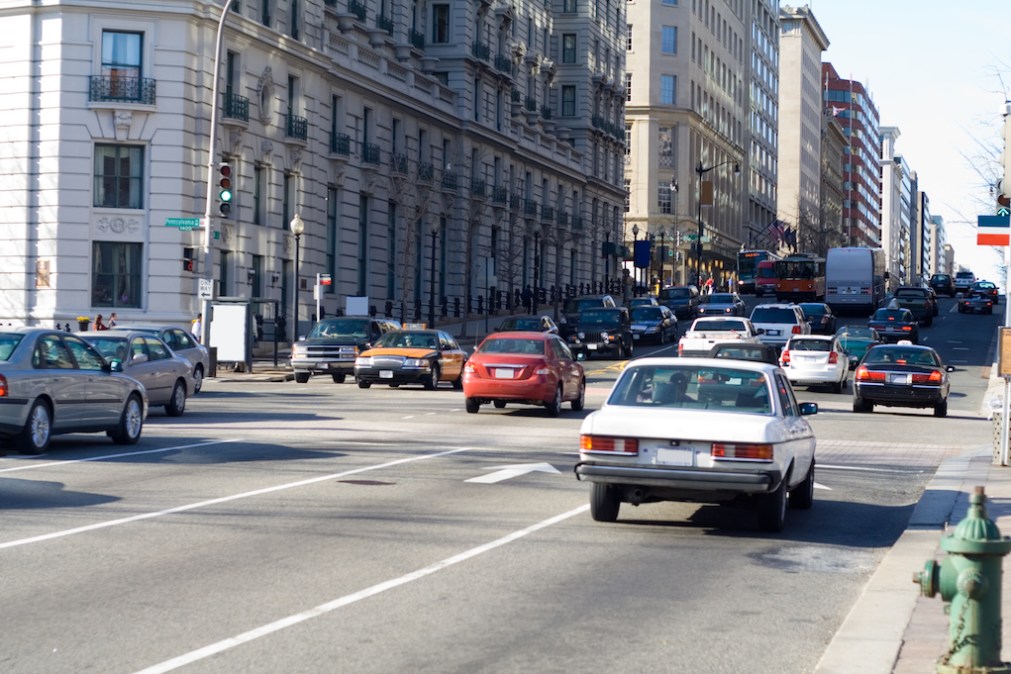 A transportation research team on Tuesday won a $25,000 prize and a beta-testing license with the Washington, D.C. government for its mobile app that uses artificial intelligence and machine learning to translate video data from closed-circuit cameras and individual cell phones into traffic-safety data.
The team, led by Samer H. Hamdar, a engineering professor at George Washington University, won the GigabitxDC competition, a city-sponsored competition for apps that target civic problems for their "Road Vision" app. In total, D.C. Mayor Muriel Bowser awarded $34,000 in prize money, which was furnished by the smart-city nonprofit U.S. Ignite.
In the prototype that Hamdar and his three student researchers submitted to the contest's judges, both property owners whose buildings are equipped with surveillance cameras and individual users would "subscribe" to the app to upload archived or live video of nearby traffic. Using artificial intelligence, the app identifies the quantity, proximity, speed and motion of the vehicles in the videos, Hamdar explained to StateScoop.
The video feeds themselves aren't stored, which Hamdar said mitigates the risks of identifying license plates or faces. All that matters, he said, is the metrics. Other characteristics of the roadways, like the density and flow of traffic, are measured as well.
"Flow, density and speed are good in terms of mobility metrics, but they don't actually look at proximity," Hamdar said. "When you talk about safety, its all about safety. That's why you need to track the trajectory [of vehicles], which is intensive for AI — and that's where the research and innovation aspect comes in."
Hamdar said the app would distinguish itself from popular traffic apps like Waze and Google Maps by focusing on the traffic information and becoming a local asset to commuters, rather than a global one. For example, Hamdar said, users could view the traffic patterns of specific intersections or roadways at certain times of day, under certain weather conditions or within the context of certain circumstances, like a sporting event or — in D.C.'s case — a presidential motorcade. He also suggested transportation officials could use the app to help inform traffic-management decisions.
"As you are contributing to this community, at the same time you are utilizing it, knowing where the hotspots are in terms of congestion, where the hotspots are in terms of safety," Hamdar said.
Ultimately, Hamdar said, the goal is to advance the AI capabilities to be multimodal and able to understand the proximity of scooters, bicyclists and pedestrians. Hamdar said some of his $25,000 prize will be used to develop the AI's programming, with the rest being used to pay stipends to his student researchers. He said he hopes to have Road Vision operational in parts of D.C. by the end of 2019.
"Data collection is often time consuming and expensive, but it's critical in meeting Mayor Bowser's goals for Vision Zero," said District Department of Transportation Director Jeff Marootian, referring to a Bowser policy aimed at eliminating traffic-related fatalities. "Count technologies like Road Vision that include pedestrians, cyclists, scooters and vehicles offer a unique chance to address these issues by allowing the public to contribute to data collection and sharing the results publicly."
Following Road Vision, the remainder of the GigabitxDC prize money went to HowsMyDrivingDC, a Twitter bot-turned-mobile-app that simplifies the reporting of parking violations. HowsMyDrivingDC received an honorable-mention citation and $9,000 in prize money that creator Daniel Schep says he'll use towards app-store licensing fees, among other developmental costs. Schep and his business partner, Mark Sussman have already been in talks with multiple D.C. government agencies about how their app could alleviate the city's traffic problems.