OneABQ takes on Albuquerque's 'app sprawl' problem
A new non-emergency service request app also ties together the city's many under-used mobile apps.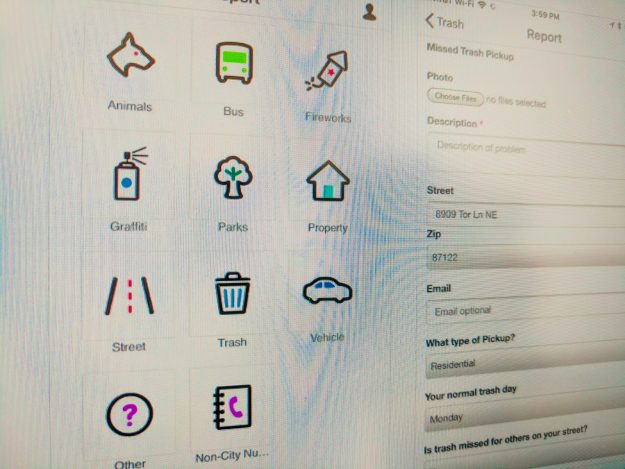 Being an early adopter can get messy. In the case of Albuquerque, New Mexico's city government, it meant building mobile apps early and often, to the point that even people who worked in the city's technology department weren't sure how many there were.
Last month, the city launched yet another mobile app, but this one was to solve the problem. It's an app to end all apps — or at least provide a place to bring them all together.
Before leaving for a position as assistant chief information officer for the city of Phoenix this June, Peter Ambs had served as Albuquerque's CIO for seven years. As an innovator, Ambs helped create the problem that he described to StateScoop as "app sprawl" and last year he also became the one to propose a solution. Agencies just kept launching new apps and throwing them up on the Google and Apple app stores, he said.
"Maybe it was public art or the zoo, which was good, but if I didn't know what apps the city had, how would a citizen know?" Ambs said.
The solution for the city arrived in early July when it launched a new service request app called OneABQ that was created using technology from an Albuquerque-based software company called APPCityLife. The app allows residents to report non-emergencies like graffiti, stray animals, potholes, or a variety of other issues, but also includes an app launcher that APPCityLife CEO Lisa Abeyta said solves a problem faced by a lot of cities that started making apps early.
"Right now, when you go up to the app store, there's really no way to tell what a city has done," Abeyta said. "There's a ton of apps. Are they official? Are they not? And if you're giving personal information, I'd be nice to know that what you're using is an official app where you can trust that a little bit more."
Abeyta said the thing that sets her company's app software apart is that while it uses a template-style design that allows easy adoption by other cities, it also has enough room for customization that it won't be blocked by Apple's new app store rules designed to cut down on "spam apps."
Matt Maez, Albuquerque's digital engagement specialist told StateScoop that the app's capacity for customization is exactly why the city adopted it in the first place.
Beyond SeeClickFix
The city already had and continues to offer a similar mobile app through the well-established SeeClickFix platform, a service that allows residents in hundreds of cities around the U.S. to report issues. Some cities interact with the platform's users in their region, while other cities are less involved. Albuquerque uses SeeClickFix's API to feed requests directly into its internal customer relationship management platform, but SeeClickFix's interface customization options are too "limited" for his city's needs, Maez said.
Maez said the SeeClickFix platform is "great," despite its limitations, and it still receives 100 new cases per day. But OneABQ is more user-centric, he said, and can also feed requests directly into the city's CRM.
And perhaps best of all, he said, it's solving the longstanding problem of many of the city's apps not being used as much as agencies wanted.
"I think the jury's still out on the long-term effect of other-app utilization, but certainly anecdotally we're hearing that other apps that other departments use are getting more traction," Maez said.
In some cases, app adoption can drive critical social or environmental changes. The city's solid waste department offers an app called Recycle Coach that Maez said is seeing more downloads since the launch of OneABQ. The app provides information on how to dispose of various items or hazardous waste. Getting that information into the right hands could mean the difference between latex paint ending up properly recycled or floating down the local river.
Ambs, the city's former CIO, said he set out to create a "single point of presence for all city apps" and now the city has one. And though being an early adopter created a challenge the city had to find a solution for, Ambs said the benefits of exploring technology early outweighed the downsides, and he doesn't regret a thing.