Written by
StateScoop Staff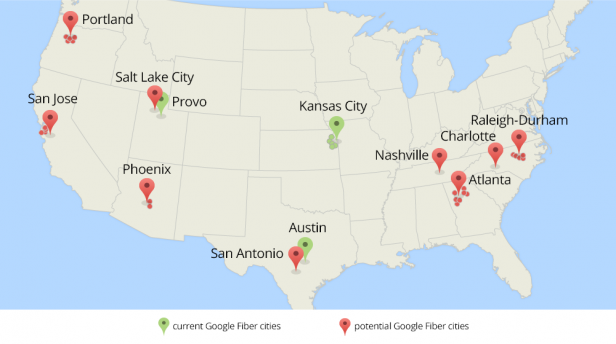 The search is complete – Google Fiber is making plans to expand to 34 new cities, encompassing nine major metropolitan areas, the company announced Wednesday.
The high-speed Internet service is approximately 100 times faster than broadband because it runs through fiber-optic cables instead of copper ones, making it much easier download a movie, send medical images and build other, yet-to-be developed applications.
"We aim to provide updates by the end of the year about which cities will be getting Google Fiber," Google said on its blog. "Between now and then, we'll work closely with each city's leaders on a joint planning process that will not only map out a Google Fiber network in detail, but also assess what unique local challenges we might face."
The metropolitan areas selected are: San Jose, Calif.; Salt Lake City; Phoenix; San Antonio; Nashville; Atlanta; Charlotte, N.C.; Raleigh-Durham, N.C.; and Portland, Ore.
Google previously installed Google Fiber in Kansas City, Mo., and then later added Austin and Provo, Utah.
"We've long believed that the Internet's next chapter will be built on gigabit speeds, so it's fantastic to see this momentum," Google said. "And now that we've learned a lot from our Google Fiber projects in Kansas City, Austin and Provo, we want to help build more ultra-fast networks. So we've invited cities in nine metro areas around the U.S.—34 cities altogether—to work with us to explore what it would take to bring them Google Fiber."
Wednesday's announcement though is not a guarantee the cities selected will actually get the service. Instead, it's an invitation for the cities to begin doing the legwork, such as preparing infrastructure maps and preparing permit requests, before Google moves forward with the project.
The company said it would notify the 34 cities by the end of the year whether they were selected.
Even with that caveat, the news was met with great excitement in the areas selected.
"Ultra-high speed Internet service will strengthen our economic development opportunities and set our citizens up to succeed in our hyper-connected world," Atlanta Mayor Kasim Reed said. "Atlanta is rapidly becoming known for its nurturing of the high-tech industry, which translates into new, high-paying jobs."
He continued, "Google Fiber also presents a great opportunity to bridge the digital divide that exists in some of our communities, allowing more people to compete on today's high-tech playing field. I'm confident we'll be able to show Google that the City of Atlanta is well worth the investment."
The push for Fiber from Google's perspective is simple: A faster speed means more traffic on the Internet, which means more money for the company. It also pushes current providers such as Verizon and Comcast to up their game to keep up, which again, means more Internet traffic across the country.
Google executives have also cited Fiber as an important new business for the company. Expanding to more cities could give it greater negotiating power, perhaps an ability to persuade TV stations to join its digital TV service, which is included with Internet in initial markets.