Written by
StateScoop Staff
New York City plans to do away with its disposable subway cards within the next five years in lieu of a more innovative system using modern technology, but what that will look like is still unsure.
In an interview with Fast Company, Kevin Ortiz of New York's Metropolitan Transit Authority said MTA's MetroCards, which have been in use for 20 years, would be gone by 2019.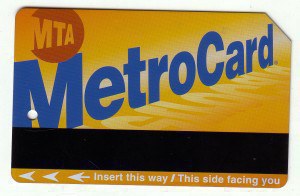 The plastic and paper MetroCards are expected to be replaced with near-field communication or radio frequency technology that allows riders to use key chains, credit cards or their smartphones to tap rather than slide through subway turnstiles or dip into bus buckets.
"MetroCards is a system that is reaching the end of its useful life," Ortiz explained. "Its equipment is on the verge of becoming obsolete."
New York has used the MetroCards since 1994 when the system replaced tokens, but the cards have had their struggles: namely, they are easy to lose or damage, they create pollution and have become expensive to maintain as one machine costs approximately $50,000.
Ortiz said the current technology landscape has not advanced quite far enough to implement one of these systems on a large-scale basis, but the plan is that a suitable solution will be available in the near future.
The most likely solution is some form of mobile ticketing, although the largest hurdle is that not everyone owns a smartphone.
The Massachusetts Bay Transportation Authority introduced the country's first smartphone ticketing system in November 2012 for the Boston commuter rail, which received an award in 2013 from the National Association of State Chief Information Officers for mobile innovation.
That exact system, though that system requires a conductor to read each ticket, so using it on New York's bustling subway system and its 5 million daily riders is not plausible.
Fast Company reports MTA will issue a request for proposal sometime this year and grant the most promising tech company a contract "most likely in 2015."
MTA serves 12 counties in southeastern New York, along with two counties in southwestern Connecticut under contract to the Connecticut Department of Transportation, carrying more than 11 million passengers on an average weekday systemwide, and more than 800,000 vehicles on its seven toll bridges and two tunnels per weekday.