More states offering websites, notifications to track absentee ballots
Nearly every state offers lookup tools, emails or text messages giving voters the status of their ballots so they don't have to try to vote twice.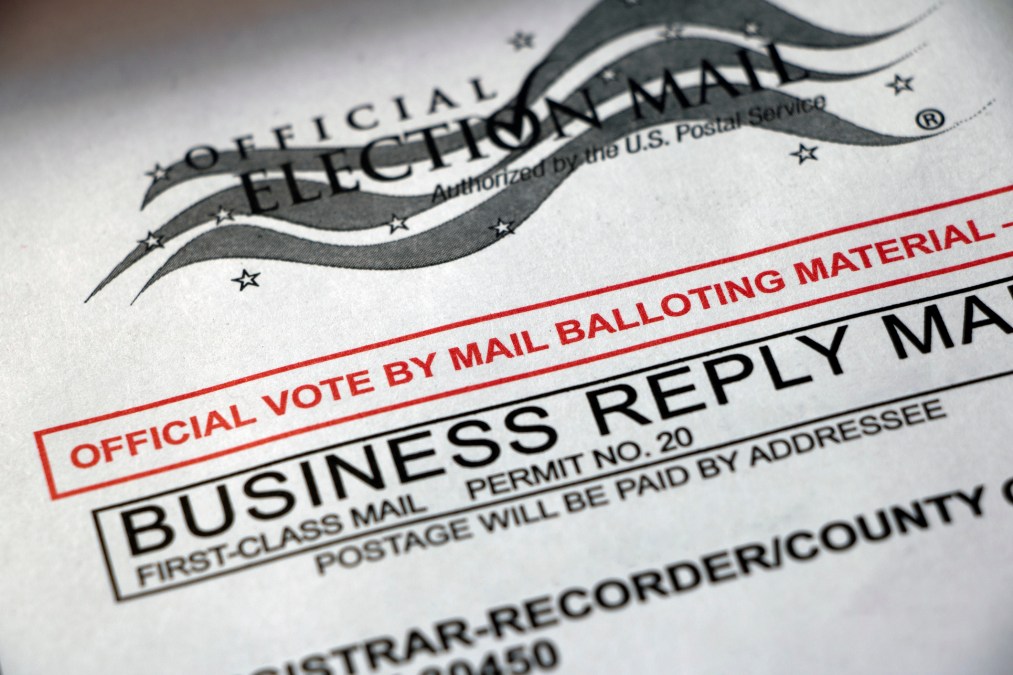 The number of states and counties offering voters the ability to track absentee ballots as they're on their way to be processed and counted has grown substantially this year as more states expand their use of mail-in voting in response to the coronavirus pandemic.
Most states now offer at least websites where people can look up the status of their ballots, while some have even introduced automated emails and text messages telling voters when their ballots have been mailed, returned and counted, akin to updates one might get on a package ordered from Amazon.
"It gives voters accountability to see where their ballot is," said Amber McReynolds, who runs the National Vote at Home Institute, which promotes the expansion of mail-in voting. "There's been a significant enhancement this year. We've really been pushing states to do this."
According to the institute, only five states — Connecticut, Mississippi, Missouri, New York, Wyoming — do not offer voters any options to track their absentee and mail ballots online. Thirty-one and the District of Columbia have statewide websites where people can look up the status of their ballots, while 11 offer that service at the county level. And in three — California, Colorado and Virginia — voters can sign up for email and text updates, though McReynolds said that more states may join that tier in the next few days and weeks as absentee ballots are sent out and voting commences.
Ballot-tracking tools are also useful security and communications measures, she said, especially in light of disinformation and misinformation campaigns from foreign and domestic actors seeking to undermine voting by mail. On Thursday, the Department of Homeland Security warned state and local election officials that the Russian government is waging media influence campaigns against mail-in voting.
Meanwhile, President Donald Trump, who uses absentee ballots to vote in Florida, upped his own disparagement of mail ballots this week when he told supporters in North Carolina to vote both by mail and in-person, which would constitute a felony attempt to vote multiple times. He made similar suggestions to his social media followers on Thursday, prompting Facebook and Twitter to stamp warning labels on his misleading posts, but not delete them.
Trump's statements also prompted reminders from officials in multiple states that while reports of fraud with mail-in balloting are exceedingly rare, attempting to vote multiple times in the same election is a crime.
"Let me be clear: Every eligible North Carolinian should vote, but it is against the law to vote or attempt to vote twice. North Carolina's election system is strong," North Carolina Attorney General Josh Stein said. "It ensures that every eligible voter can vote easily, safely, securely, and only once, whether they choose to do so by mail or in person during our 17 days of early voting or on Election Day."
And Michigan Attorney General Dana Nessel said "the president's idea is a great one for people looking to go to jail."
McReynolds, who said she created the country's first ballot-tracking system in 2009 when she was the elections director for Denver, said such tools are designed to give voters assurances that their ballots are being processed.
"It's all about customer service," she said. "There's a reason businesses that are great at delivering lots of stuff have that ability."
McReynolds recommended voters only look to their state and local election officials for information about voting to avoid getting misled by bad actors.
"It's best to leave the discussion of election procedures to the people who run elections," she said. "This is why it's so critical for election officials to be the sources of information."