Mayors explore ways to combat online hate and extremism
Amid reports of hate crimes in some cities, several mayors said they're exploring ways to confront online extremism.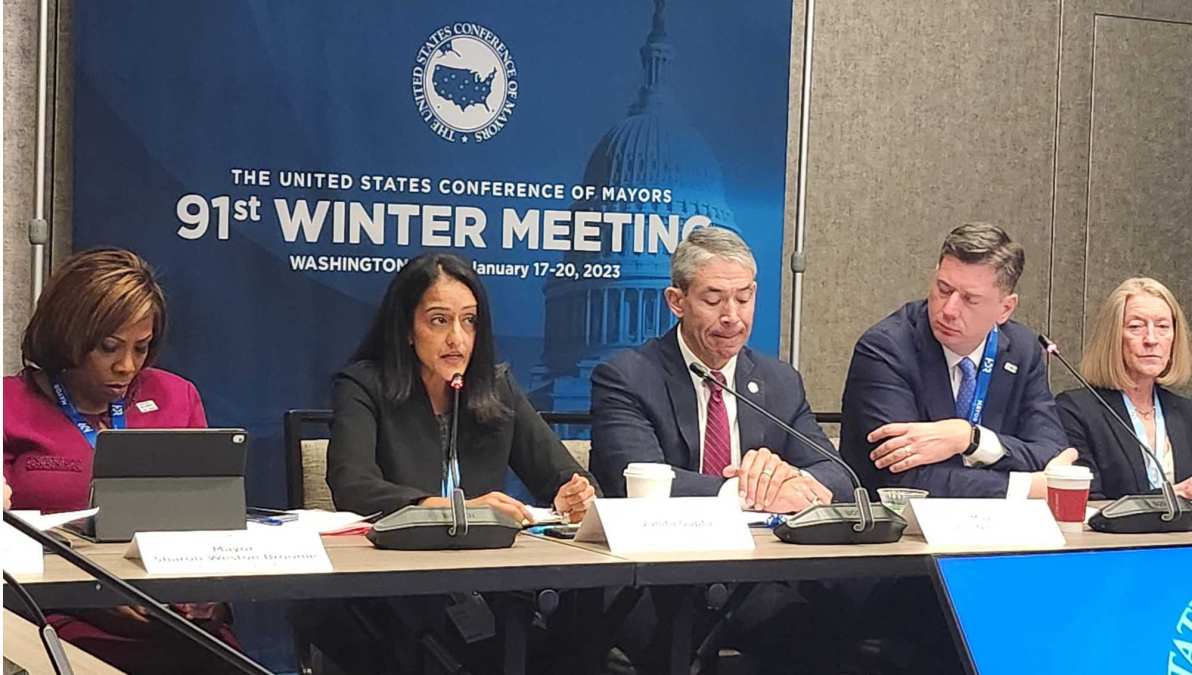 Preventing the spread of disinformation and hate speech online, including on social media, is vital to reduce real-life acts of crime and domestic terrorism, a group of city leaders and disinformation researchers said Wednesday at the U.S. Conference of Mayors winter meeting in Washington.
"We continue to see extremists use disinformation — some generated by them, and some generated by social media influencers, cable news influencers, and even, sadly, elected members of Congress and high-level elected officials — to fuel read-world violence and intimidation," said Mary McCord, executive director of Georgetown Law's Institute for Constitutional Advocacy and Protection.
It is important for mayors to be aware of this, McCord said, because extremist groups are increasingly working online to undermine local government and sow division in tight-knit communities.
"Post-Jan. 6, we did see a change in the extremist approach — we saw a decentralized local approach," McCord said.
This strategy, known as "county over country," is being used to disrupt and sow division in local communities, she said. Several mayors at the meeting said hate crimes are on the rise in their cities. Some shared their discomfort caused by hateful comments posted to their social media pages.
"There's been an uptick in attacks on elected officials, and we need the federal government to step in on social media. They need to do a better job policing these platforms because this is where hate lives," said Richmond, Virginia, Mayor Levar Stoney.
But too few police departments are reporting hate crimes to the FBI, U.S. Assistant Attorney General Vanita Gupta said during the session. She told the mayors to work with their law enforcement agencies and offer training on the National Incident-Based Reporting System.
"There's been a lot of focus on our prosecutions and convictions, but we cannot be effective without more accurate and comprehensive data collection and reporting," Gupta said.
The Anti-Defamation League is working with the U.S. Conference of Mayors to understand how hate spreads in local communities, said Max Sevillia, vice president of government relations, advocacy and community engagement at the ADL, at the meeting.
Nearly 150 mayors around the country last September signed an updated compact between the ADL and the Conference of Mayors aimed at combatting hate, extremism and bigotry in their cities, Sevillia said.
Separately, the ADL is working to develop digital tools to help cities report hate crimes. In Edmonton, Canada, for example, the ADL recently developed software that enables people to report hate symbols spotted in public spaces.