Mayors push to dismantle the 'New Jim Code' 
Mayors at the Smart City Expo USA said they're closing digital equity gaps and fostering diverse tech talent.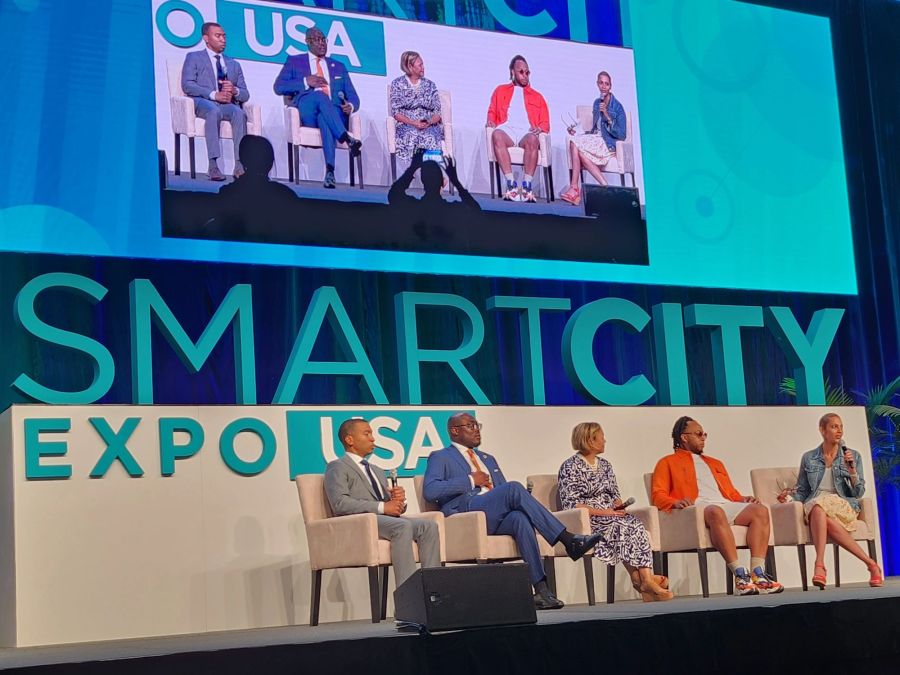 If the U.S. focused high-speed internet access initiatives on just five cities — Memphis, Charlotte, Birmingham, New Orleans and Atlanta — it could reach 50% of the Black population.
That fact, shared by Aarti Tandon, CEO of Smart City Expo USA on the second day of the group's 2022 summit in Miami, illustrates how achievable greater digital equity could be with concerted effort, she said.
"We just need some political will to do that," Tandon said. "It's going to take all of us."
In a session on dismantling the "New Jim Code" — a term that references inequality and discrimination encoded in technology — Tandon said discrimination in tech is not as obvious as a "knee on the neck in broad daylight" but is evident in artificial intelligence, other algorithms and the lack of access available to some communities.
Steven Reed, mayor of Montgomery, Alabama, said public and private collaboration is needed for an inclusive 21st century economy.
Reed said Montgomery is investing in minority tech talent through its TechMGM campaign, a collaboration between local industry and educational and government entities that offers educational opportunities and space to entrepreneurs looking to scale their ideas. The campaign has been adopted statewide, and some large companies have come onboard, but Reed warned that not everyone who talks about the importance of diversity is committed to in investing in it.
"You have to hold people accountable," Reed said. "One way that I think we have been persuasive in the argument is making it about economics and making it about equity and showing them what the potential is with just a little bit of help."
Frank Scott, Jr., mayor of Little Rock, Arkansas, and president of the African American Mayors Association, said mayors should be talking about the economics of inclusion — how increasing diversity, equity and inclusion can lead to increased profits for the business sector.
While there's a lot of interest in DEI, Scott said, mayors should move from "platitudes and protest to policy and action."
In Little Rock, a 12-week business development initiative called the BUILD Academy is helping minority small business owners and entrepreneurs learn how to grow their businesses with support from the city. The program was developed after the city discovered many small businesses weren't eligible for emergency assistance in the pandemic because they "didn't have their books in order," Scott said.
Investment in lower income communities has also grown the number of start-ups there, he said.
Charlotte, North Carolina, Mayor Vi Lyles said her city is also targeting historically underfunded communities to close the digital divide. These efforts include distributing of tens of thousands of laptops to low-income homes, providing home internet access and offering training for older residents to show "technology is not something to be feared, but something they can embrace," said Lyles.
While it is often said that 'a rising tide raises all boats,' it's important to remember that "a rising tide lifts all boats only if you have a boat, and if you don't, you drown,'" said Reed, the Montgomery mayor.
He said reaching minority communities requires mayors to be intentional about the groups they target.
"It's no different than marketing," he said. "You have a market segment and you do market research."
Targeting groups isn't always popular politically, Reed said, but as "CEOs of cities" mayors need to demonstrate that "it's not a matter of pushing someone out — it's about who you're bringing in."