Pickleball popularity produces park policy pickle
As the tennis-badminton hybrid becomes more popular than ever, local parks departments may need a software upgrade to manage the demand.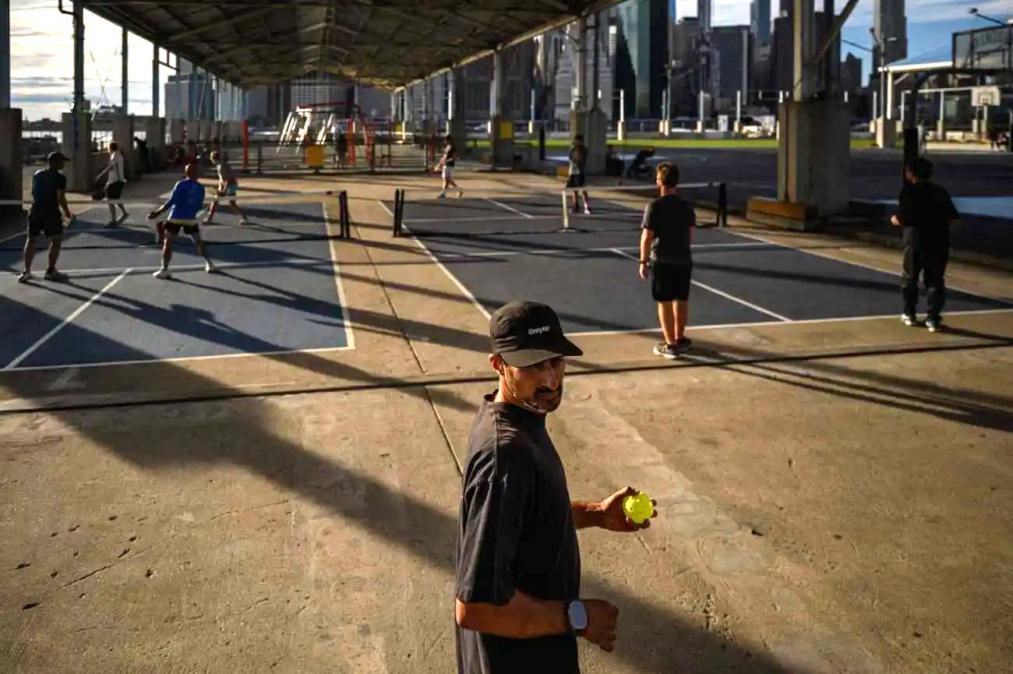 Pickleball, the quirky mix of tennis, badminton and table tennis, is the fastest growing sport in America. But local parks and recreation departments nationwide are struggling to keep up with demand.
While the game has taken off for its sociable nature and relatively easy play — especially among seniors — city parks departments that operate pickleball facilities are increasingly finding themselves strained by demand. Many are now considering building online reservation systems to manage court time, schedule tournaments and balance the pickleball craze with more traditional racket sports, especially tennis.
At a meeting of the U.S. Conference of Mayors in Washington earlier this year, Annapolis, Maryland, Mayor Gavin Buckley, Mayor of Annapolis, Maryland, described a "tennis-pickleball war" over municipal courts, with one public meeting about sharing court space becoming so heated, police had to be brought in. There've also been reports around the country of pickleball players overrunning spaces meant for other sports, like basketball courts, and even children's playgrounds.
"How many of you have been at a city council meeting where somebody stands up and asks everybody in the audience to raise their paddle?" Buckley said at the Conference of Mayors event. "If it hasn't happened yet, it's going to happen, and you're going to realize how many voters have paddles."
Public pickleball
Even with more publicly owned pickleball courts on the way, systems for managing them vary widely. Private pickleball courts are much more consistent, most using online reservation systems and schedules that can accommodate lessons, tournaments and free play. But reservation systems for public courts are much more haphazard, said Scott Manny, founder of Pickle Planner, a company that specializes in online reservation systems for the expanding sport.
When a parks department does have an online booking system, Manny said, it's usually "all-encompassing software, where if you want to rent a pavilion for your kid's birthday party, you use this software, if you want to reserve a baseball field for your little league team, you use this software. If you want to reserve a pickleball court, it's that way too."
But these software products often have not been updated for the pickleball era, he said. Even in cities that are building new courts, investment in technology to manage these facilities hasn't caught up yet, with multiple parks departments, including New York City's — which has long used an online reservation system for tennis courts — telling StateScoop that it doesn't have systems for pickleball players.
Pen-and-paper policy
It's an issue that some local governments are thinking about as they build new pickleball courts. In Arlington County, Virginia, which plans to replace the tennis courts at one of its parks with nine new pickleball surfaces, online engagement sessions have yielded requests for an online reservation system that would control the number of people on the court — ideally reducing arguments over who gets to use the space.
The county has not yet indicated how it plans to manage play when the new courts are built.
While some publicly run tennis and pickleball courts have online booking systems, many are still run through a phone-based booking system, or encourage players to simply show up and organize themselves using a paper sign-in sheet. The game's highly social nature also makes it quite common for individuals to show up looking to get into a singles or doubles match without a reservation, said Lee Igel, a professor at the New York University Tisch Institute for Global Sport.
"It's a very social sport, it can be played at all levels from leisure to elite to competitive," Igel said.
Pickleball's popularity surged during the early phases of the COVID-19 pandemic, when people weren't allowed to play indoor sports, and were looking for a fun way to stay active, he said.
Planner platform prepares players
But the infrastructure needed to support all this new demand has not kept up, fueling playground arguments and public-meeting squabbles. The pickleball craze even seeped into pandemic recovery policy, with many cities and counties using funds they received from the American Rescue Plan to build new courts.
Manny said Pickle Planner allows court operators to schedule different types of play on different surfaces, ensuring that players play with other players based on their skill level in teams or one-on-one matches.
"We tried to make it inclusive, so if you want to play but you don't have your four players set, you could make a reservation with just two people and say that you're looking for two more, and an email invitation would go out saying there's two slots available, and the first two to come get it, get it," he said.
Manny said his software also has a user interface designed for less tech-savvy players. While the average age of pickleball enthusiasts is 38, the sport is still widely popular with seniors. Manny said Pickle Planner often gets questions about how older users will adapt to online systems, including creating online logins to reserve court space. But, he said, motivated players can and do adapt.
"We put a lot of effort into our user interface to try and make it as intuitive as possible, but more importantly, work really well on any device," Manny said. "So if they're more comfortable using their laptop, because it's got a bigger screen, they can do that."
But, he said, it's also been easier for Pickle Planner to catch on with private clubs and homeowners associations than with municipal park departments.
"It's a harder market for us to break into than I originally thought," Manny said. "Usually when I deal with the head of a parks and rec department, they're like, 'Hey, look, we've got these pickleball courts, that's good enough, [the players] can just figure it out.'"
He said that approach leaves most publicly operated pickleball courts stuck on a chaotic "first-come, first-served" system.