Illinois CIO Kirk Lonbom announces retirement
From undercover police officer to statewide chief information officer, Lonbom now wraps up nearly four decades of public service.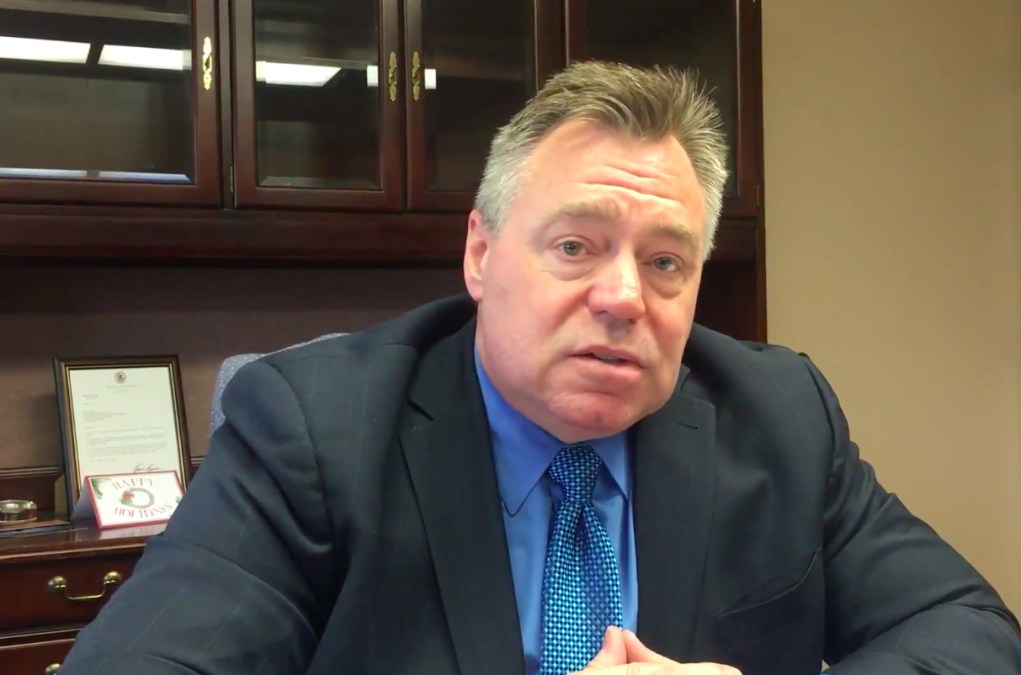 Illinois Chief Information Officer Kirk Lonbom announced his retirement this week, capping off a 38-year career in public service. In a phone interview with StateScoop, he looked back on a path that took him to be the top technology official in the sixth-most populous state, but said that things could have ended differently, particularly if a certain drug dealer's aim had been better.
Lonbom recalled his time as an undercover narcotics officer in Clinton, Illinois, assigned to a state police task force. During one 1989 case, Lonbom was introduced to a gang-affiliated drug dealer through an informant. But the meeting went awry and ended with the dealer firing a handgun at Lonbom, who avoided being shot, and the informant, who did not.
Up through that point, Lonbom recalled, his exposure to technology had consisted of a high-school typing class and playing Pong. But he later landed a role with the state police as an intelligence analyst, which eventually led to a series of high-ranking information technology positions.
Lonbom was named Illinois' first statewide chief information security officer in 2015, and took a key role in building a centralized Department of Information Technology after Republican Gov. Bruce Rauner created it in 2016. The following year, Lonbom became CIO and DoIT's interim director after his predecessor, Hardik Bhatt, took a job at Amazon.
Rauner was defeated last month by Democrat J.B. Pritzker, but Lonbom said his retirement wasn't just because of a political shift.
"After 38 years of public service, and where we are in terms of the progress we've made in the Department of Innovation and Technology, the timing was just right for me," Lonbom said.
As CIO, Lonbom continued the work he had already been supporting as the state's cybersecurity lead, embedding security deeper into operations, modernizing legacy IT infrastructure, digitizing manual processes and creating enterprisewide IT systems that he said are "bringing better value to the taxpayers."
His office is now implementing a hybrid cloud roadmap expected to reduce the state's dependency on legacy IT infrastructure. It's also wrapping up an enterprise resource planning upgrade that integrates hundreds of applications into a central portal, giving administrators greater visibility into how the state is managing its financial resources. Budgeting and tax plans were a central issue in the gubernatorial race as the state attempts to shake its status as having the worst fiscal health of any state in the nation, including $130 billion in unfunded pension liabilities, according to researchers at George Mason University.
"We believe that the ERP project is the one that will help transform and help shape state government probably more than anything over the next five to 10 years," Lonbom said. "It's not just about decommissioning systems. It's also about tried and true and acceptable accounting practices."
Lonbom called the data and business intelligence emerging from the ERP project "exciting" and predicted 80 percent of the state's agencies will be integrated by the end of the year. As that project winds down, Lonbom said DoIT's next major task is to continue unifying its workforce. With 1,500 IT professionals working across state government, he said there's still a reservoir of efficiency that can be tapped by bringing all agencies under a single system for human capital management.
Lonbom said that whoever Rauner appoints to succeed him will likely find the ERP project, the human capital resource management project, and DoIT's overall digital transformation effort at the top of his or her to-do list. He also advised that leader to heed the message being trumpeted by the National Association of State Chief Information Officers that government CIOs are finding it more suitable to be "brokers of services."
"There are things government is good at and things government is not necessarily good at," Lonbom said. "We owe it to our citizens to offer the best services for the best value."
Lonbom said he hopes to get back to work serving citizens "in one capacity of another," possibly in a cybersecurity role, but added that he didn't know exactly what his next job will be. But in looking forward, he connected his career arc in IT back to that 1989 drug investigation that ended in gunfire.
He left the drug task force and joined the Illinois State Police as a civilian analyst. He said he soon found that analysis required data, and data required technology. He had never worked in technology before, or even considered it as a career, but as a necessity of the position he was in, he began building intelligence systems.
Lonbom worked his way up to become the Illinois State Police's deputy CIO in 2002, and later served the same role for the Illinois Emergency Management Agency before joining the statewide IT office. He described his career as "rewarding" and said that it was a particular privilege to help build a state department from the ground up.
"There are moments that change your career," Lonbom said. "Mine was a gunshot."