How five cities automated their way out of a shared biennial headache
Hiring election judges is tedious and time consuming for local governments, but a shared automation process in Minnesota is expected to save clerks countless hours this year.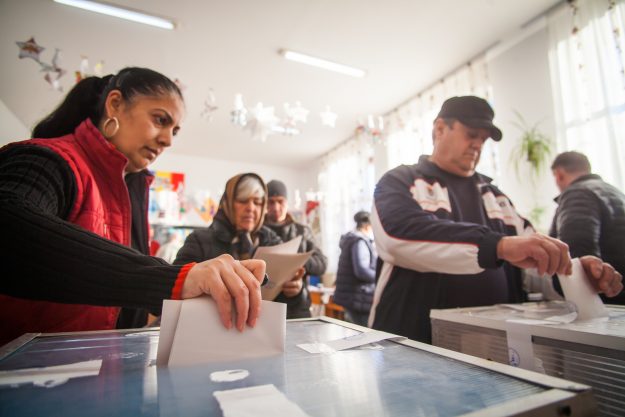 Every two years, local governments across the U.S. take on a strenuous backoffice challenge in hiring hundreds of election judges in just a few weeks, but a group of five cities in Minnesota have come up with a unique shared solution that officials say will make their lives much easier this year and in the election years to come.
Election judges, otherwise known as poll workers, may only work a single day, but they need to be trained, they need to be paid, and there are records that need to be kept that all the proper hiring processes were followed. So earlier this year, Megan McNeal, a deputy clerk with Burnsville, Minnesota — a city of 60,000 just south of Minneapolis — told StateScoop she began reaching out to the clerks in neighboring cities to pool resources and ideas for a new automated system that could make their lives easier.
"This is a really tough process we have to do every election year," McNeal said. "It takes hours and hours and hours of work and it continues on through the whole election cycle. We have 17 precincts, so we have anywhere from 150 judges for a primary to 300 for the general, so it's a lot of people to keep track of and balance and communicate with."
The new automated process uses Laserfiche software already used for digital recordkeeping by the five cities — Apple Valley, Burnsville, Farmington, Northfield and Shakopee — and is now being tested as the state prepares for its primary election in August.
Usually, officials said they worked from various spreadsheets and forms, copying and pasting personal information of those who signed up for jobs as election judges, which leaves a lot of room for typos — "Mistakes are made," McNeal said. Cities are also required to prioritize certain people for judge positions, like those who signed up at caucuses, and to balance the hiring across precincts. It's time-consuming work that clerks know is coming, but that is difficult to prepare for because it comes all at once.
"The election judge process is unbelievable, because you can have people sign up to be an election judge just a month and a half beforehand," said Cory Harmening, a network administrator with the city of Farmington.
Officials told StateScoop they expect the new Laserfiche process will streamline the human resources and compliance aspects of hiring election judges. Information need only be entered once and some of the more tedious processes, like prioritizing caucus-signups, creating records that those individuals were notified first and balancing hires across precincts, are all automated.
"We run a lean staff anyways, so when you all of the sudden have 90 more people you have to get into the payroll system, that's quite a bit," said Brenda Wendlandt, human resources director for the city of Farmington. "Automating that process just eliminates some of that strain."
City officials told StateScoop they couldn't have done this alone. The cost to pay local software company OPG-3 to develop the new processes was $29,600, which the cities split five ways. The expertise, too, was spread across the participating cities, they said, and the process they developed was much better for having collaborated.
Shared services models are fairly common in government, but this project is unique, said Jereb Cheatham, vice president of business development for OPG-3 and former Laserfiche executive.
"They pitched in their money and pitched in their expertise to develop a core architecture of the solution that could be implemented in their own systems and then the last bits could be tailored to meet their needs," Cheatham said. "So, it's a common solution but it's not being delivered through a shared services consortium, so they end up owning it themselves and have complete control over it."
The other thing that set this project apart was how quickly it was completed, Cheatham said, particularly for a project that includes five cities. The process is still being tested in the first cities, with an expected launch of Aug. 1, but the work was done in just two and a half months, Cheatham said, and creating new processes using existing software, rather than developing entirely new applications, proved a thrifty solution for a common gap in municipal capabilities.
"These organizations, their primary business processes, there's usually an app or a system for that," Cheatham said. "What they're doing doesn't sit in the wheelhouse of their primary applications and so they needed a tool like Laserfiche and the flexibility of the forms to fill in. I think we're going to see more and more of this. It seems to be the way to get these smaller processes built out when there's not an application designed specifically for it."
The speed and success of the collaboration can be tied to the flexibility of those involved, Wendlandt said.
"We all said, 'We're not tied to that. Let's figure out the best way to get it done and we'll all buy in. We're not going to do customizations for each individual city. It's going to be one process,'" she said.
In addition to the new processes for managing election judges, three of the cities — Farmington, Shakopee, and Apple Valley — also collaborated on a separate process for post-hire onboarding that cost $22,200 through the same vendor, split three ways. The paperwork associated with new hires presents a similar recordkeeping challenge for human resources departments, and officials at Farmington told StateScoop they saw an opportunity to save a ton of time. Laserfiche automates data collection after someone completes their initial job application, Harmening said — the five to six redundant documents they would have had to fill out after being hired are no longer needed.
"So on the first day of work, they're able to come in and start working right away instead of filling out paperwork all day to get them up and going," he said.
The three cities used different applicant tracking software but Laserfiche was able to pull the data out of those systems, he said, and now they're ready to save time.
"We're really excited about it," Wendlandt said. "It's going to free up our time to do other tasks rather than data entry or sending individual emails. It's going to change our jobs, it's going to change IT. Adding staff is the biggest part of anyone's budget, so if we can delay having to add additional staff because we've automated processes and can more effectively manage them that way, that is just a win for not only city staff but our residents, our taxpayers."