Homelessness workshop fuels upcoming technology projects in LA County
The county is taking a collaborative, community-based approach to understanding its biggest pain points as it attempts to eliminate homelessness.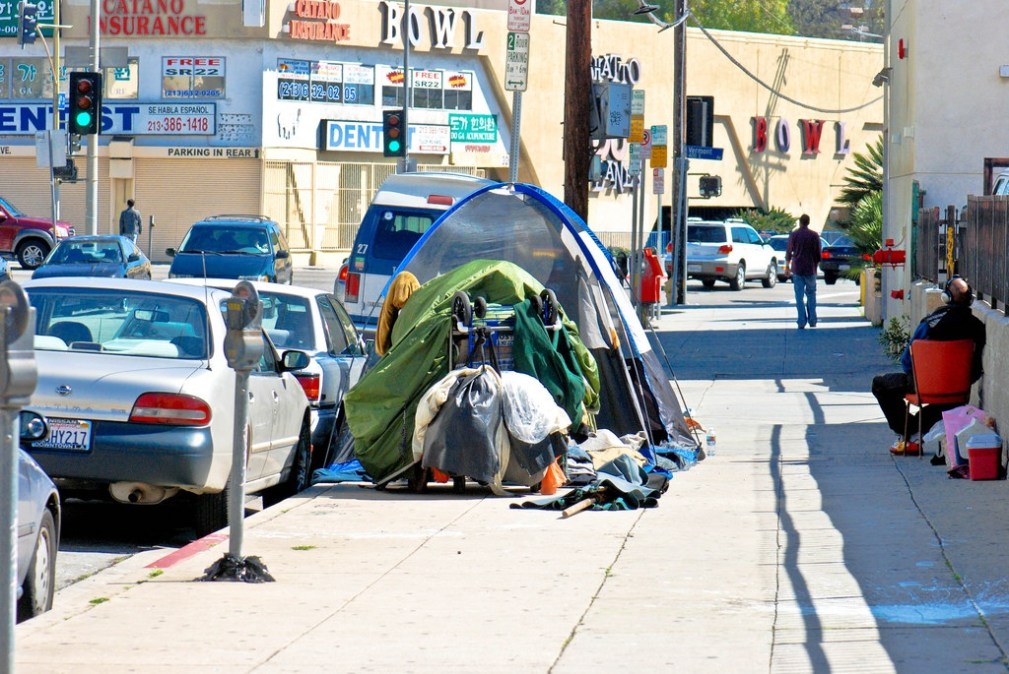 In June, the Los Angeles Times ran a report showing that for the first time in four years, homeless numbers in the county had decreased, even if only by 3 percent. The paper painted a positive trend amid what was characterized as an otherwise "grim" picture — there are today approximately 53,000 homeless people in Los Angeles County.
As part of a regional effort to reduce that figure to zero, the County's Homeless Initiative is now partnering with its information technology department in taking a unique and collaborative approach to the challenge. County Chief Information Officer Bill Kehoe told StateScoop that on Nov. 1, the county will host a vendor forum so that tech companies, startups, academics, and members of the civic technology community can partner into teams ahead of a request for information deadline on Nov. 15.
The degree of partnership and engagement being used by LA County is atypical for most local governments this early in the procurement process. More often, an agency will release an RFI, then an RFP, or maybe skip the RFI altogether. Kehoe's workshop-based format is part of a trend in some government IT offices to expand procurement options and encourage vendors to shy away from procrustean solutions.
"It showed us exactly what we need instead of having the vendor community come and tell us what they've done in other areas," Kehoe said.
The effort began in June, when the county invited local universities and homeless service providers to share their pain points. The data gathered was compiled into an RFI that outlines an "incubator model" for finding technology vendors.
The county came up with 18 to 20 challenge statements, he said, that are grouped into several categories, such as housing, data, customer empowerment, and operational effectiveness.
The housing category, as explained in the RFI, includes things like building capacity and access to places to live, and finding ways to increase awareness of available housing.
"With the current rental market being out of reach for the low-income wage earner, more citizens are falling into homelessness," the document explains — and indeed recent data shows that median rent levels have increased 32 percent since 2000, but median household income of the median renter has dropped by 3 percent. "There is opportunity to leverage technology to create more visibility and access to affordable housing units within the County."
Solutions for the housing category might include technologies that can help the county and providers monitor housing availability or tools that use analytics or artificial intelligence to guide proactive outreach that prevents people at risk of becoming homeless from actually becoming homeless.
'Almost like a reverse hackathon'
Kehoe said while the language is tailored specifically to the challenges identified by the county and its partners during its initial workshop, the language was also kept as technology-agnostic as possible to encourage creativity among participating vendors.
"We wanted to give the vendor community freedom to innovate with their services and tools and platforms around these and not be prescriptive in terms of the type of technology we require," he said. "It's almost like a reverse hackathon, if you will, for the vendor community."
Despite its struggles, the county is receiving accolades for its increased focus and resources put toward the issue. According to the Homeless Initiative's online dashboard , more than 16,000 homeless people were permanently housed between June 2017 and June 2018, another 18,600 were provided interim housing.
Homelessness, entwined with complex economic, substance abuse, mental health and housing issues, has proved an uphill battle for the county — another data point shows that of 5,828 people who had been housed for at least six months, 487 returned to being homeless.
Kehoe said the county's leadership has been "overjoyed" by the level of engagement and cooperation through the process so far. At first, he said they weren't sure how many ideas they would generate, but eventually a highly detailed picture of the county's challenges was uncovered.
Kehoe said he developed the workshop format after joining Los Angeles County this time last year from his role as CIO of King County — which includes Seattle — and wanted an enterprisewide IT strategy that wouldn't take years to develop. He settled on workshops. Homelessness was the first one, but others with other departments — like health, public safety, and children and family services — have forged collaborative inroads that Kehoe said he plans to use more often with his other partners.
"It's more of that technology strategic partnership and being there at the table from the beginning, rather than being called in when they think they have a technology need," Kehoe said.
The project comes with strong regional backing. Voters approved a sales tax last year, Measure H, that generates $355 million annually to aid in homelessness prevention and housing efforts.
The mayor of the City of Los Angeles, Democrat Eric Garcetti, has made homelessness and housing a cornerstone of his administration. In July, the first several dozen homeless residents moved into intermediate housing — trailers, tents, and other temporary structures — as part of a $20 million program to transition people into permanent housing. The mayor says at least 6,000 people could be served by these shelters annually, as he strives toward a goal of ending homelessness in the city by 2028 .
Past efforts by Garcetti have been followed by some success. In 2014, Garcetti pledged to end veteran homelessness, and since then, veterans are the group that has seen the most progress — according to the most recent count, homeless veterans have decreased by 18 percent, down to 3,910 individuals.
Kehoe said that for this big issue, there are a lot of projects on the table, but that the county's leaders will start with two or three vendor contracts and advance according to the progress they see.