Baltimore's redlining legacy has lasting impact, residents tell FCC
An FCC panel met in Baltimore to hear about experiences of digital discrimination, as the commission seeks to define the term.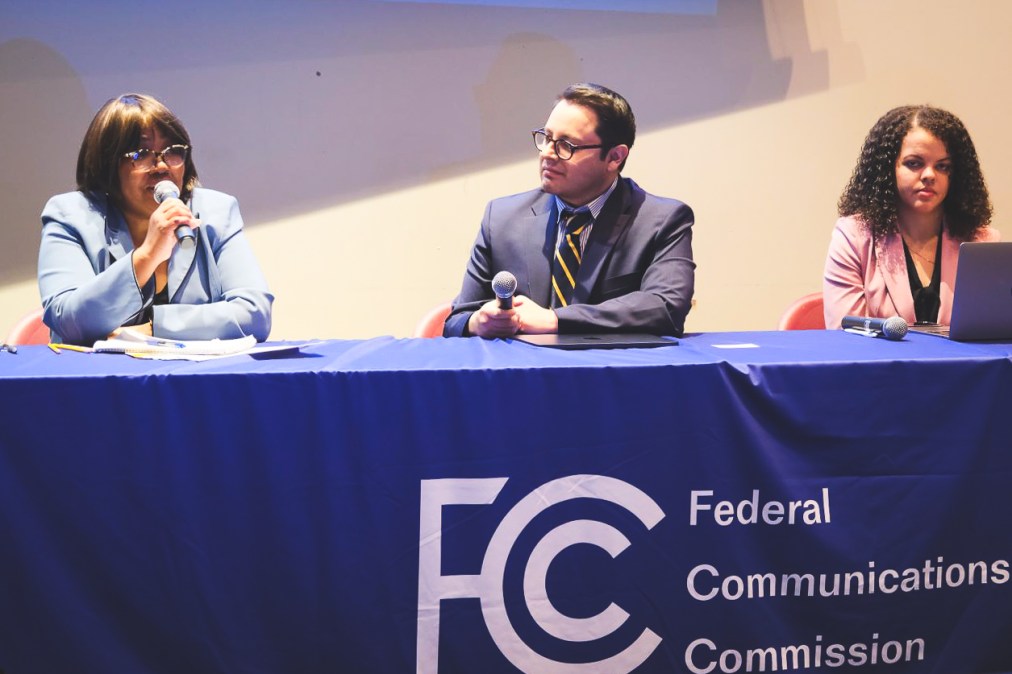 Representatives of the Federal Communications Commission visited Baltimore Tuesday to hear about residents' experience of digital discrimination in the city. Some said the city's past continues to affect technology access today.
Some residents told the FCC that the city's majority-Black population is concentrated in areas where internet service is slow. Others said multi-generational households often lack the funds to pay for high-speed internet service. Other speakers shared anecdotes about households sharing devices, making it more difficult to access medical appointments, public services and education.
The event was one of a series of listening sessions planned by the FCC's Task Force to Prevent Digital Discrimination, a term used to describe circumstances in which internet service providers deny broadband access for reasons other than technical or economic difficulties.
Baltimore officials and residents at Tuesday's event said the city continues today to face steep steep connectivity issues, even with initiatives like the FCC's Affordable Connectivity Program, which provides low-income households with deep discounts on internet service.
Zeke Cohen, a Baltimore City Council member, said the COVID-19 pandemic revealed a "really profound" gap between residents who had access to fast internet and those who did not.
Residents who could afford "affordable" internet packages from carriers like Comcast still experienced slow speeds, making it difficult for them to participate in remote learning or work, Cohen said.
It was only through the work of advocacy groups such as Students Organizing a Multicultural and Open Society and Project Waves, a local, nonprofit ISP, that Comcast doubled the speed of its "Internet Essentials" discount tier for Baltimore students in 2021, he said.
Samantha Musgraves, Project Waves' director, said Baltimore's history of racial segregation and redlining continues to have a major impact on internet access across the city. She said her ISP "exclusively provides [free] access to people living behind the redline."
As an ISP, Project Waves isn't eligible for the grants the FCC has issued to advocacy groups promoting the Affordable Connectivity Program, though Musgraves said her organization is offering one-on-one assistance to residents signing up for the benefit.
Compared to similarly sized cities, Baltimore's broadband speeds are poor, said Taylor Carter-Disanto, the city's deputy director of broadband and digital equity. Historic redlining maps overlaid with present-day broadband access show a strong correlation between low-income households and weak internet signals, she said.
Minority communities in Baltimore are concentrated to the east and west of a central, predominantly-white "L-shaped" area, said Carter-Disanto. These neighborhoods form what is known locally as the "Black Butterfly," which corresponds to a high concentration of unconnected people, she said.
"The history of redlining is deep, and the impacts are ever-present," she said.
FCC Chair Jessica Rosenworcel formed the Task Force to Prevent Digital Discrimination last year to prevent carriers from discriminating. The first listening session took place in Los Angeles last month.
The FCC is still developing an official definition of digital discrimination. The 2021 infrastructure law ordered the commission to develop anti-digital discrimination policies and to improve its public-complaint process.
"We're open to suggestions on it," Aurelie Mathieu, an attorney adviser with the FCC's Wireline Competition Bureau, said during Tuesday's discussion.
The FCC recently extended a comment period for people to provide feedback on the definition, with comments due by April 20. A final rule is expected by November.
.