Colorado governor presses elected officials to get educated on cybersecurity
Gov. John Hickenlooper detailed his plan to build a National Cybersecurity Intelligence Center to educate officials, increase cyber investments and help businesses respond to breaches.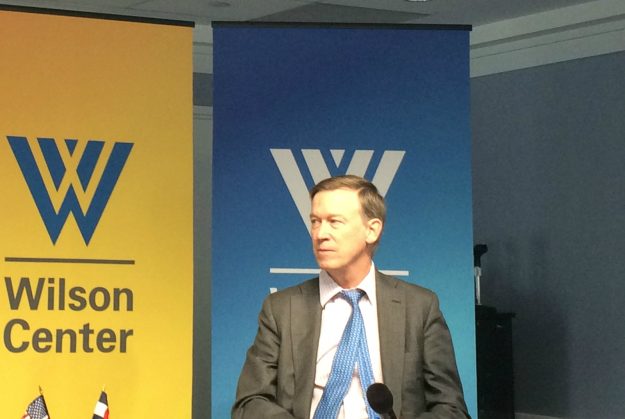 Colorado Gov. John Hickenlooper is challenging elected officials around the country to get smarter about cybersecurity, and he's hoping to provide a new resource to boost this nationwide education effort in his own state.
At a panel discussion hosted by the Woodrow Wilson International Center for Scholars Monday, Hickenlooper stressed that many state and local leaders fail to grasp the importance of defending their networks. Accordingly, as part of the National Cybersecurity Intelligence Center he hopes to open in Colorado Springs, he's aiming to build a program to teach policymakers the basics about the growing field of cybersecurity.
"Most governors and mayors are woefully ill informed of the scale and magnitude of threats, how many different points of weakness there are, and the consequences if you're breached," Hickenlooper said. "We need somewhere where governors, mayors, city councilors, can get realistic, pragmatic, meaningful education on what does the world of cybersecurity look like."
That's why he chose to use his "State of the State" address in January to highlight his plans to build the center, which would work in conjunction with the University of Colorado, Colorado Springs' cyber program.
While Hickenlooper envisions the center also including a research facility to help encourage investments in cyber companies, as well as a "rapid response" program to support companies without robust cyber defenses, he sees the education effort as a crucial facet of the program.
"I can count on one hand the number of governors who understand cyber and have a sense of how to allocate resources in their state," Hickenlooper said. "We're not trying to teach people to write code. We want a place where elected officials can be brought up to speed very rapidly."
Indeed, Hickenlooper estimated that classes at the center could be as short as one day, and would be aimed at avoiding the "very intellectual, rote format" that he believes people currently use to speak about the issue.
"This would give people the hooks and phrases they need to communicate with other elected officials and citizens, how to talk about it in real terms," Hickenlooper said.
Accordingly, he extended an invitation to those in attendance, from federal officials to small business executives, to stop by the center and learn more about the topic once it opens.
Jane Harman — director, president and CEO of the Wilson Center and a former congresswoman from California — said she would've loved to have participated in just such a program if it had been available when she was in office because "Congress is not a learning institution."
"I haven't heard of anything, anywhere like this, certainly not here in Washington, that has the entrepreneurial dimension, the learning dimension," Harman said.
Hickenlooper noted that the center's "entrepreneurial dimension" will also be a key part of the effort. He hopes to set up a research center operating to "encourage the startup community" with an incubator attached to grow cyber companies of all sizes in the state.
He noted that Colorado has become a "magnet for millennials" over the last few years, and many of those younger entrepreneurs have started businesses with a cybersecurity focus. Hickenlooper estimates that roughly 35 percent of the funding for those businesses comes from out of state, but he hopes the research center can help grow these companies and get more dollars flowing into the state.
"We're beginning to see a blooming of small companies focused on cyber, and right now, the ecosystem is starved for capital," Hickenlooper said.
But Hickenlooper also hopes the center can become a resource for small businesses that can't afford to spend vast sums on cybersecurity just yet. By building the "rapid response center," which he thinks can operate as a "nonprofit with a dotted line to state and federal government, but controlled by private enterprise," he foresees larger corporations sharing their expertise with small businesses to help companies all over the state better respond to breaches.
"We really see it helping to integrating the same approach across different industries," Hickenlooper said.
He even hopes to eventually set up anywhere from six to eight centers around the state, with each assuming a different area of focus and both "competing and working with each other."
Yet the first step is to get the Colorado Springs center off the ground. Not only is he looking for an executive director to head up the effort, but he's also asking the state's Legislature for $8 million to supplement contributions from the private sector and foundations for its construction.
So far, Hickenlooper said he's gotten a "tremendous response" from everyone he's presented the idea to, and he thinks the growing prevalence of cyberthreats will spur action sooner rather than later.
"Every single week I learn something that makes me more concerned and brings greater sense of urgency to the issue," Hickenlooper said.
Contact the reporter who wrote this story at alex.koma@statescoop.com, or follow him on Twitter at @AlexKomaSNG.