California DMV is way behind on issuing Real ID
Struggling to issue the new cards, its offices must find a way to serve 23.5 million Real ID customers in the next two years.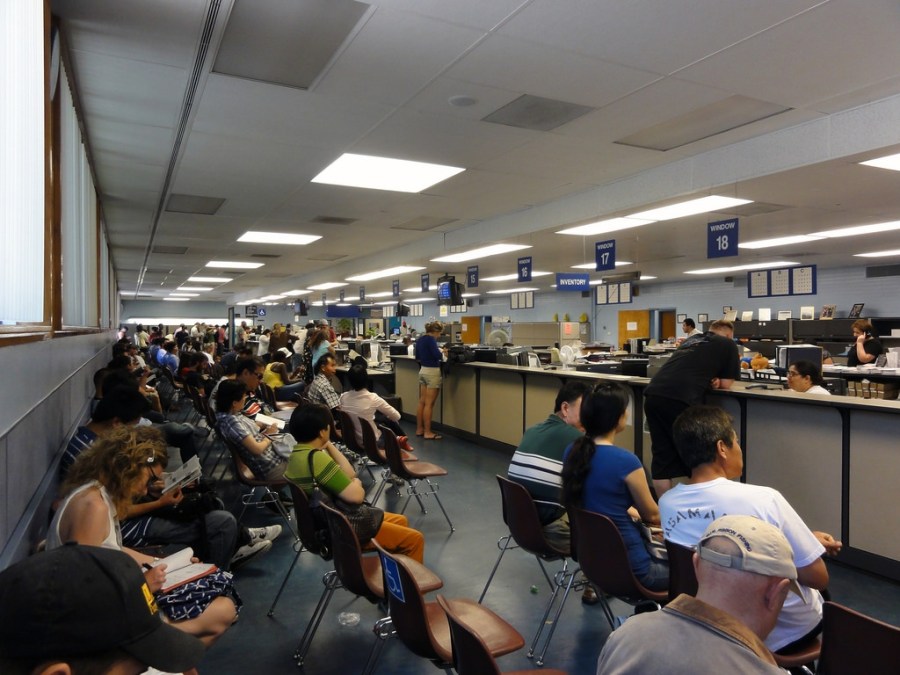 As technical glitches pile up for the California Department of Motor Vehicles and its administrators await the results of a performance audit ordered by the governor last month, lawmakers learned this week of yet another tangle inside the department.
At a committee hearing in Sacramento on Thursday, lawmakers learned that the DMV's current pace of issuing Real ID cards, a new type of identification federally mandated for air travelers not carrying passports, puts the state well behind schedule. The state must provide an estimated 23.5 million residents with new cards by the U.S. Department of Homeland Security's Oct. 1, 2020 deadline.
Lawmakers in the Senate Transportation and Housing Committee were dismayed to learn that the DMV has issued just 1.5 million Real ID cards since the program was launched in January.
The DMV released data in July showing that its wait times had risen 46 percent in the past year, a jump the department has largely attributed to the Real ID program. Customers seeking Real ID must visit a DMV office in person because a federal requirement prohibits online applications.
The DMV reported this week, however, that it had managed to slash average wait times for customers without appointments from 130 minutes in July to 73 minutes in September.
Just the same, Democratic Sen. Jim Beall, the committee chair, scolded DMV administrators for the department's operational shortcomings, which will be explored further in a coming audit. He also expressed concern that the department's aging technology will be unable to meet a pace of delivering nearly 1 million Real ID cards each month, which is what's needed if the state is to meet the federal deadline.
Extended waits are further aggravating customers already despondent with the frequent closure of DMV offices associated with IT outages. The department reported in August that its 40-year-old systems have experienced 34 outages since January 2017.
DMV Director Jean Shiomoto apologized to lawmakers for the long wait times and explained that her office is now drafting a plan to request new state funding to further alleviate wait times in anticipation of an influx of Real ID customers. This funding would follow an approval by the legislature in August to provide the department an additional $16.6 million to hire hundreds of new employees, deploy new technologies and modernize old software.
Shiomoto said the goal is to reach an average wait time of 15 minutes for non-appointment customers and that offices are currently deploying tablets to streamline check-ins and reach that goal.
When pressed by senators for the root causes of the DMV's long wait times, Shiomoto explained that it was a combination of not enough funding for personnel and an underestimation of how long it would take to explain to each customer how Real ID works.
She also explained that DMV staff were previously required to toggle between two software applications to complete an application, which was "not an efficient process." The software has been updated such that the two applications are now integrated, she said, resulting in "good improvements" in application processing times.
Shiomoto said she's also asked DHS to push back its deadline to give her department more time to ensure all California residents have time to get their new ID cards.
Democratic Sen. Benjamin Allen said he was worried that the DMV lagging so far behind schedule may soon bring "chaos" to their field offices.
"I'm honestly concerned about the extent to which we're going to be prepared for all those folks out there who just aren't aware of these requirements that are about to smack them in the face and the logistical challenge of bringing in 23-and-a-half million people is enormous," Allen said.
Republican Sen. Ted Gaines expressed similar concern and said, "We've got a mess on our hands."