AI will be the most influential technology in coming years, say state IT chiefs
Chatbots, voice assistants and machine learning will continue to grow as ways governments deliver services, according to a survey of state government technology officials.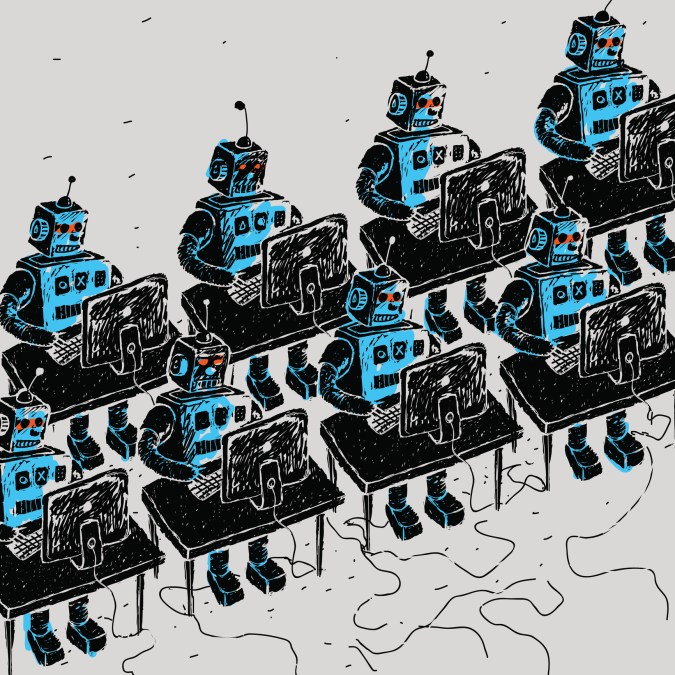 Development of artificial intelligence platforms will be the most impactful information technology topic for state governments over the next several years, according to a new survey of state IT leaders. Fifty-eight percent named AI and machine learning as the most important emerging technology, according to a report published this week by the National Association of State Chief Information Officers.
The question was included in an annual survey NASCIO sends out to its members. The association found that after a year in which numerous states incorporated chatbots, voice assistants and other automated tools into their processes, AI shot into the lead as the technology area with biggest potential, leapfrogging the adoption of internet-connected devices, which led the survey in 2017, when 43 percent of respondents cited the emergence of the so-called Internet of Things.
"For states, the promise of automating tedious tasks, reducing paperwork, turning over simple jobs and analyzing large-scale data to gain a better understanding of society holds great promise — and some fear," the new NASCIO report reads. "State governments are using AI in a variety of ways, and the possibilities for the future are endless and uncertain."
In the near-term, though, the adoption of artificial intelligence is often being realized with the deployment of chatbots, where users of a website can make requests of an application that responds with automated, conversational answers, and integrations with voice assistants like Amazon's Alexa platform. Citing a recent paper by the consulting firm Deloitte, the NASCIO report suggests that chatbots can be designed to "answer simple questions," while human workers focus on more complicated matters.
The North Carolina Innovation Center rolled out a chatbot in 2016 that helps state employees reset their passwords, freeing up IT employees from one of the most mundane tech-support duties. The bot was created after the Innovation Center found that more than 80 percent of the requests it fielded were from people who had forgotten their login credentials. "Using AI to split up tasks allows computers to do some of the work and humans to do some of the work (or supervise the computers)," the NASCIO report states.
Other states' chatbots are more robust, and are capable of completing citizen-facing functions. Mississippi's overhaul of its state government website last year included the introduction of a chatbot , named "Missi," programmed to give answers about services like tax payments, renewing hunting licenses or finding unclaimed property. Since Missi debuted, Illinois and Montana , among other states and cities, have rolled out chatbots of their own. Kansas recently launched "Agent Kay," which operates through Facebook's Messenger app.
Many states are also developing "skills" for Alexa, allowing users of Amazon's virtual assistant program to ask their compatible smart speakers, like an Amazon Echo or Sonos, for help obtaining government services. Just like its Missi chatbot, Mississippi offers an Alexa integration capable of answering everyday queries. For instance, a resident who says, "Alexa, ask Mississippi when my driver license expires" will get a response downloaded from the state's Department of Public Services. Indiana, meanwhile, has a skill for local travel advisories . In Utah, teens studying for their driver's license written exam and people applying to be notaries public can ask Alexa to quiz them .
While other leading tech firms, including Apple, Google and Samsung have their own virtual assistant, Alexa remains the dominant platform on in the market for interactive home devices, the NASCIO report states.
But AI development for state government goes beyond interactive software with bubbly interfaces. Machine learning plays a growing role in transportation planning in places like Maryland, where a $50 million upgrade to traffic signals across the state includes AI designed to ease congestion. The new lights are controlled by software capable of measuring traffic and synchronizing lights along specific corridors to keep vehicles moving during peak hours. Maryland officials told StateScoop last year the new system could reduce commuters' travel times by as much as 15 percent.
Other AI implementations focus on road maintenance, such as Vermont, where state transportation officials are using software that predicts how long street surfaces can last until they need to be repaved, and Minnesota, which is using AI to analyze weather patterns.
Though AI is expanding, it's still relatively new and experimental as a state-government solution, the NASCIO report continues. The answers chatbots and Alexa skills give are the products of automated searches for specific information, and while they've already simplified or augmented some human tasks, they haven't resulted in the outright replacement of human IT workers. In fact, a large majority believe the opposite, according to a January survey by Route Fifty in which 76 percent of state and local government tech leaders they disagreed with the statement that "People in my organization are worried that their jobs will be replaced by technology."
And there's evidence the automation trend might even be slowing down in state government: a Deloitte survey found that just 35 percent of state agency leaders were satisfied by how their organizations are adapting to the latest technology, like AI.
The key then, the NASCIO report concludes, is for governments to be judicious in how they incorporate artificial intelligence. "Making AI part of a goals-based, citizen-centric program means using AI as a tool only if it's the best way to solve a problem — not forcing it just because the technology is available," the document reads.
The full results of NASCIO's annual survey will be published at the organization's annual conference in October.