White House announces $1 billion in broadband funding for tribal nations
The Commerce Department will lead the distribution of $1 billion in grants to expand broadband access on tribal lands, Vice President Kamala Harris said.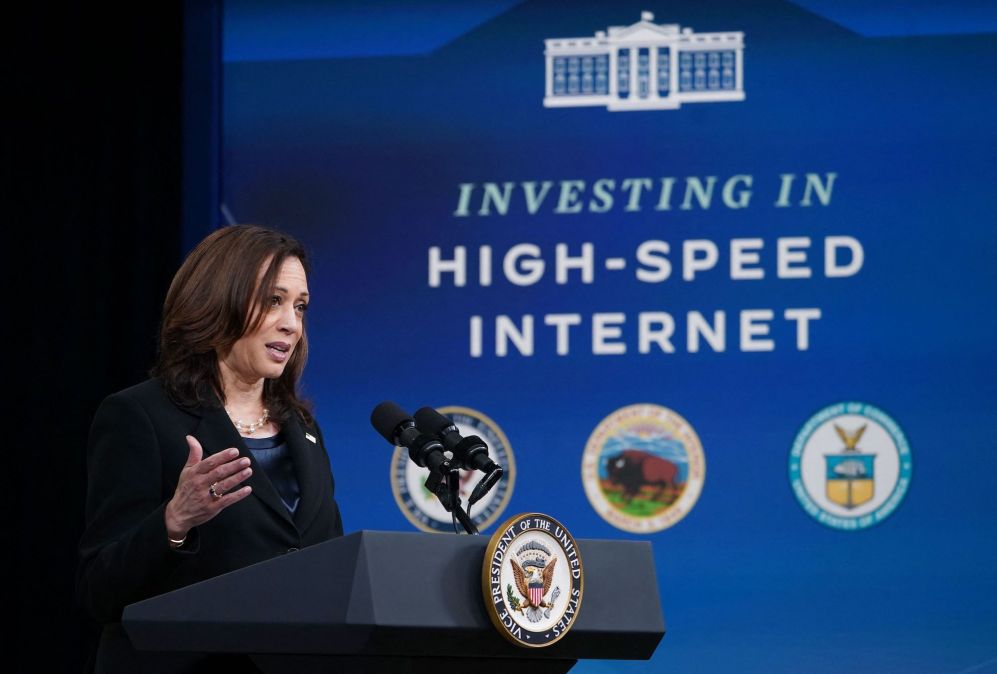 The Biden administration on Thursday announced a plan to provide nearly $1 billion in broadband expansion, digital literacy and workforce development grants to tribal nations.
The "Tribal Broadband Connectivity Program," established in late 2020 as part of pandemic relief funds in the Consolidated Appropriations Act, will distribute grants from the National Telecommunications and Information Administration that are available to all 574 tribal nations, including those in Alaska and Hawaii. The money can be spent to lay fiber optic cables, launch digital literacy programs and support apprenticeships and job training for building network infrastructure, Vice President Kamala Harris said Thursday.
"Access to the internet creates access to services. So lack of access to services means a lack of access to vital needs that families and individuals have, and compounds disparities that existed before the pandemic," Harris said at a White House event alongside Interior Secretary Deb Haaland, Commerce Secretary Gina Raimondo and tribal leaders.
Nearly 40% of Native American and Alaskan native households lack broadband, Shannon Holsey, president of the Stockbridge-Munsee Band of Mohicans, located in Wisconsin, said at the event. Federal Communications Commission data from 2019 revealed tribal nations often have far fewer choices of broadband service than their non-tribal neighbors.
Virtually "every sector" of infrastructure is substandard in Indian Country, Holsey said, but without reliable and affordable internet access, those residents receive worse education, health care and access to the economy than they would with high-speed internet.
"Expanding broadband access would transform native communities, promote economic development and empower tribal nation governments to provide critical services, including health care, education, public safety and emergency services," Holsey said.
When distributing the grants, the NTIA will seek proposals and infrastructure project ideas that can expand the availability of broadband and support digital inclusion efforts, according to the Commerce Department.