StateScoop's Top Women in Technology 2017
StateScoop's Top Women in Technology 2017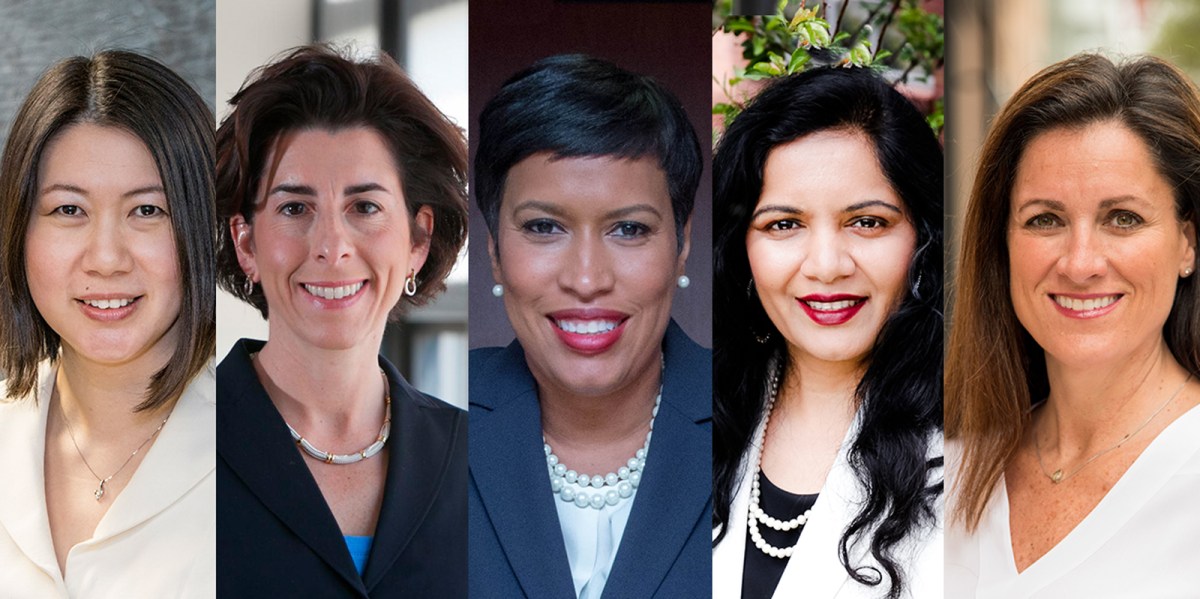 ---
Marian Cook
Chief Strategy Officer
State of Illinois
As Illinois continues transformation of its Department of Information Technology, the state's IT leadership has turned to Marian Cook to coordinate the strategy.
Cook, the chief strategy officer, works alongside the state's chief information officer and in partnership with organizations like the World Economic Forum to determine Illinois' path forward in the digital economy.
"In an age of increasing automation and change, what is state government's role in ensuring its citizens and businesses prosper?"Cook told StateScoop. "There are important and impactful challenges that we are proactively taking action on."
What's the biggest thing you and your team have achieved over the past year?
Our team built the first in the nation Smart State strategy and roadmap. A smart state is one with a vision, a plan and an execution roadmap to enact the digital transformation of the state ecosystem:private and public, academic, non-profit and philanthropic sectors. [We're doing this]by thinking holistically of its assets and investing strategically in a third platform information and communications technology. This platform includes mobile technologies, big data analytics and cloud services as its foundation for a set of innovation accelerators such as the Internet of Things, cognitive computing and robotics that enable potentially radical new work processes, services and products.
This goes far beyond technology, and includes the transformation of leadership, experience, information, operations, workforce and our ecosystem.
What piece or pieces of advice do you have for aspiring female leaders on making a difference in their organizations and in the greater tech community?
Run to the problem, not from the problem:We are certainly doing that now with our digital economy initiative. I learned this very early in my career at IBM. There was a client so upset they said if their current systems engineer came back on the property, they were going to call the police! I volunteered to take that client on and in two years turned them into a national showcase account. When others back away, step up, work hard and be fearless. You will make a difference.
To be valuable, be valued:Outlearn everyone around you. I read a technology or business book a week. Ask questions and learn from others. Surround yourself with people you respect and can learn from. I run two gubernatorial advisory boards of private sector and academic leaders. It is a phenomenal learning experience for everyone involved. My dream job would be to interview business and technology leaders so I could learn from them! Nurture your sense of wonder and curiosity. The constant quest for knowledge will help you make a difference in your organization and pay off throughout your career.
Think big:We don't see our IT organization as an IT shop. Technology is the catalyst for transformation writ large, so don't sink into a commodity role. Thinking big is the genesis of the smart state and digital economy initiatives. Carve out time to see bigger connections. Set those big, hairy, audacious goals and swing for the fences. Be a strategic thinker and study those that are. In a previous position, for example, I captured the questions the CEO frequently asked. That prepared me for my meetings with him and became the go-to questions I would ask in other meetings. It prepared me to be and positioned me as a strategic thinker, which means I can add more value in different ways.
Be a community and relationship builder:Connect dots, don't just collect dots. Invest in and extend yourself for people you trust and believe in. Look for their greatness and amplify it. Leaders build leaders, so show them what they are capable of. Be bold in your aspirations for and support of others, and they will do the same for you. I try to live by my favorite quote, a Quaker proverb: I lift thee, and thee lift me, and we ascend together.
How are you working to empower other women to follow in your footsteps?
Going back to my earlier Quaker proverb reference, I have always found it fulfilling to champion women's success. I developed and led a leadership development program for women executives in a global bank, as well as for the largest Chicagoland women's entrepreneur organization. ForWomen in Technology International, or WITI, I have been a leader for the Chicago network. I also showcased women leaders with a regular column in a WITI publication and website, as well as in a column in ComputerWorld. I am currently mentoring women college students as they transition into the work world, and will be hosting women executive events in the first State of Illinois Innovation Center, which we just launched this year.
---
Yejin Cooke
Director, Government Affairs
National Association of State Chief Information Officers
For Yejin Cooke, the National Association of State Chief Information Officers' government affairs director, a normal day consists of "reading, writing and representing."
As the only member of NASCIO's Washington, D.C. office, Cooke keeps up with activities underway in both federal and state governments to identify opportunities for the association, as well as to "play defense" when potential challenges come up.
"A big aspect of my job is to represent the interest of our state CIO membership with a variety of audiences, including those that represent different sectors of state government,"Cooke told StateScoop. "The NASCIO team is HQ'd in Lexington, Kentucky, but we made a strategic decision a long time ago to have a NASCIO representative in D.C. to advance the association's agenda with our federal partners and with various partners in the D.C. area."
Indeed, Cooke takes the helm of NASCIO's annual federal advocacy priorities, which, among other things, focused on cybersecurity for 2017. Cooke also regularly writes and helps prepare testimony for hearings, including state legislative hearings across the country on issues like information technology and cybersecurity.
What's the biggest thing you and your team have achieved over the last year?
There are a lot of things we're proud to have accomplished one of them is the procurement reform work we've been advancing, headed up by my colleague, Meredith Ward. [The National Association of State Procurement Officials] endorsed NASCIOs IT procurement reform recommendations and we consider that and the activities that followed a swing in a very positive direction for this issue.
We're also very pleased to see that the steady work we've been doing to educate and inform state legislators and governors has resulted in some very positive outcomes and opportunities for partnership.
What piece or pieces of advice do you have for aspiring female leaders on making a difference in their organizations and the greater tech community?
Good customer service will go a long way. For my first teen job, I was a sandwich artist at Subway. Cant say I learned too much about tech or IT, but I did learn a lot about customer service. People remember how they've been treated, so be professional and courteous to everyone. How you do your job can be more important than what your job is.
In short, don't be a jerk, hustle hard, use what you know, seek out challenges, and always keep learning.
How are you working to empower other women to follow in your footsteps?
I couldn't name a specific activity per se, but I do try to have conversations with and make networking connections for young people who are seeking career advice and guidance. I still have a lot to learn and want to take advantage of the more experienced and knowledgeable people around me.
---
Tracy Doaks
Deputy Chief Information Officer
State of North Carolina
Day to day, Tracy Doaks says she's always working to keep her head above the fray to ensure she continues to think strategically.
And she needs to one of her man responsibilities as North Carolina's deputy chief information officer is to keep leaders and the agency itself in check and aligned to the goals the Department of Information Technology outlined at its inception.
"At the same time,I also have to work to ensure that the activities we are focused on align with those goals,"Doaks told StateScoop. "Of course, there are the occasional fires that need to be put out throughout the day."
After dealing with those fires, though, Doaks is able to turn back and focus on strategy, but she still views those flare-ups as "opportunities to fine-tune strategies to ensure they do not reoccur."
What's the biggest thing you and your team have achieved over the last year?
One of our biggest achievements was implementing a service-based costing model. We are also introducing the concept of service owners to ensure we maintain the budget and cost model throughout the year. This approach helped us to reduce our rates significantly and make them competitive. Reducing our rates has always been a challenge for North Carolina, so I am really pleased that in the past nine months we were able to reduce rates in some of the most popular services we offer today. The key over the coming year will be to work with our service owners to maintain the quality of the service, while maintaining the rate.
What piece or pieces of advice do you have for aspiring female leaders on making a difference in their organizations and the greater tech community?
I have two big pieces of advice. The first is to be tenacious. Make sure that when you latch on to a vision, idea or something you have conviction about, that you follow it through to the end. Secondly, it's important to know the difference between noise and facts. Getting caught up in the noise, whether thats office gossip, politics or getting bogged down in the details, can slow you down and keep you from achieving your goals. Knowing and focusing on the facts will move you forward.
How are you working to empower other women to follow in your footsteps?
In my role and my industry, particularly in North Carolina, there are few women who do what I do. In realizing that, I decided to turn my focus to the younger generation. I speak to a lot of young women in high school and college who are interested in STEM (or even the new STEAM) programs and education. I enjoy finding opportunities to empower them, and encourage them to follow their instincts. Also, I am a member of several boards that allow me to use my influence and experience so that others may view women technologists differently. My goal is for these board members to see the value of having more female members and recognize the diversity of thought that can result. Lastly, I do like serving as an example that just because you go into the engineering or very technical fields doesn't necessarily mean that you're a nerd with a pocket protector you can go into engineering and become a very successful executive, business woman and important contributor to your community.
---
Ann Dunkin
Chief Information Officer
Santa Clara County, California
It's only been a few months since Ann Dunkin left the federal government and her role as chief information officer at the Environmental Protection Agency at the end of the Obama administration, but she's already settling into her new role as Santa Clara County, California's chief information officer.
The 16th largest county in the country, Santa Clara County includes San Jose, California, and is smack in the middle of Silicon Valley.
While Dunkin expects her role and daily life to change in the coming months, she currently ensures that both the existing technology operations and technology development of the county run smoothly and that technology meets the needs of residents and staff.
"A lot of my current daily life is about meeting with people throughout the county to learn what they do and what they need from IT,"Dunkin said. "I believe that my job is achieved primarily through talking to people. So while the content will change, I generally spend seven to eight hours every day in meetings."
Those meetings, Dunkin said, are critical for her to better understand the organization. Without those conversations, the new CIO is unable to build a strategy or development plan.
What's the biggest thing you and your team have achieved over the last year?
For my biggest achievement in the last year, I have to go back to my time at the EPA.I think that while we talk a lot about the great technology products we delivered and they are great products the IT reorganization, which included redesigning IT governance and developing the first IT strategy that spanned the entire agency is my most enduring accomplishment in the last year. The completion of the reorg, governance and strategy plan not only helped focus the team on both fundamentals and our new focus areas, but it also helped cement the cultural changes we'd been working on for the two years prior to the organization being finalized.
What piece or pieces of advice do you have for aspiring female leaders on making a difference in their organizations and the greater tech community?
I think it's important that women are clear as to what 'making a difference' means to them and how big an impact they want to have. A woman can make a difference by mentoring someone. They can also make a difference by finding the cure to cancer. So, the most important thing is to understand what you want to do and then commit yourself to what it takes to do that. It's also important to understand what you won't give up to achieve that goal. That could mean not working more than eight hours a day or always speaking the truth regardless of the consequences. So the 'what' isn't that important. Clarity is important, as is an understanding of your limits and standards.
How are you working to empower other women to follow in your footsteps?
I don't really like the word "empower" because it's still passive for everyone else. There is no doubt that I have the power to take action, but what I want to do is create the conditions that allow others to take ownership and initiative. I want to help them take charge. I can't give them power they have to take it. So, what I'm doing is creating an environment where everyone is given an equal opportunity to excel and to take on new and more complex assignments. This means that I have to create leaders at every level of the organization who know how to help their staff grow and develop. I can't do it all myself. My goal is to make sure everyone has access to equal opportunity and works with excellent leaders. That requires developing a culture where managers support their staff and where staff are encouraged to take initiative and take risk.
---
Amy Fecher
Chief Transformation Officer
State of Arkansas
In late 2016, Arkansas Gov.Asa Hutchinson created the chief transformation officer role to help find efficiencies and streamline operations within the state's government. Amy Fecher is the first person to take that role.
But transforming the state's government operations is only one facet of her role Fecher also serves as the executive vice president of operations for the Arkansas Economic Development Commission and as Gov. Hutchinson's designee to the Delta Regional Authority Board.In fact, she does not receive additional compensation for her role as chief transformation officer.
"It's something that I'am passionate about doing,"Fecher told StateScoop. "I believe that we, as public servants, must ask ourselves every day how we can do things better and more efficiently while being the best stewards of our citizen's tax dollars."
In the transformation process, Fecher said she sees herself as a project manager of the work being done throughout the state. She actively coordinates those transformation activities with a 15-member advisory board comprised from the public and private sectors. That board has been charged with evaluating and making recommendations on strategy and priorities.
"Transformation is certainly not a task that can be accomplished by one person, but will require the participation of every agency, board, commission and state employee,"Fecher said. "Technology is a crucial component in helping Arkansas become more efficient. When you think about it, efficiency is about saving money, but also about saving time and effort."
What's the biggest thing you and your team have achieved over the last year?

Governor Hutchinson established the position of chief transformation officer in December of 2016 to continue his administrations work of identifying and implementing efficiencies throughout state government. This has been a top priority for the governor since the beginning of his administration.
Some of the highlights we have worked on to date include:
The merger of six agencies.
A state hiring freeze, which has resulted in over 1,000 fewer state employees since 2015.
$100 million in tax relief to over 600,000 middle class Arkansans.
$50 million lower-income tax cut.
What piece or pieces of advice do you have for aspiring female leaders on making a difference in their organizations and the greater tech community?
Always do more than the minimum and prove yourself to be trustworthy and loyal to your supervisor and coworkers.You dont have to be the smartest person in the room to be a leader; you have to be dedicated to doing your best and assembling a team that is committed to doing the same.Be innovative and open to better ways of doing things. Be yourself don't try to copy other peoples style or way of leading. Be an authentic person that motivates others to follow you by your actions more so than your words.
How are you working to empower other women to follow in your footsteps?
I volunteer on the executive committee of the annual Arkansas Women of Inspiration event, which highlights female leaders within the state that are making a difference. One goal of this event is to bring together more experienced women in leadership with less seasoned women in their career.This event is a fundraiser for the Arkansas Children's Advocacy Centers and has been very successful over the last few years.
At the Arkansas Economic Development Commission, we have established a mentoring program to help guide younger members of the staff as they begin their careers by teaming them up with a more experienced staff member their first year on the job.The mentors are available as a reference and guide for the new staff members to help them transition into their new position with confidence and knowledge.
I strive to continually invest time into developing young women in the workforce, and assisting in their growth as leaders.
---
Joanne Hale
Chief Information Officer
State of Alabama
For Joanne Hale, the secretary of information technology in Alabama, running the state's technology shop centers around communication.
"[I spend my time] listening to agency leaders, helping them see the promise and risks of technology, translating their needs to my team and ensuring that my team has the resources to deliver operational results,"Hale told StateScoop.
With twenty years of experience as a professor at the University of Alabama, Hale calls herself a government "oddity," now having served in the role for just more than a year now. As she's grown into the position, she's designed a responsive state IT strategic plan that is in response to the business needs of state agencies and their technology priorities, as well.
What's the biggest thing you and your team have achieved over the last year?
We have seen success on numerous fronts from cybersecurity to project governance, cost control and transparency. I am most proud of our improvements in customer service. In the past, OIT staff took responsibility for their tasks then handed an issue off to the next person. Now, through new training and metrics, our staff take responsibility for resolving the customer problem owning the auction, not just a task.
What piece or pieces of advice do you have for aspiring female leaders on making a difference in their organizations and the greater tech community?

Embrace and value your unique skills and capabilities. Never let yourself feel inadequate for what is not on your resume leverage your strengths and surround yourself with a team of diverse perspectives and backgrounds.
Designate someone on your team to play devils advocate to challenge assumptions, question the status quo, push the boundary.
Listen more than you talk.
How are you working to empower other women to follow in your footsteps?
As often as I can, I speak to Women in Technology student groups. I serve as a mentor to several women in my office, in state agencies, and in the community. This enriches my experience as much as theirs.
---
Maggie Hallbach
VP, Government & Education
Verizon
Maggie Hallbach's phone is never out of reach.
It can't be, she told StateScoop, because she supports Verizon's Business Markets' state and local government and education clients across the United States, a coverage area spanning several time zones and including clients from massive public safety entities, school districts and other agencies across a market that drives how citizens get their services.
But that doesn't come without reward. In fact, Hallbach said knowing that her work with the company helps citizens interface with their government is what makes the job worth doing.
"It's incredibly rewarding to know that we help our communities thrive,"Hallbach said. "Traveling across the country meeting with community leaders, engaging with our Verizon team members that serve our clients, or collaborating with technology partners I stay pretty busy."
What's the biggest thing you and your team have achieved over the last year?
Helping our clients understand how technology can help them more effectively serve constituents. This includes everything from providing highly secure mobile applications for social workers or clinicians, to securing critical networks and the data for dozens of states, or enabling a better experience for constituents seeking government services.
What piece or pieces of advice do you have for aspiring female leaders on making a difference in their organizations and the greater tech community?
I love Sheryl Sandberg's book "Lean In." It sits on my bedside table, and I will often pick it up even though I have read it several times and reread a few pages. The one story she tells that really resonated with me was when she went into the board room and the rest of the women weren't sitting at the table, but were at chairs on the wall. That exemplifies leaning in. Take a seat at the table. You have something valuable to contribute.Ensure your voice is heard.
How are you working to empower other women to follow in your footsteps?
For me, it starts at home. I have the pleasure of having two beautiful teenage daughters who have many gifts. Encouraging them to gain satisfaction and self-esteem through accomplishing their goals has been a mission for me.
It carries over to work as well. Verizon has several wonderful programs that encourage our female employees to engage in leadership opportunities such as the Women's Association of Verizon Employees, or WAVE. WAVE is a Verizon-sponsored professional organization that champions the advancement of employees across the organization by promoting leadership, providing networking opportunities, addressing the reality of experience for women in the workplace, recognizing excellence and positioning members to create transformational changes in the business and in their careers.
The VerizonFoundation also engages heavily in education programs that advanced girls in engineering and technology like Girls Who Code and several STEM programs aimed at encouraging girls to engage in the STEM-related fields.
---
Rachel Haot
Managing Director
1776 NYC
After leading the digital operations for both New York City and New York state, Rachel Haot moved on. Now, she's leading the strategy and operations for startup incubator 1776's New York City branch.
Every day at 1776 is different for Haot, but her work centers on "cultivating a community of startups and institutional innovators driving change and creating value."
From one day to the next, that could include hosting a pitch competition in the group's Brooklyn campus, connecting innovative startups with industry leaders for partnerships or hosting office hours for entrepreneurs. In addition, Haot is working on building the group's future campus in the Brooklyn Navy Yard, which will eventually house more than 100 startups.
What's the biggest thing you and your team have achieved over the last year?
The most important thing that we've done is build the foundation for a 1776 community of innovators in New York City. This city has enormous potential to lead the world in industries like smart cities, health and fintech, but we're not there yet because the government, industry and startup ecosystems are not connecting and collaborating. There are significant barriers to entry across the board. Our mission is to educate and bridge these silos to spur jobs, economic value and innovations that transform the city and the world. To get started, we've launched a beautiful, collaborative community space in the Brooklyn Navy Yard, welcomed more than 60 startup members, partnered with leading institutions across the city to support inclusive innovation, introduced mentors in government and industry and hosted thought-provoking events.
What piece or pieces of advice do you have for aspiring female leaders on making a difference in their organizations and the greater tech community?
My advice to aspiring women leaders is the same as my advice to aspiring men leaders: listen, add value, leave things better than you found them and keep learning. When 1776 first came to New York, we spent the first 90 days on a listening tour, identifying gaps that we could uniquely solve. For example, New York City's tech ecosystem has exploded in the past five years, and there are a lot of incubators and accelerators. We wanted to be complementary, not competitive. So we have leveraged our digital platform Union to serve as connective tissue across the startup ecosystem, connecting these networks online and enabling the whole to be greater than the sum of its parts. And of course, the world is constantly changing, so you always have to be learning. It also makes things more interesting.
How are you working to empower other women to follow in your footsteps?
Because there aren't a ton of women doing tech in government although I would argue the numbers are better than in the private sector I meet regularly with women who are interested in a similar career path. It's self-interested too. I learn from them, and they are great potential candidates for hire down the line. On a more organized note, 1776 NYC is thoughtful about recruiting female entrepreneurs, and recently hosted our first-ever Women's Demo Day, in celebration of International Women's Day on March 8.
---
Jeanne Holm
Deputy Chief Information Officer
Los Angeles, California
As the senior technology adviser to the mayor and deputy chief information officer for the city of Los Angeles,Jeanne Holm's job is engagement.
That engagement could center around homelessness or finding a way to engage citizens with virtual reality and determining a path forward for autonomous vehicles in the city.
"The focus is on how tech can empower, connect and support 4 million people in our beautiful, vibrant, diverse city,"Holm told StateScoop. "I run a newly-created area called customer engagement in the Information Technology Agency."
Specifically within the IT department, Holm said her and her team can be found managing a broadcast on the city's Emmy-winning television network or finding ways to better support and help city agencies as they serve citizens with technology.
StateScoop:What's the biggest thing you and your team have achieved over the last year?
Jeanne Holm:We helped to change the conversation from IT as a city-hall-centric conversation to how tech can help every person who lives, works and plays in Los Angeles. From smart cities to digital inclusion, my team is making a difference in city efficiencies and in connecting everyone to services and information that improves their lives. As an example, we deployed free wifi to Skid Row for our homeless (at no cost to the city) and gave away 3,000 refurbished computers to low-income people while teaching kids marketable tech skills. And all of this is only possible because of the thriving public-private and intra-departmental partnerships we are supporting.We also launched the Data Science Federation, which connects 11 local universities to city challenges and provides real data to students and professors to improve LA and helps city managers and employees learn about new insights and technologies to create a data-driven government.
What piece or pieces of advice do you have for aspiring female leaders on making a difference in their organizations and the greater tech community?
Be kind. Be generous. Be curious. Be brave. At this time, it's critical to stand up for what's important and to be sure to support women and other underrepresented voices in tech and in local government policies. Diversity is our strength as Americans. Be the change you envision from within government, but more importantly, by volunteering and working with your community and creating partnerships between the community and government.
How are you working to empower other women to follow in your footsteps?
I mentor many young women and men, and teach and talk to groups, always with an eye to empowering women and informing men about gender equity and bias. I volunteer for activities that help to support women and minorities in STEM education and provide education to unleash the creativity of people all over the world. I co-founded the Africa Open Data Conference, which provides conferences and training across Africa helping thousands of individuals, with an amazing team that is 85 percent women from across the world. And with UCLA and In Unison, I teach college courses for all Angelenos in areas where kids have traditionally had a tough chance of getting into college. My students are young and old, homeless and hopeful, and each brings their idea to life on how to transform their community.
---
Karen Jackson
Secretary of Technology
State of Virginia
Unlike a lot of states, Virginia's Secretary of Technology is not the state's chief information officer but with half the titles, Karen Jackson is twice as focused to her mission of advancing the state's secure technology imprint.
"The secretary is responsible for the efficient and effective use of information technology to simplify government operations, advance technology applications to improve public services and drive the innovation economy through the Commonwealth's leadership,"Jackson told StateScoop.
As part of her role, Jackson covers a lot of ground from oversight of the Virginia InformationTechnologies Agency to helping the state cement itself as a leader in unmanned aircraft systems and cybersecurity. Jackson does say, however, that the one constant in her job is change.
"The speed of innovation is staggering," Jackson said. "My team and I are constantly challenged to strike a balance between the pace of government and the need to stay on the forefront of emerging technologies and opportunities. I'm blessed to work for a governor who understands and is a stalwart champion for the power of technology, both as an economic driver and a governmental necessity."
What's the biggest thing you and your team have achieved over the last year?
We've had outstanding accomplishments that have advanced unmanned systems, data analytics and our internal infrastructure, but by far the greatest achievements have been in (and continue to be) in cybersecurity. Virginia has a vast array of amazing cybersecurity assets that through the leadership of Governor McAuliffe have been leveraged into a vibrant cyber ecosystem. The Virginia cyber ecosystem is built around five primary functional areas: cyber crime, cyber infrastructure (internal and critical infrastructure), education/workforce, economic development, and public awareness.Since the beginning of the administration, we have worked diligently across these five areas to build capabilities and programs capable of sustaining the sector well into the future.
Building on the great work done in Virginia, Governor McAuliffe selected cybersecurity as his signature imitative for his chairmanship of the National Governors Association.The national initiative known as"Meet the Threat, States Confront the Cyber Challenge" has provided an exciting and unparalleled opportunity to highlight Virginias cyber accomplishments and to share our work and accomplishments with other states that are just starting their work in this ever-increasingly challenging space. The opportunity to serve as a national role model doesn't come along often and I am honored that Governor McAuliffe would select cyber as his initiative.
What piece or pieces of advice do you have for aspiring female leaders on making a difference in their organizations and the greater tech community?
Don't give up find something you are passionate about and don't give up! Technology remains a male-dominated industry, but as the first female to hold the position of secretary of technology, I hope I have shattered yet one more glass ceiling so that others can follow in my footsteps.I love what I do, and I am leaving nothing on the table.I am giving this job everything that I have because I believe in what I do and in the tasks before the governor and me. My hope is that our efforts will cultivate opportunities across the commonwealth in key industry sectors such as cyber, unmanned systems, cyber and data analytics that will allow young women to find their passion and to excel in their chosen field as I have.
How are you working to empower other women to follow in your footsteps?
I take every opportunity to speak with and to encourage programs and associations dedicated to the advancement of women of all ages.I have participated in STEM career and mentoring events and look forward to doing more in the coming months.In fact, I have assembled an amazing group of women from across Virginia that is currently strategizing on the possibility of a statewide Women's STEM event that would include mentoring and multi-generational problem solving. We have to do all we can to instill a can-do attitude in young women so they will pursue careers in STEM related fields.The earlier we can capture their imaginations and capitalize on their tenacity, the better off we will be.