New York City fills long-vacant chief analytics officer role
Kelly Jin, a former technology policy adviser to the Obama White House, was hired as the city's new top data official.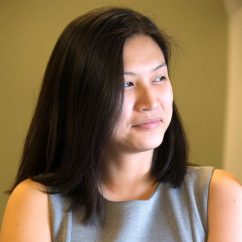 New York Mayor Bill de Blasio announced Wednesday that Kelly Jin, a former technology policy adviser to the Obama administration, has been appointed as the city's new chief analytics officer and director of the Mayor's Office of Data Analytics. Jin had most recently been working as a director of the Laura and John Arnold Foundation's Data-Driven Justice project.
In hiring Jin, New York closes a 19-month vacancy atop its open-data program that was left by the 2017 departure of former Chief Analytics Officer Amen Ra Mashariki, who now leads the urban analytics practice at the mapping firm Esri. Prior to working at the White House in 2016, Jin held the top data analytics job for the Boston city government.
In a press release, Jin said she wants to use data to make New York a more "transparent, fair and equitable" city.
New York has one of the most robust data troves of any large government, offering more than 2,200 individual sets collected from 98 different city offices and agencies. The city started publishing its data sets online in 2012 under an order from then-Mayor Michael Bloomberg; the program was pushed ahead in 2015 by de Blasio's "Open Data for All" initiative, which culminated last year with the launch of a new consolidated data portal .
"Our data analytics team is a crucial part of bringing important city initiatives to life, tracking their progress, and finding new ways to understand the city through data," de Blasio said in a City Hall statement. "Our data is a window into what's happening in every neighborhood in our city, and we want even more New Yorkers to discover, benefit and build from it."
At the Arnold Foundation, Jin oversaw work continuing an Obama White House initiative to use criminal-justice and healthcare data to identify individuals with mental illness, substance-abuse problems and chronic health problems, some of whom have relatively high recidivism rates. The program, which Jin launched as an adviser to U.S. Chief Technology Officer Megan Smith, involved data sharing between 140 city, county and state governments, ranging in size from Los Angeles, an urban sprawl with more than 10 million residents across the county, to small, rural counties in Pennsylvania.
Advising Smith was Jin's second gig with the Obama administration. From 2012 to 2013 she worked on the staff of the Domestic Policy Council. Between White House stints, Jin was a co-lead of Boston's citywide analytics team, which included overseeing the launch of the CityScore performance metrics platform.
In her new role with New York, Jin will report to Jeff Thamkittikasem, the director of the Mayor's Office of Operations. Jin, who was not made available for an interview, told the Gotham Gazette that she wants to leverage data to help city agencies make better policy decisions.
"What I've learned across all the different orgs is that executives and leadership of the various agencies, they're looking for help around decision-making at the executive level," she said.