Leonsis: Find the double-bottom line
In business it's all about the bottom line or in Ted Leonsis' case, the double-bottom line.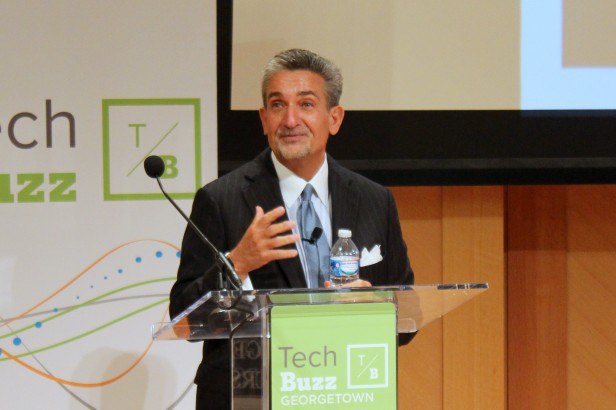 In business it's all about the bottom line or in Ted Leonsis' case, the double-bottom line.
Leonsis, the owner of the Washington Capitals and Washington Wizards and one of the early executives at America Online, has invested in hundreds of companies during his career, but the ones the are truly successful serve multiple purposes.
"I look for companies that not only have a good idea, but provide something to the social discussion," Leonsis said Friday in a keynote address at the Mid-Atlantic Venture Association's TechBUZZ event at Georgetown University in Washington, D.C.
For example, Leonsis was an early investor in Groupon, which offers daily deals at restaurants, retailers and service providers.
During the economic downturn while Groupon was still able to grow its business, the company provided liquidity to its business partners in terms of upfront cash for doing business with Groupon.
"That helped keep a number of those companies afloat during a tough time, so they will remain loyal customers of Groupon as things get better," Leonsis said.
He also pointed to SnagFilms, an online movie house that lets documentary and independent filmmakers upload their films for the viewing public, allowing movies that may have never been distributed be available to a larger audience.
"Good ideas are always good ideas, but the truly successful companies drive change in other ways," Leonsis said. "As an investor, I'm always looking for those companies, because it allows us to do some social good, while also getting a good return for our investment."
For the main part of the event, 18 companies from the Mid-Atlantic region presented to a panel of investors to get feedback on their product and pitch. Each of the companies was seeking an early-stage investment round as they go from concept to conception and need extra capital to take their company to the next stage of development.
The companies presenting were:
Aquicore
C2G
CTBIM, Inc.
Encore
Facility360
Firejack, Inc.
Kaprica Security
Naava
Open Assembly
Pinbooster
Power Fingerprinting, Inc.
Rehabtics
Riide
SameGrain
The Trip Tribe
Tour Command
Trupath
VisitDays