Kentucky's $375,000 CIO defends his first year on the job
Charles Grindle, whose unusually high salary has become a political controversy, says he's saved the commonwealth millions of dollars.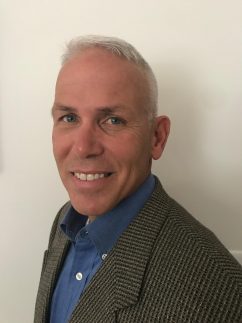 The $375,000 annual salary that Kentucky pays Chief Information Officer Charles Grindle is, by far, the highest received by the top information technology official in any state. It's also become a growing political issue in the commonwealth, as Gov. Matt Bevin has been criticized for handing such a large salary to an official with whom he has a shared history.
But in an interview Tuesday in San Diego during the annual conference of the National Association of State Chief Information Officers, Grindle told StateScoop he was unfazed by the chatter, and instead pointed to some of his accomplishments since he was appointed to the job last December, including major cost savings for the state and leadership over an IT consolidation effort that for years had made minimal progress.
Grindle said he inherited a Commonwealth Office of Technology, or COT, that was deeply in debt, requiring $16.9 million to service the debt annually, a figure he said he's since reduced by almost half to $8.9 million.
A state law enacted in April gave Grindle's office heightened authority to enact further changes that could potentially save the state even more. The law authorizes his office to carry out a true governmentwide IT consolidation and to approve technology contracts signed by nearly all state agencies. (Exceptions were granted to offices led by statewide elected officials, such as the attorney general, public universities and certain administrative boards.)
That law, known as HB244 , ensconced the COT within Kentucky's Finance and Administration Cabinet, and also made the CIO role a Cabinet-level position reporting to both the finance and administration secretary and the governor.
Kentucky's IT consolidation effort was initiated in 2012 through an executive order signed by then-Gov. Steve Beshear. But on Tuesday, Grindle said that while Beshear's action ordered agencies to move their servers to a centralized facility, it did not give COT much authority to modernize those systems writ large.
"Basically, it just said 'move your stuff,'" Grindle said.
COT is now in the process of upgrading the Kentucky government's x86-based computing infrastructure, which includes 1,100 physical servers and 3,300 virtual servers. The state is also in the process of moving all its end users to Windows 10 environments. In the process, Grindle said he's also working to reduce the state's reliance on a jumble of different IT contractors to a single vendor.
In interviews with Kentucky media, Bevin, a Republican first elected in 2015, pointed to Grindle's management of the consolidation effort as justification for his salary, which is nearly two-and-half times the median salary for a state CIO (or equivalent role) of $153,326, as reported by the Council of State Governments.
"The idea that we would shortchange the people of Kentucky by getting the cheapest person we can is hard for me to fathom," the governor told the Louisville Courier-Journal last month after Grindle's salary was publicly disclosed.
Bevin has also called Grindle, whose 29-year military career included stints as the CIO for the Third Army in Iraq and the United States Military Academy in West Point, New York, the most qualified state IT chief in the country.
But Grindle is not alone among state CIOs with extensive military experience. Like Grindle, Michigan's Dave DeVries is also a 29-year Army veteran who finished as a colonel, and Minnesota's Johanna Clyborne serves as a brigadier general in her state's National Guard. Their salaries are $180,000 and $130,010, respectively.
Exempted salaries
Grindle was hired last December at Kentucky's previous CIO salary of $160,000. But he received a $215,000 raise after the state legislature, in the closing moments of its April budget session, passed a bill giving Bevin the authority to exempt the CIO and the Kentucky secretary of health and human services from state employee salary limit of $163,992.
Bevin had previously come under fire for giving abnormally large salaries to certain appointees, including $240,000 to David Dumas, a Southern Baptist preacher who briefly served as the state's "adoption czar" for seven months last year. Bevin also hired Vivek Sarin, a longtime friend from his business career, as the chief of staff for Kentucky's economic development agency, a position that pays $250,000 annually.
Grindle and Bevin go back to 1989, when both were commissioned as Army officers and overlapped at Fort Sill, Oklahoma, and Fort Polk, Louisiana, according to previous reports about their military careers. (Bevin, who left active duty in 1993 and the reserve in 2004, has repeatedly refused to release his Army record during his time in office.)
In his interview with StateScoop on Tuesday, Grindle acknowledged having known Bevin in the Army, but declined to go into detail. He also refused a request to audio-record the conversation, though he allowed StateScoop to take pen-and-paper notes.
Grindle didn't dispute the Kentucky statehouse's decision to hike his salary.
"The legislature made a decision," he said. "If we want to move the organization forward you have to put the right people in."
'Outrageous'
Still those decisions created a new scandal for the governor. Kentucky Attorney General Andy Beshear, son of Gov. Beshear and the Democratic Party's likely nominee to challenge Bevin in 2019, called the $215,000 raise "outrageous and irresponsible" after it was first disclosed in August. (The younger Beshear declined to comment for this article.)
Bevin defended his decision to give Grindle a raise in a meeting with constituents earlier this month, when he was asked why other government employees, such as teachers, have not seen their salaries move at all.
"Do we have some people who are paid significantly more than the rest of us in the room, myself included? Yes, and Dr. Grindle is one of them," Bevin said at the event.
He again referred to COT's consolidation efforts as justification. "We now use cloud technology and modern servers," Bevin said at the Oct. 8 event. "We're saving millions of dollars a year. Whether we think it's fair or not, some people earn more than other people."
Grindle, for his part, was aware of the political controversy around his pay, but told StateScoop he tunes it out, preferring to watch ESPN and technology news instead of the local headlines.
"I read technology journals," he said. "I've been programming since I was 12. I am pleased the legislature and governor have entrusted me to bring the commonwealth into the 21st century. To me, everything else is noise."