Philadelphia innovation director leaves behind legacy of culture change
Over nearly nine years as Philadelphia's innovation director, Eliza Pollack empowered agencies to develop solutions they can call their own.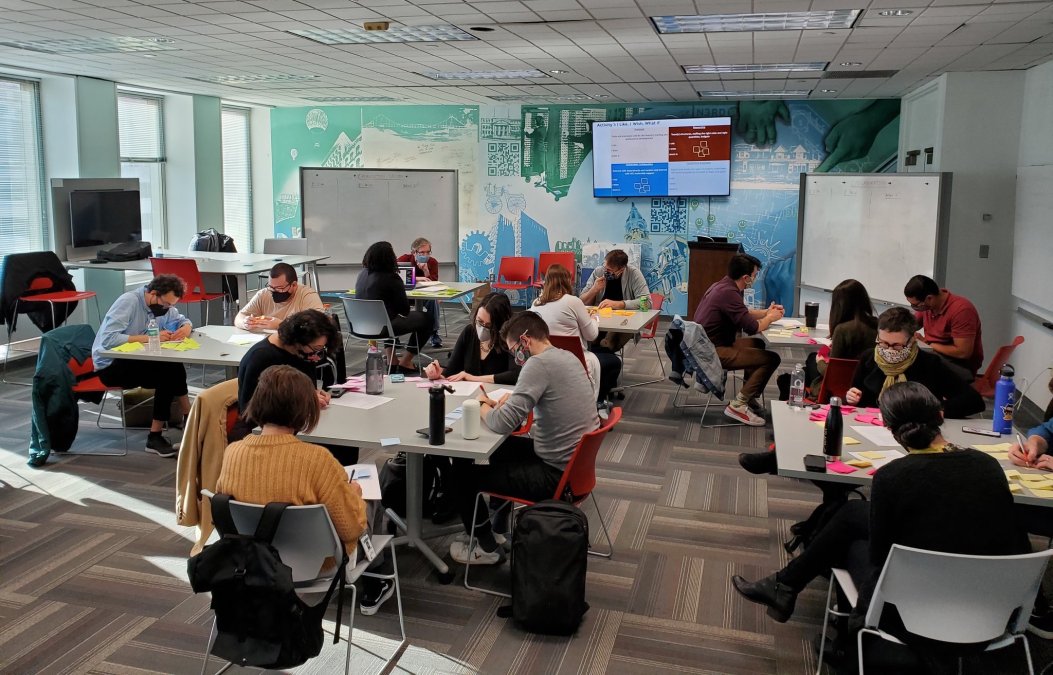 Eliza Pollack, the director of Philadelphia's Innovation Management Team, is stepping down from her post on Friday after almost nine years with a department tasked with giving city personnel the tools to develop their own cutting-edge technology solutions.
Over the better part of the last decade, Pollack and Andrew Buss, the deputy chief information officer for Innovation Management, built out the inventive group and its mission from the ground up. The team is comprised of four components that aim to give city employees a foundation for innovation, and now as Pollack departs, it's moving into its next phase.
Innovating innovation
Philadelphia's Innovation Management Team, which is housed within the city's Office of Innovation and Technology, started almost ten years ago. Buss told StateScoop that the idea came from a conversation he had with the city's then-chief information officer, who was looking for ways to generate innovation in-house.
"So basically, in 2013 I was talking with the CIO at the time and he had an interest in somehow trying to build the capacity for innovation within government. So, the capacity for people to sort of think and work differently. And we decided to put together some initiatives around that," Buss said.
This original Innovation Management platform included three components: the Innovation Academy, Innovation Fund and the Innovation Lab. But those three were just offered to city departments, so a year and a half later, another program was added to the team's portfolio that was available to external organizations as well.
"This is largely what Eliza developed through the subsequent years, called Innovation Consulting, which has these tailored workshops for different departments and external agencies," Buss said. "But the goal of the whole work as it fits within our broader platform has always been to help city employees, public employees think and work differently."
The team also developed three core principles that remain central to everything within the department's portfolio: people, places and process.
"I think the initial vision was: let's have a program that coordinates with each one of those P's. So our people component was the Innovation Academy — let's train people to think differently about how they're solving challenges," Pollack said. "The place component was the Innovation Lab. You know, if we're going to ask people to think differently and be creative and work in small groups, we need to have a place that facilitates this new way of thinking."
As for the last principle, Pollack said that by establishing the Innovation Fund, the team standardized a process that allows it to solicit, evaluate, pilot and scale the city's innovation across departments seamlessly.
Investing in city government
Pollack, Buss and others said they view the department's work as purely support and engagement with problem-solving, so they don't have any ownership over the solutions that are achieved through its programs.
"Instead of thinking of us as an innovation team being brought in during a crisis or something to solve a particular problem, the idea is that you train people across the city. And then when these problems arise, as they're bound to, those can be solved in the department themselves without having to just drop an innovation team all over the place," Buss said.
He said the team is about about giving the city's departments the right tools to foster their own innovation by restructuring how problems are addressed. But even if a city department realized the perfect solution to a problem within the confines of the lab, it will likely need funds to see it through. This is where the Innovation Fund comes in.
Some projects supported by the fund include COVID-19-focused technology initiatives, high-tech cameras for firefighters and new licensing and permitting software. The fund also offers grants for pilot projects covering a broad range of government functions, from animal control to K-12 education.
The future of Philly innovation
Stephanie Orlando, the team's innovation coordinator, was named Pollack's successor. Since joining the team in 2019, Orlando said she's learned a lot from Pollack about building a culture of innovation. But most importantly, she said, she's learned that cross-departmental connections are invaluable.
"I think one of the things I've really taken away from watching her and working with her is just the human component of the work that we do at the city on a regular basis," Orlando said. "Innovation can mean a lot of different things to a lot of different people. I think I have a very good grasp and have always loved this kind of work. But the connections, and the importance of making connections and having those relationships with people not that you work with closely, but across the city outside of the city."
As for Pollack's new venture, she told StateScoop she'll be joining Coded by Kids, a Philadelphia-based nonprofit that supports children from underrepresented groups who are interested in tech.
She said her departure is bittersweet, but also that it was time for someone else to lead the team's vision, and she couldn't think of anyone better than Orlando to carry it into the future.
"I feel so lucky to have been able to do this, to have been able to really kind of found something and watch it grow into what it is," Pollack said. "It's it's been a really magical experience for me."