Cities need a digital transformation jump-start
A shortage of vision, leadership, skills or funding are the most common stumbling blocks in cities lacking digital services.
Excepting some notable city outliers, local governments often leave their community members feeling disappointed with the services they receive.
Even in the third decade of the 21st century, a routine city process is likely to be paper-based. Sadly, when digital interaction does exist, it may involve an online PDF with editable fields that still requires the individual to download, print, sign and mail it. The absence of compelling digital experiences in cities is failing to keep up with community expectations.
Some cities completely get digital and have become models for what is possible. Dubai's paperless strategy, for example, stands alone in its ambition and accomplishments. Communities across Estonia benefit from 99% of all government services being digital. Cities such as Seoul, Helsinki and Melbourne have made the digitalization of local government services a priority and reap the rewards of higher community satisfaction, lower costs and errors and greater efficiency. Efforts by 18F in the U.S. and the Government Digital Service in the U.K. — along with many local government equivalents around the world — have done heroic work.
But those stand-out municipalities are a drop in the bucket when contrasted with the poor government experiences faced by inhabitants of most of the world's 10,000 cities.
Why has the digital transformation that is quickly reinventing almost every aspect of the private sector largely eluded the public sector? And what can be done to remedy it?
Vision, skills and cost
There are many reasons why cities' digital services often fall short, but vision, leadership, skills and costs regularly rise to the top in my research.
Deciding to embark on digitalization is a choice, and it has to come from the top. Mayors and city managers, while often recognizing its value, haven't yet made it one of their highest agency priorities. It requires deliberate, strong, visionary leadership.
And just like in the private sector, digitalization doesn't belong to the IT department. It's an all-hands-on-deck effort that requires an agreed strategy and a cultural shift. Is everyone ready to accept, even begrudgingly, that tomorrow things need to be done differently?
An organizational transformation requires the right team for execution. Retraining existing staff will be required and it may even be necessary to hire new talent. It's a hard pill to swallow for staff and managers who recognize their value is diminishing as the world around them gets reinvented. The greatest organizational benefits come from bold bets and big risks. Cities continue to suffer from a deficit of both.
Ok, we have the vision, leadership and the talent, but we don't have the money — it's a refrain I hear often. Certainly, it's an important and complex issue, and it's often nuanced, too: Is the lack of money a result of over-committing to other priorities? Are funds being consumed by high-cost manual processes that if digitized would reduce cost and free up funds?
In business, when the return on investment is far greater than the initial cost, the amount of the investment is simply an accounting detail. Too often, government discussions on cost focus on the dollar size of the budget item, not the potential cost savings and new revenue that it could generate. Digitalization in cities can achieve both and should be among the answers to the funding challenge.
Dual tracks
Despite my misgivings, I'm actually an optimist on this topic. There's more digitalization happening in cities than ever before and there are many more solutions available. Poorly supported in the past, the govtech space has healthy growth, but more can be done. Building smarter and more sustainable cities is a multi-trillion-dollar opportunity, so I'd expect (and encourage) a lot more solution providers.
My advice to cities that have yet to make progress is to proceed on two parallel tracks. One track should be a broad, multiyear digitalization strategy that is ideally a subset of a larger smart-city effort. This track would include major architectural investments such as authentication for single sign-on across online community services. The other track should be focused on quick wins, like digitizing forms using simple — and sometimes free — cloud services, adopting digital signatures and unleashing your city data to support an ecosystem of private partners and volunteers.
It's time for cities to turn the corner. It's time for cities to succeed in the digitalization journey. Anything short of making digital services a priority will result in a failure to meet increasingly basic community expectations.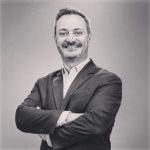 Jonathan Reichental is the former chief information officer of Palo Alto, California. He's now an instructor at several institutions, including the University of California, Berkeley, and online through LinkedIn. He's the founder and CEO of the advisory and investment firm Human Future, and the author of Smart Cities For Dummies.
He also publishes a regular newsletter. To receive it free in your inbox, sign up here.