StateScoop's Top Women in Technology 2017
StateScoop's Top Women in Technology 2017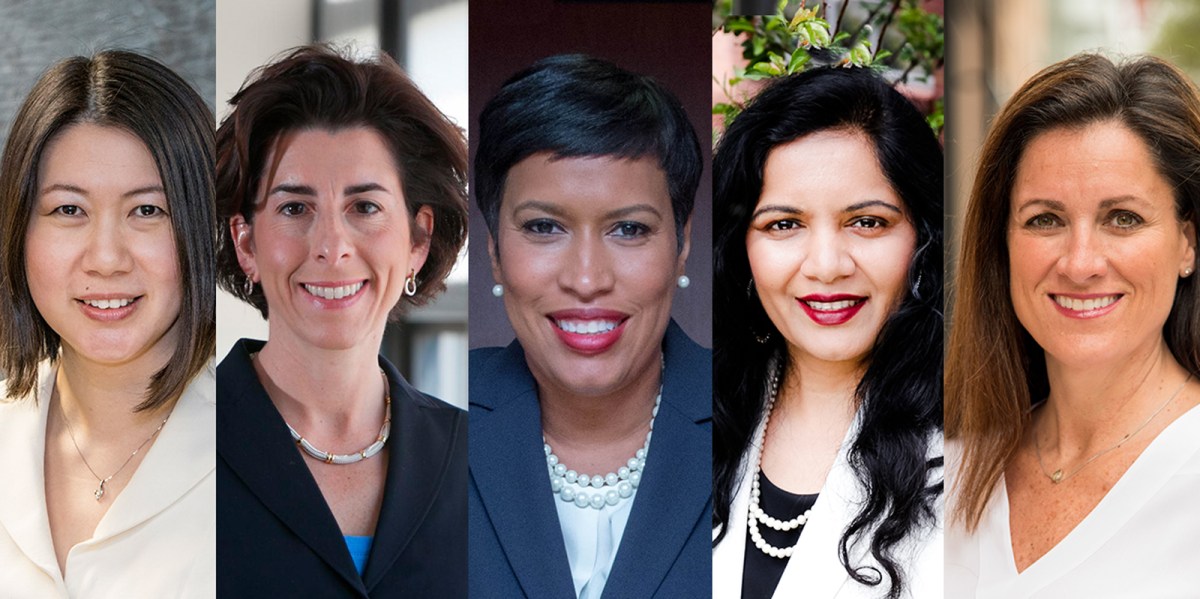 Meet StateScoops inaugural list of the Top Women in Technology for 2017 an elite group of the women across the state and local government community who are infrequently recognized, but constantly working to improve government and the lives of those governed.
From Amy Tongs reflection on taking the helm as the chief information officer for the state of California, to Washington D.C. Mayor Muriel Bowser's technology-fueled efforts to drive change in the nations capital, women in technology from around the country are leaving their mark.
We also look at industry leaders like Kim Majerus, who despite only being on board at Amazon Web Services for a few months, is pushing the cloud giants business forward as it reaches state and local agencies that are modernizing how government works.
Our editorial team spoke to information technology leaders and influencers across the country, drew from past research and reporting, and worked alongside the community's leading government technology trade associations to develop the list of women featured here.
The list below is not exhaustive there were too many incredible women leaders across the government IT realm to feature them all but those found below are among the most hard-working, driven, creative, inspiring and insightful women working in their chosen sector. Together, they propel an emerging movement of excellence in government leadership and growing interest and participation in technology by women.
Though there's still a long way to go the National Center for Women in Technology reported that women only comprise just 25 percent of professional computing occupations. And though women are better represented in the government workforce than the private sector, leadership positions still tend to be dominated by men. As of March 1, only six women hold state chief information officer roles across all 50 states and the District of Columbia.
Continue on to read brief profiles on our winners. They shared their accomplishments, dreams, worries, aspirations and advice for other women and men working in their field.The interviews that accompany each profile reveal a remarkable trend of leaders who are showcasing a commitment to public service and tireless self-sacrifice that can scarcely be found elsewhere.
StateScoop encourages you to share the accomplishments and visions of the women featured below on social media by including the hashtag #WomenInTech. We hope these profiles will inspire new generations of women leaders to take up the mantel and guide the future of state and local IT.
---
Octavia Abell
Director of Strategy, Office of Innovation
State of Rhode Island
As the director of strategy for Rhode Island's Office of Innovation, Octavia Abell leads the offices efforts to build strategic relationships, advance organizational effectiveness and catalyze the idea of innovation across state government.
Before joining the innovation team, Abell worked on policy issues for Gov.Gina Raimonodo, and has since worked on the state's Computer Science for Rhode Island initiative in tandem with the Obama White House's Computer Science for All effort.
On a day-to-day basis, Abell works with her team to build a portfolio of projects that supports the office's strategic priorities.
Abell told StateScoop more about what drives her and what advice she has for young women entering the IT field:
What's the biggest thing you and your team have achieved over the past year?
In March of 2016, we set an ambitious goal to make Rhode Island the first state in the country to offer computer science in every K-12 public school by December 2017 when we launched the Computer Science for Rhode Island (CS4RI) initiative. Just one year later, were ahead of schedule to meet that target with 70 percent of schools offering computer science opportunities thanks to sustained partnerships with the Rhode Island tech community, higher ed institutions, the education community and national organizations. And we've recently launched a Government Innovation League to share our strategies and insights from our first year of operations to drive a culture of innovation across the larger state government by leveraging technology to reimagine the services that government provides and the way we interact with Rhode Islanders.
What piece or pieces of advice do you have for aspiring female leaders on making a difference in their organizations and in the greater tech community?
Don't be afraid to step out of your lane, ask good questions and support people who challenge you. Think about what keeps you up at night and focus on solving the right problems.
How are you working to empower other women to follow in your footsteps?
I believe strongly that individuals can be powerful change agents, and Im passionate about connecting people with the resources necessary to scale powerful work and maximize collective impact. I think it's critical to champion the work that other women are doing to transform systems, rather than operating within our own silos. Ive also benefited from strong female mentors so I make a personal effort to partner with organizations like Year Up to close the opportunity gap.
---
Rosa Akhtarkhavari
Chief Information Officer
Orlando, Florida
As Orlando, Florida's chief information officer,Rosa Akhtarkhavari is responsible for building the information technology strategy and roadmap for the city but that's not all.
In addition, the CIO works closely with city departments to help enable technology to execute on agency strategic missions. She also plays a major role in all city technology procurement.
"We try to look at business process, business flow, data flow and efficiencies,"Akhtarkhavari said. "So I spend a lot of my time understanding the business need and providing technology value to help them reach those objectives."
Right now, Akhtarkhavari is operating with a relatively small team. Her role is centralized, and she's operating without a deputy though she'll bring one on board soon to help with day-to-day management.
"Ido have an oversight of IT operations it's a centralized role,"she said. "If we have a cyber attempt, then I become the CISO, so it depends on what's going on each day."
What's the biggest thing you and your team have achieved over the past year?
I have two answers for this. From a sustainable operational approach, we replaced our police records management system. This is where we have all the cases and it's not just your typical replacements. We moved from a mid-range AS400 DB2 RPG, 60 percent customization to a COX Wintel platform, zero customization with 100 percent data migration. That's integrated with our enterprise GIS system. That was a huge thing and very high risk because of the resource and the usability issues. This was one of the major projects and it was an IT/Orlando Police joint project that was successfully completed.
The other thing, from a strategic viewpoint, it took us two and a half years, but finally we issued as a city our first invitation to negotiate, moving away from the traditional RFP. So this is a little bit more of an agile way of solicitation to do negotiations that works much better for selecting technology solutions. The way we do business is changing.
What piece or pieces of advice do you have for aspiring female leaders on making a difference in their organizations and in the greater tech community?
I think this advice can be for both genders. But in my mind, the advice would be to have a passion for what you do. Do whats right, not what is expected or what is safe. And my big thing which I always share with my team is: let your actions, not only your words, define who you are. I think you need to prove yourself, and not just shout about equality. And ignore the noise around you.
How are you working to empower other women to follow in your footsteps?
I'm doing very little. I should be doing a lot more. One is lead by example and let people see that you can attain success. I do mentor and champion rising stars from both genders, but I do give a little bit different advice to females. I engage in community events, and we host a lot of the young female coders and I support and speak at a lot of those nonprofit events as much as I can. We also encourage minority and women businesses and actually work very hard to give them opportunities to participate in city projects.
There are some females who think they have to be gruff and rough and I've seen that in women leaders who are trying to be heard. So I just say be true to yourself, and it's not a competition between males and females. It's a competition about skills and accomplishments and delivery. It takes longer for them to notice you as a female, but eventually they will notice.
---
Danielle Alvarez
Chief Information Security Officer
State of Florida
Danielle Alvarez's job is a mix of the nitty-gritty of cybersecurity and the broad strategy around making Florida more secure.
"My role is two-fold, involving oversight of both strategic security activities, as well as operational security initiatives in the state data center," Alvarez told StateScoop. "I've found success in merging the operational activities with statewide strategies that serve the state on a larger scale and supporting governmental partners outside of our vertical."
In early March, Alvarez did just that. After seeing a need for more training for operational security teams in the state, Alvarez and her team negotiated the purchase of a training package that enabled the state to extend training beyond just state workers, but also to their staff. The extension didn't stop there, though, Alvarez also opened the training up to local and municipal governments around Florida, and the rest of the country at a steep discount.
The total number of participants topped out near 150 on March 1.
What's the biggest thing you and your team have achieved over the past year?
We successfully worked in support of our state agencies being funded for third party risk assessments.Due to the size of the effort, the assessments have been spread over 2 years. With the agencies each stepping into the procurement process individually, we were concerned about the potential for conflicting assessment approaches and how we would be able compile all results to concisely show where Floridas critical needs existed; however, we crafted a summarization tool that standardized the results and gave us the statewide view needed to work towards enterprise remediation efforts. We were contacted by NIST about our tool, as it aligned with their framework and they have since added it as a resource to their site. We hope others can use the tool to improve their risk management practices.
What piece or pieces of advice do you have for aspiring female leaders on making a difference in their organizations and in the greater tech community?
Gain as much knowledge as possible within each technical area.Two reasons: one, security touches them all and two, you may just find that a particular area calls to you. One of my critical success factors is knowing enough about each platform or area that I can speak with the technicians on improvements, yet know their pain points.Also, if you span multiple technical domains, you have the chance to find out if one area calls to you. When you enjoy what you do, you can add significant value in that area.
How are you working to empower other women to follow in your footsteps?
I strive to engage women to take on more in their current roles. I may ask someone to extend themselves beyond their comfort zone, this challenge followed by success inspires confidence and makes them grow professionally.Im always looking to support them in their growth.
---
Jennifer Axt
General Manager, State and Local Government and Education
Dell EMC
Serving as Dell EMC's general manager for state and local government and education is only a fraction of what Jennifer Axt brings to the SLED information technology community.
In addition to the company's strategy, execution and operations in the SLED space, Axt also serves on the advisory and management boards of the National Association of State Chief Information Officers and CompTIA.
On the business side, Axt focuses on the SLED business plan and growing the company's market share in the space.
"Having a solid business plan to grow our market share and annual revenues, which includes our partner ecosystem and solutions, for our public sector customers is critical to our strategy and execution. From an operational standpoint it's making sure we have the right contracts in place to deliver our technology solutions to our customers."
What's the biggest thing you and your team have achieved over the past year?
Achievements for 2016 were growing our market share and revenues during a challenging year. The side distractions that come from merging two large companies Dell and EMC can be challenging. There was additional resource and effort on my part to make sure there was consistent messaging amongst our customers and employees. Change management can add additional pressures and layer of responsibilities to your position.
In addition to my role as GM for EMC, I was elected chair of Corporate Leadership Council for National Association State Chief Information Officers, chair of CompTia Executive Board of Directors for State & Local Government, and named in Women of the Year by Computer Reseller News.
What piece or pieces of advice do you have for aspiring female leaders on making a difference in their organizations and in the greater tech community?
There are five main points I share with women I mentor:
Set goals for yourself personally and professionally every year.
Have integrity in all that you do.
Have passion for what you do.
Treat people at all levels with respect.
Don't be too hard on yourself…have fun!
How are you working to empower other women to follow in your footsteps?

By actively being part of our company's Field Woman's Leadership, participating in Women in Technology International, orWITI, sponsoring Governing Women in Government, orWIGand mentoring women both internally and externally in the industry,I consistently encourage women to be kind to one another. It's important to support each other.
---
Connie Bandt
Telecom Administration Section Chief
State of Wisconsin
As Wisconsin's telecommunications administration section chief,Connie Bandt spends most of her day pulled in several different directions.
She could be helping with vendor management contract performance or managing the voice and wireless for state employees. Bandt's department also provides technology for education entities within the state. In fact, the department often helps schools and libraries in the state apply for and plan for E-Rate funding from the Federal Communications Commission.
"It's a section of a little bit of everything related to telecom, and now we've got some pretty important programs here,"Bandt said.
What's the biggest thing you and your team have achieved over the past year?
I thought maybe I could talk more about what we plan to accomplish in the next year. In 2017, we have this big internet transformation project, which has taken our wide area network current contract and is transforming close to 1,500 sites to a new network so some of the project management and processes and those sorts of things is coming from this unit.
Then we're also going to be processing out of our "Teach"program some technology and teacher training grants, which help provide support to the public schools in Wisconsin. We're helping teachers get training so that they're ready for the new technology. It's all teacher training, IT type grants. Then, to that, the schools can also apply for some infrastructure grants, because getting technology out to those rural areas is very important to the governor here in Wisconsin. This infrastructure grant is really geared toward those smaller, rural communities. We can go ahead and give them 100-meg service out there, but if they don't have money to take care of maybe buying that new router or inside wiring, that isn't going to do them any good.
What piece or pieces of advice do you have for aspiring female leaders on making a difference in their organizations and in the greater tech community?
I think back to when I first took on one of my first section chief roles as a leader here. I was going to be over this technical section that was operation team of our network group and I didn't know how to even configure a router or any of that and so somebody said, "You don't have to know how to do that. You're there to help guide. Mentor them, coach them. You're there to help lead them and let them do the technical stuff." I took that kind of as, well, if you don't think you can do it, you should still try to give it a try, because in all honesty, I didn't know if I could oversee these technical guys that have all this knowledge on how networking works.
I knew how networks worked and all that, but sometimes it's just having that thinking, "Can I really do this?" But give it a try. What do you have to lose? There's not a lot of women in leadership when it comes to technology. I think about the women who have also mentored me along the way and given me the advice of, "Step in there. You can do this."
How are you working to empower other women to follow in your footsteps?

It's just giving them opportunities to lead projects. I've had had some gals who it just seems they didn't seem to have the confidence either, but it's giving them the opportunity to say, "Okay. Here's something we need done. Now go and do it." Letting them go do it and not micromanaging or anything like that.It goes back to the whole, I don't know if I can do it, but just giving them the ability to try. It goes with the whole trying thing and giving them that opportunity and I think that's what's so important.
To me, learning on the job is probably one of the best things that you can do in life. Yeah, there's a lot of times you can read through books and everything else, but those opportunities to learn as you go, grow as you go, that's really how you learn and that's how I have learned along the way. It's finding that person you want to be like and learning from them. Even learning from your staff sitting and taking the time to learn from them.
---
Brenda Berlin
Deputy Chief Information Officer
State of Colorado
In theColoradoGovernor's Office of Information Technology, Brenda Berlin wears two main hats.
As deputy CIO, she assists in developing the state's IT strategy in order to "deliver effective IT solutions to 17 agencies and ultimately Colorado residents." She works alongside those agencies to use technology to meet business needs and convince the legislature to support IT initiatives. In addition to the deputy CIO role, Berlin also serves as the department's chief financial officer, where she leads a team of more than 60 financial service, facilities management and legislative professionals.
The daily work as CFO includes fiscal reporting and execution, budget and procurement.
"This time of year, my days are pretty hectic as we are in the midst of Colorado's legislative session, budget approval process and strategic planning for the upcoming fiscal year,"Berlin toldStateScoop. "The work we do now is really significant because it establishes our funding, priorities and direction for the future."
What's the biggest thing you and your team have achieved over the past year?

One of my teams biggest achievements is that we are on track for another successful year with our budget requests. Specifically, the budget we submitted for IT is on track to be approved with little change. Just in the last two years we have increased the states investment in information technology by more than 15 percent and by over 500 percent since OITs creation! This was definitely an uphill battle because funding for IT competes with many other high priority issues such as social service programs, roads and prisons. I am so thrilled that we have been able to convince our governor and the state legislature that investing in IT is a priority and ultimately will result in better, more secure services to Colorados businesses and residents.
What piece or pieces of advice do you have for aspiring female leaders on making a difference in their organizations and in the greater tech community?
My advice to women in IT is to not be afraid to look for a career in government.There are so many opportunities to work on things that really matter and to make a difference for a much broader group than you can when working in the private sector.At OIT, I have had the opportunity to work on many impactful projects such as the Colorado Benefits Management System, the states social service benefits system, and DRIVES, the states newly implemented drivers license and vehicle registration system.Both of these systems changed the way Coloradans interact with government, and made it easier and less time-consuming to receive services. It is so exciting to be part of initiatives that make such a positive and demonstrable impact! Our management team at OIT is 43 percent women and we are all inspired to make a difference by delivering the best technology solutions to Colorados residents.
How are you working to empower other women to follow in your footsteps?
I enjoy participating on panels and other engagements that afford me the opportunity to talk about my career at OIT, and Ive been lucky enough to be able to participate in school STEM events which is a great opportunity to encourage young women to pursue careers in technology. I am also very active with my daughters 4H organization. Although most people don't relate it to technology, 4H does offer classes in robotics, rocket ryand computer science and is about giving youth the skills and confidence to be successful whatever their interest. Not only can I be an example of a successful woman in the IT industry for young girls but also for the other women in the organization.
---
Brenna Berman
Chief Information Officer
Chicago
Being Chicago's chief information officer comes in three parts operations, innovation and engagement.
Despite these three broad goals, Brenna Berman somehow does it all. From leveraging the Internet of Things to helping the city become a "city of the future," to working to make sure city technology systems and operations are sustainable and are serving the city's residents and agencies, Berman has to tap into various skills across an array of different subject areas.
While Berman has spent nearly six years simultaneously working on those three areas, as well as building a foundation for the city to grow at scale, the challenges she faces on the horizon are massive especially as technology continues to grow and develop.
What's the biggest thing you and your team have achieved over the past year?

Our last year has been all about scale. Before that, my team was doing a great job piloting new technologies and assessing the results of those pilots. That is a critical first step but it is another step entirely to go from pilot to a full-scale implementation in an urban environment. This year, we are moving forward with full-scale implementation of proven predictive analytics solutions, with the city-wide IoT solution called the Array of Things and with full-scale cloud solutions.
What piece or pieces of advice do you have for aspiring female leaders on making a difference in their organizations and in the greater tech community?
Spend time defining a vision that captures people and communicate that clearly. There are many ways to get that message out to your community, whether that is your team, departments your support or an entire city, but think through how you will get it out there and how you will capture the support that will come to you from a well-structured, positive message. That support can fuel plans much bigger than you ever imagined.
How are you working to empower other women to follow in your footsteps?
I work to empower women through mentoring, sponsoring and coaching both within my team and across my professional network. Sometimes this is by being a sounding board as they weigh options and approaches in their own development and sometimes it is by providing challenges within my own span of control to help a woman step up and achieve their potential. I also always try to model the kind of leadership and partnership that I think creates an environment where different kinds of participation styles are respected and valued.
---
Meredith Bickell
Deputy Chief Information Officer
State of Wyoming
As Wyoming's deputy chief information officer, Meredith Bickell operationalizes the vision of the state's chief information officer and oversees the business operations of the 250-employee Wyoming's Department of Enterprise Technology Services.
"My days start early to ensure the CIO is equipped and informed,"Bickell told StateScoop. "My goal is to allow him to be his best and not be distracted from the big picture by the minutiae of running an agency."
Bickell primarily focuses on internal operations and looks to create environments where employees "enjoy coming to work instead of dreading it."A particular goal, Bickell said, is to reduce anxiety when employees commute to work. She enables employees to be innovative and creative, and ultimately solve real world problems.
"It's not necessarily about making work fun, but meeting their needs and expectations on an individual level,"Bickell said.
What's the biggest thing you and your team have achieved over the past year?
One item I have been able to focus on is determining salaries for new employees. As we consolidated employees from other agencies in 2012 and through the hiring process over the last couple years, we have been able to reduce our pay disparity between males and females to less than one percent. I did not intentionally set out to accomplish equality among male/female salaries, because I care about everyone. My approach is to ensure we pay fairly across the agency and review each hire individually taking into consideration many factors such as location, experience and job duties.
Additionally, we have had to implement mitigating strategies due to budget reductions. Key focus areas have been: maintaining human capital, continuing to meet service and support levels, and increasing our security footprint. We have weathered the budget constraints well. Lastly, in September 2016 we welcomed in a new CIO.
What piece or pieces of advice do you have for aspiring female leaders on making a difference in their organizations and in the greater tech community?
There are several pieces, such as:
Continue to seek counsel and don't succumb to believing you know it all.
There are always two sides to the story find the root cause, identify the underlying issues.
Trust your instincts.
Someones perception is their reality. Separate the real from the perceived and solve for tomorrow.
Do the right thing, the right way, for the right reasons.
Don't forget where you came from, especially if you have worked your way up.
Tell the why behind the decision.
How are you working to empower other women to follow in your footsteps?
There are a handful of women whom I mentor on an individual basis. There is one person in particular that I meet with once a month for lunch to discuss challenges and life in general. Over the last year, she has been promoted into a leadership role and I have been able to provide guidance throughout her journey. I also have established a relationship with someone far wiser than myself, allowing me to receive mentoring and coaching as well.
---
Deborah Blyth
Chief Information Security Officer
State of Colorado
As Colorado's chief information security officer,Debbi Blyth is the point of contact for all cybersecurity initiatives in the state of Colorado.
In her role, she is responsible for informing the state Chief Information Officer and executive agency leadership of security risks and impacts of policy and management decisions on IT-related initiatives. In addition, Blyth builds the strategy and tactical direction for the state's cybersecurity efforts.
"My days are very busy and interesting,"Blyth told StateScoop. "I am involved in many different and unique efforts meant to bring continued enhancements and efficiency for the residents of the state of Colorado."
What's the biggest thing you and your team have achieved over the past year?
There are a couple of things I am incredibly proud of:
We use tools to measure enterprise risk, and have had a goal in place to reduce our enterprise risk by 10 percent each year.During the last two months of fiscal year 2016, knowing wed achieved better than a 30 percent enterprise risk reduction, we spent those months focusing on individual agencies who were above our enterprise goal for fiscal year '16. During those months we were able to reduce each agency's level of technical risk below our enterprise goal. For five agencies, this represented a 20 to56 percent improvement in a two-month timeframe.
Additionally, we implemented two-step verification across all 30,000 state employee email accounts to reduce the impact of constant phishing attacks.We achieved success with 90% of state employees self-enrolling within 4-6 weeks and were fully implemented for all accounts within a 90-day timeframe.
What piece or pieces of advice do you have for aspiring female leaders on making a difference in their organizations and in the greater tech community?
The information technology field needs more women, as IT and especially cybersecurity are such male-dominated fields.Women come with strong relational capabilities and different viewpoints that can bring a lot of value into the organization. First, I encourage women. Because this diversity is needed, they can have a lot of success they just need to enter those fields! Second, women are often hesitant to take on a new challenge unless they feel like they are fully equipped for it. I encourage aspiring women leaders to push themselves and reach for those challenges and allow themselves to learn and to make mistakes along the way.We all need to accept that any role is likely to bring growth, and we should look for and appreciate those growth opportunities.
How are you working to empower other women to follow in your footsteps?
Ive been given several opportunities in partnership with a local university to work with and speak to middle school and high school age girls, encouraging them to develop or deepen their information technology and cybersecurity skills and to consider pursuing these as potential career fields.Its really fun to observe their progress, especially as they realize that they are good at it, and that they can be equally successful as the boys in their class! I enjoy attending their cybersecurity events, telling them about my experiences, and serving as a role model for what a successful IT or cybersecurity career can become.
---
Muriel Bowser
Mayor
District of Columbia
As mayor of the nation's capital city, Muriel Bowser focuses on a wide range of initiatives and technology runs through many of them.
From the Pennsylvania Avenue 2040 project which connects streetlights and offers free Wi-Fi to the hire of a chief information security officer and a district-wide cybersecurity program, Bowser has given technology a prominent position in her administration's portfolio.
Outside of technology, Bowser spends most of her days out in the community meeting with her team and with citizens to advocate for the district and the work her administration is doing.
"All of my days look different,"Bowser told StateScoop. "For example, this past week, one day I was at a budget engagement forum meeting with residents about their priorities for the D.C. budget. A few days later, I was at an elementary school celebrating Read Across America Day, and then driving over to [Capitol] Hill to advocate for D.C. statehood."
What's the biggest thing you and your team have achieved over the past year in regards to technology?
We have several really interesting technology initiatives happening in Washington, D.C. right now. Through Connect DC were bridging the digital divide in D.C. and connecting more residents to the internet. As part of the Pennsylvania Avenue 2040 project, we have already installed 71 LED streetlights and 40 new outdoor public Wi-Fi hotspots. Last fall, we launched Text to DC 311 to give D.C. residents a new, convenient way to report issues. In 2016, we hired D.C.'s first chief information security officer to develop and implement a comprehensive district-wide cyber security program. Overall, we're using technology to make our city greener, smarter, more equitable, and more efficient.
What piece or pieces of advice do you have for aspiring female leaders on making a difference in their organizations and in the greater tech community?
Don't try to wait for the perfect time or the perfect issue to get involved or to run for office. When there is an opportunity for you to make a difference, take it. Im not saying that it is always going to be easy. A lot of times women in power are more harshly, more frequently and more wrongly criticized, but we're also smart and tough and we get the work done.
How are you working to empower other women to follow in your footsteps?

My goal is to empower women and girls and really all Washingtonians so that they can reach their own goals. Obviously, not everyone aspires to work in public service, not everyone wants to be the mayor of Washington, D.C. People have their own goals, and I want to make sure Washingtonians have all the tools and resources they need to reach those goals whether that is a high-quality education, transportation, childcare, access to safe and affordable housing, healthcare, or something else. I want to break down the barriers that prevent people from reaching their goals.