Top 31 Smart Communities to Watch
Top 31 Smart Communities to Watch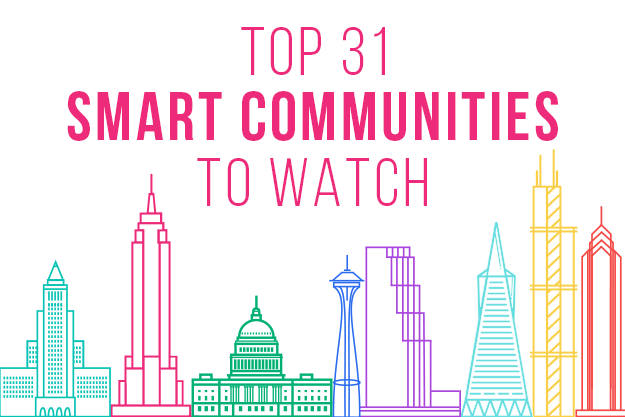 "Smart cities" suffersfrom overuse as a buzzword, but the attention the concept receives is a testament to the substance beneath the surface.
The word means slightly different things in each context it is used, but for most, it represents the potential for idealized values to materialize. The immense power of digital technology and data has proven in recent years capable of transforming society, sometimes in unintended ways.Thesmart cities movementis about using technology to be deliberate about change,whilecreatingthe states, counties, cities and neighborhoods that people envision for an idyllic future.There's a lot of hope pinned to this buzzword.
Though today's smart city efforts offer a glimpse of what is sure to be a radically different future, these early projects are also just the very beginning. Most communities are just starting toexperiment and gain their bearings as they shake off the hangover of decades and decades of fragmented organizational structures and cultural baggage.
In New York City, a drive to equip all citizens with internet access is erectingthousands of public Wi-Fi kiosks. Chicago's Array of Things research network is pioneering the first insights into how sensors work best in urban settings. In Cincinnati, drones keep an eye on the city's water infrastructure. And in Miami-Dade County, a partnership with the San Francisco-based Remix is enabling new data analysis that could optimize transportation routes tothe profit of the city's environment and economy.
StateScoop's reporters uncovered hundreds of projects and initiatives from cities, counties and states around the country, all of which live somewhere in the smart cities ecosystem, but we couldn't find them all. If your state or local government is leading innovative new projects, share them with usso we can share them with the world.
Sharing ideas, research, lessons learned and project results is one of the integralforces that allows progress in smart cities (and states, and counties). With that in mind and with an eye to the future here are StateScoop's Top 31 Smart Communities to Watch:
---
Atlanta
Atlantahas been on the path toward becoming a smarter city for several years, but its technological prowess was put to the test earlier this year when a major section of one of the citys two main interstates collapsed after a bridge fire.
In response to the massive amount of gridlock and traffic congestion, the Georgia city launched a real-time traffic map with data from drivers and Waze to help alleviate congestion. The interstate has since reopened, but at the time of the portals launch, the city was already looking to determine how the map could be used to alleviate day-to-day congestion.
Before the bridge collapse, city Chief Information Officer Samir Saini set Atlanta on a course to become a smart city through the preparation of pilot projects for new smart lighting technology. Now there areoffers to implement projects across the city, and specifically in the North Avenue Smart Corridor,where Atlanta will pilot new technologies as part of an ongoing vision for improved efficiency, environmental sustainability and social equity.
One of the key strategies that runs through the citys efforts, however, is to maximize the use of its existing technology assets, Deputy CIO Kirk Talbott told StateScoop via email. The city finds value when it uses technology for several purposes for example,security cameras that can be used for security and safety, but whosedata can also be extracted to benefit pedestrian and transportation safety.
---
Austin, Texas
The home of annual tech conference South by Southwest is not shying away from its reputation as a tech-driven city. In addition to housing a location for the Defense Departments Defense Innovation UnitExperimental (DIUx) and hostingtheSmart Cities Connect conference, Austinstrives to bring citizen services online and constantly expand its smart city credentials. In Spring 2016, Austin helped launch Austin CityUP a nonprofit smart city consortium that has more than 40 team members from multiple sectors.
The city, however, remains challenged by its decentralized approach to the space, leaders told StateScoop. To combat the challenge, the citys open government operating board will connect the technologists from its variousinitiatives, while maintaining the operational oversightof eachwithin specific departments.
Many of our smart citiesinitiatives are being led by separate city organizations or even departments, a representative from Austin told StateScoop in an email. Our Open Government Operating Board is stepping up to the challenge and opportunity to connect and assist these initiatives without burdening them with centralized decision making.
The city has also taken an innovative approach to social media by engaging its critics on Reddit, focusing on open data portals and dashboards and public safety transparency and mobility efforts. Like many other cities in this arena, Austin is also revamping the way people move throughout the city. Using data analytics, the citys transportation department is working to cut down on traffic congestion. Outside of government, Uber and Lyft ceased operations in the city last year, after voters chose note to strike down a fingerprinting requirement for rideshare drivers. Now, the two ridesharing giants are back in business in Austin, but the city will forge its way forward with a continued emphasis on public transit.
---
Baltimore
Baltimore has plans for its smart city initiatives that are precise down to the city block, and that also reveal an aspiration to serve as a national template.
The absence of "vital ladders of opportunity for growth and development" is "a chronic issue" that plagues Baltimore, and American cities generally, according to city documents. The city revealed its intent to become a leader in the smart city space through its U.S. Department of Transportation Smart City Challenge application. Though the city didn't win the challenge, participation outlined the potential projects behind the Baltimore Vision for Smart City or "B'Smart," a programthat could "be easily replicated and shared elsewhere," according to the city.
Theplan was designed to connect communities with new opportunities using technology, starting in the "historically underserved" West Baltimore. Through four related strategies, the city strives to enable access to "safer, more efficient, sustainable smart mobility options integrated with transit," attract economic development and job opportunities, create a smart city ecosystem for passenger and freight travel through a sharing economy and open data, and reduce costs and emissions through new efficiencies in port and freight logistics.
The development of local fiber networks is one of the city's key strategies,and more than 1,000 miles of fiber have been added in the last few years. With Maryland participating as one of eight states in the Zero Emission Vehicle Memorandum of Understanding, Baltimore is also positioning itself as a clean energy leader, first acquiring funding for public EV charging stations which represent yet another way to capture crucial data in 2010.
Through the creative use of technologies that harness data, Baltimore is driving further savings and enabling new functionality. The Baltimore City Department of Public Works (DPW) launched a water billing platform in January that allows residents totrack their water usage in hourly and daily increments, pay billsand detect leaks.
Meanwhile, a Johns Hopkins University student acquired a shared pot of $40,000 in funding from the Environmental Protection AgencysSmart City Air Challenge to construct an environmental sensor network around the city. More than 300 sensors will help monitor ozone and nitrogen dioxide, with the help of industry partner Amazon Web Services, which will handle an Internet of Things gateway, data management and storage. The city has announcedplans to have the full network online sometime this summer.
---
Boston
Ever since Mayor Marty Walsh stepped into in office in 2014, he has consistently prioritized digital innovation as a cornerstone effort in his administration.
In 2016, Boston reached out to its community to transform its website into a one-stop-shop for digital services. Walsh directed digital teams to design aperformance dashboardto give his office and the community updates on the overall health of the city's operations. The city has a $10 million plan to increase its fiber connectivity, and Walsh is preparing to release Boston'sfirstcitywide planfor smart city growth sometime this summer.
As part of the plan,known as Boston 2030, Walsh has slated58 transit and tech projectsto move forward. Adaptive traffic signals, self-driving vehicles and performance-based parking meters are part of this package of improvements intended to ease congestion and reduce chances for traffic accidents. Outside of heightening safety on the city's streets, specific outcomes that the plan has set include making every home in Boston just a 10-minute walk from a rail or bus route, and to decrease average city commute times by 10 percent.
The plan looks to both emerging and popular tech to implement the projects. One of the emerging projects is a research initiative by the self-driving vehicle technology company nuTonomy, announced last year. To test its navigational software for self-driving vehiclesand give the city feedback on autonomous technology,the company hopes to increase its test sites within the city as it forges a partnership with ride-hailing company Lyft.
Boston is ready to lead the charge on self-driving vehicles, and I am committed to ensuring autonomous vehicles will benefit Bostons residents," Mayor Marty Walsh said in a statement. "This is an exciting step forward, and together with our public and private partners, we will continue to lead the way in creating a safe, reliable and equitable mobility plan for Boston's residents.
---
Chattanooga, Tennessee
Best known for popularizingthe municipal gigabit fiber trend, Chattanoogais using its connectivity not only to connect residents to the internet, but to support a growing suite of smart city projects.
"Chattanooga has been a smart city since before that was even part of the vernacular," city Chief Information Officer Brent Messer told StateScoop.
Messer was referring to projects includingthe Tennessee city's gigabit Wi-Fi service, aninnovation district,an electric vehicle car share launched last fall,one of the first bikeshare networks in the nation,and a host of transportation projects, including a network of more than 200 connected traffic signals.
"The ability to communicate directly to the signals enables us to adjust timing and do system tweaks without having to go into the field and open the traffic control box," Messer said. "This vastly improves efficiency and expands capacity, as well as enables us to have a much more sophisticated traffic signal optimization system."
The city is also member of a one-year 16-city collaborative around smart city initiatives led by Transportation for America and Sidewalk Labs, in which the Chattanooga Department of Transportation is pursuing self-driving vehicle technology. The effort includes building local and state-level partnerships, developing policy frameworks, and participation in an advanced transportation advisory group.
The biggest challenges to keeping all these projects on track, Messer said, is balancing this work with the time needed to deliver core services, and the city's capacity for talent.