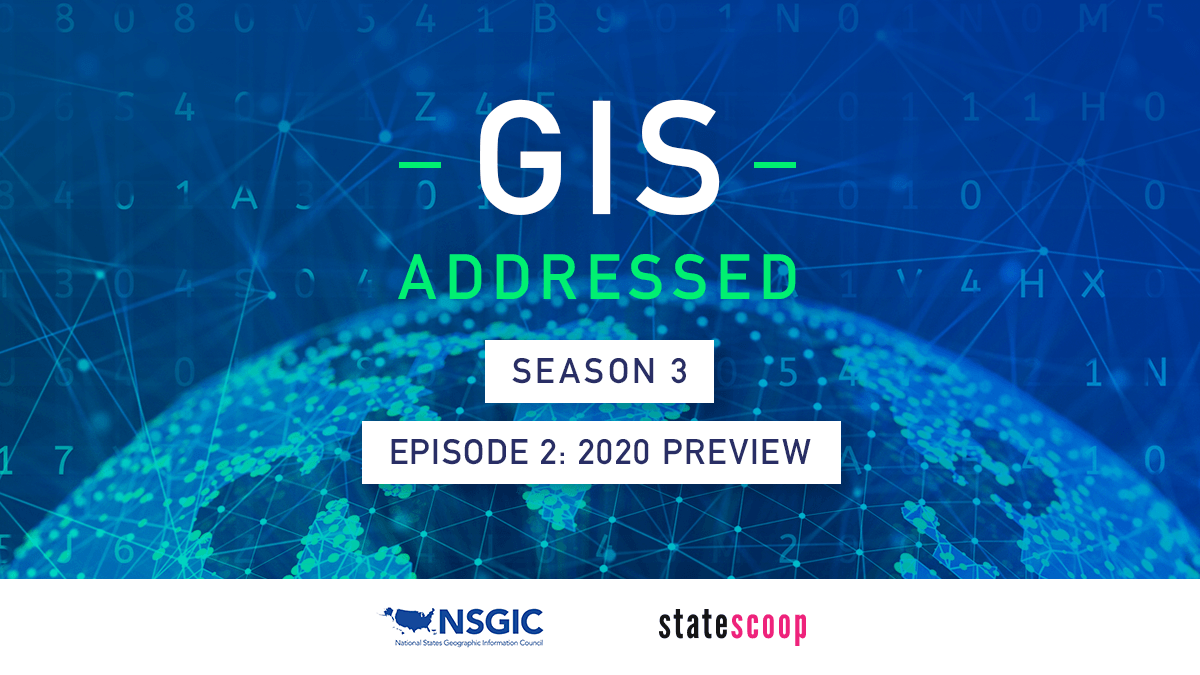 Data on pace to dominate GIS in 2020, experts say
Almost two years after the landmark passage of the Geospatial Data Act, geospatial information systems leaders in state government are pivoting to maximize the power of map-based data.
On the second episode of this season of GIS Addressed, experts from Minnesota, Wyoming and Utah said GIS teams need to use the engaging power of maps and the accessibility of map-based data to inform citizens and state agencies about the work they're doing.
"We have a bit more of a focus on developing 'maps-as-a-service' for state agencies to consume," Minnesota GIO Dan Ross says on the podcast. "Instead of having [agencies] create their own, and create web services and things like that, we're publishing them centrally and anybody can pick them up and use them."
Bert Granberg, the former director of Utah's GIS office and current director of analytics at the Wasatch Front Regional Council, says GIS leaders need to continue to carve out a space in the data science ecosystem. 
"Location data, geographic data, is a huge part of what the potential is for using data science," Granberg says. "Better informed decisions can add efficiencies to almost any process. I would frame everything I'm seeing in terms of trends around that particular arena … that includes things like machine learning, it includes a balanced strategic approach to managing geographic information and impacting projects like geo-enabled elections."
As the implementation of the GDA advances, Karen Rogers, a staff policy analyst at the Wyoming Department of Game and Fish and current NSGIC president, says creating a benchmark of where states are in their geospatial maturity will help fuel a successful development of GIS and data at several levels of government.
"It speaks to the self-fulfilling prophecy that we can get with bridging the gaps between federal agencies and states where the data are maintained and used the most," Rogers says. "It just speaks to the possibilities if we continue to have a successful GDA implementation and build those relationships."
On the podcast:
Karen Rogers, staff policy analyst, Wyoming Game and Fish Department

Dan Ross, geospatial information officer, Minnesota

Bert Granberg, director of analytics, Wasatch Front Regional Council

Jake Williams, associate publisher, StateScoop
Things to listen for:
Minnesota has been working diligently to begin to update wayfinding data into navigation systems using updated road centerline data. As autonomous vehicles get closer to integration on roads, this data will help ensure safe operation. (2:45)

NSGIC's geo-enabled elections project continues to push states to use GIS in the process of administering elections and easing access for citizens when they get their ballots. (4:21)

Going forward, GIS leaders should consider sharing more than just data — but rather creating a more reusable code base for geo-enabled services by sharing code via GitHub and deploying their tools on cloud-based services. (7:35)

Wyoming is preparing to conduct its first ever state-sponsored aerial imagery program, which will enable state agencies to have up-to-date property assessment data captured from the air. (15:59)

One key emerging data concern in 2020 will be surrounding next-generation 911, Ross says. (21:27)
GIS Addressed is a podcast from StateScoop and the National States Geographic Information Council about the role of geographic information systems in government. Catch up by listening to Season 1 (2018) and Season 2 (2019). 
Catch all of StateScoop's podcasts on Soundcloud, Apple Podcasts, Spotify, Google Play, Stitcher or Alexa's TuneIn.