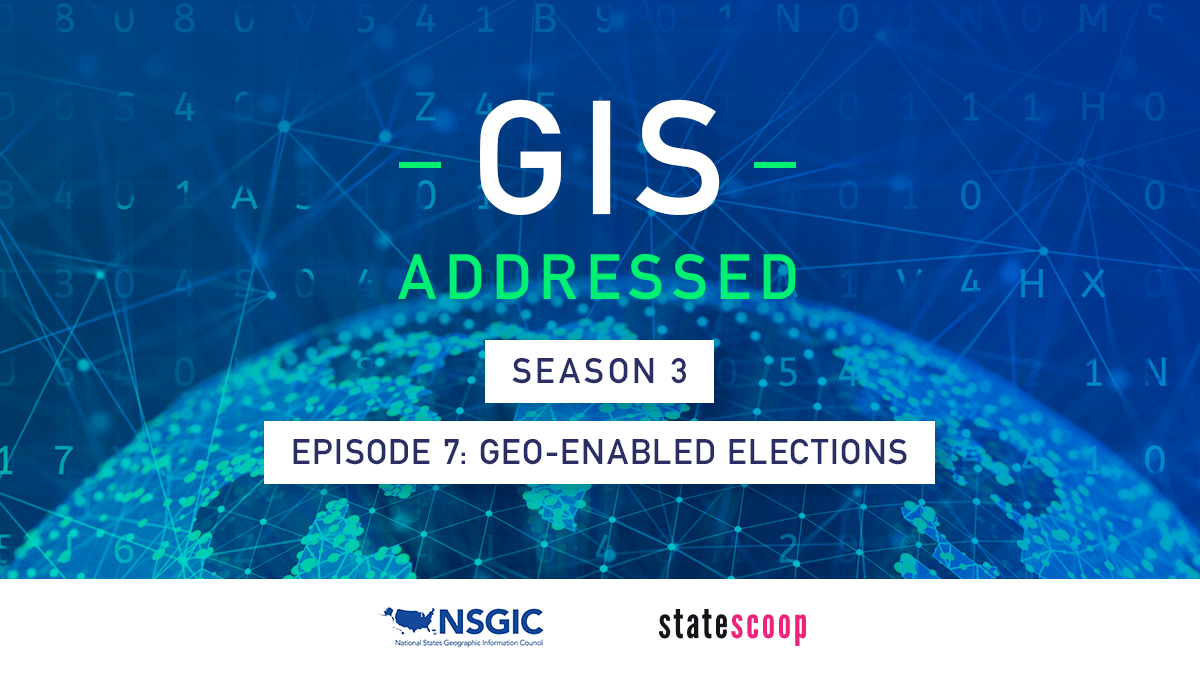 COVID-19 gave GIS, elections leaders chance to 'think outside the box'
With slightly more than a month left until Nov. 3, an effort from the National States Geographic Information Council to encourage the use of geospatial systems for elections is getting creative to maintain its pre-coronavirus pandemic momentum.
NSGIC's Geo-Enabled Elections project is centered around promoting a stronger dialogue between GIS officials and election directors and encourages using geospatial data to ensure more effective and accurate election administration. But as in other areas of government, the leaders behind this movement are getting creative to keep the effort moving.
"Covid has placed a blanket over every piece of life recently and certainly has changed the way the project has worked, both positively and negatively, honestly," says Jamie Chesser, the program director for Geo-Enabled Elections at NSGIC, in a new episode of StateScoop's GIS Addressed podcast. "But it has also provided us with an opportunity to think outside the box."
But until COVID-19, the project relied on conferences and meetings in which Chesser and other project participants could facilitate interactions between election directors and GIS leaders. Now, that isn't as easy and organizers have turned to webinars and virtual events to keep conversations going.
"One of the things that is really important to know in the elections space and all the various organizations that support election officials is the camaraderie and the collaboration that occurs," Tammy Patrick, a senior adviser at the Democracy Fund, says on the podcast. "Because when we can leverage everyone's expertise and move forward without duplicating efforts, it's just a fabulous way to be able to disseminate the information and spread the good word of NSGIC."
On the podcast:
Jamie Chesser, project manager, National States Geographic Information Council
Tammy Patrick, senior adviser, Democracy Fund
Jake Williams, associate publisher, StateScoop
Things to listen for:
In 2020, the Geo-Enabled Elections Project engaged six more pilot projects — Michigan, Minnesota, Oregon, Montana, Arkansas and Shasta County, California.
The program has developed a list of best practices to create model frameworks for the integration of GIS and elections.
The project will host its second Geo-Elections Summit on December 10.
States in the projects are finding errors in their election databases, or their precinct or district layers and making edits and updates to the system which will come to officials' aid when approaching redistricting.
COVID-19 "really highlighted" the importance of the Geo-Enabled Elections effort, Patrick said, because of a shortage in poll workers and potential reductions in polling places.
GIS Addressed is a podcast from StateScoop and the National States Geographic Information Council about the role of geographic information systems in government. Catch up by listening to Season 1 (2018) and Season 2 (2019).
Catch all of StateScoop's podcasts on Soundcloud, Apple Podcasts, Spotify, Google Play, Stitcher or Alexa's TuneIn.