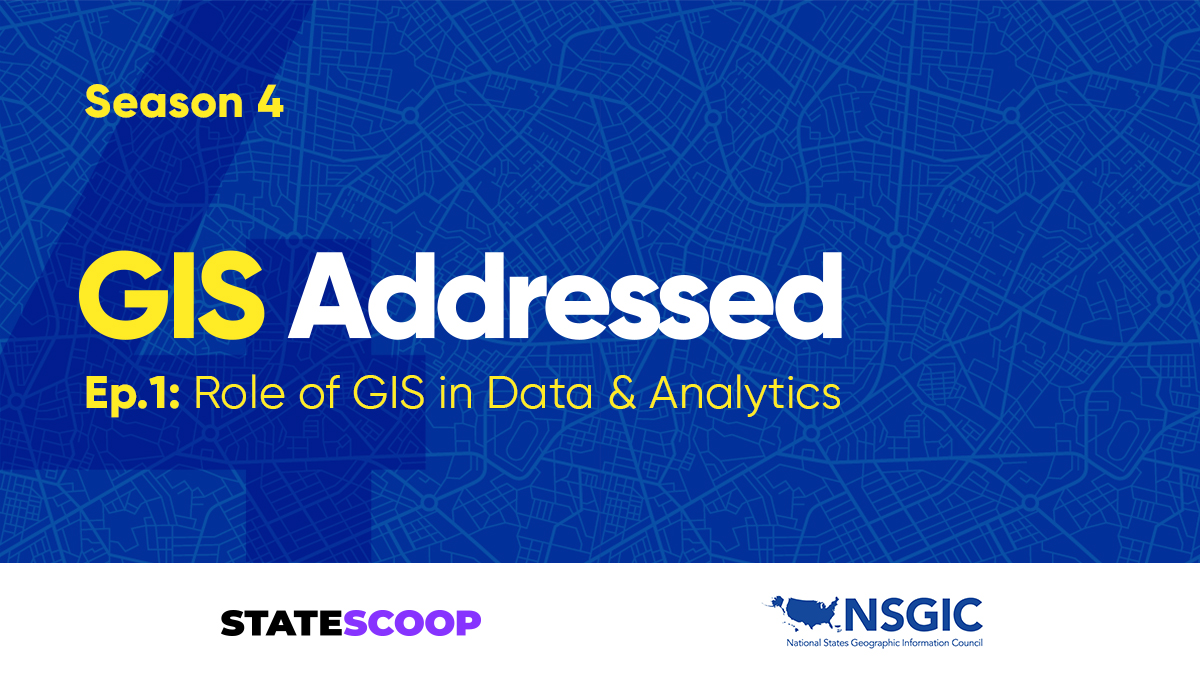 How GIS helps state governments share, drive efficiency
Geospatial information systems — and the data they rely on — are key parts of how government takes action on data, two state government GIS experts say on a new episode of GIS Addressed.
"If data is the blood of state government, to me GIS is the bones of state government," Karen Rogers, an enterprise GIS and data visualization coordinator for the state of Wyoming says on the podcast.
Nearly all geospatial information systems tools and applications rely on raw data to function, but it's the role of mapping experts within government to ensure that executive leaders have the decision-making power that spatial data presents.
"While all data may not be stored spatially, I would argue that all data does have some sort of spatial element because everything happens somewhere," Rogers says. "By having a good GIS program, and having people have given knowledge of how GIS works, I think it just really enriches understanding of that data and the patterns and relationships."
Frank Winters, the current president of the National States Geographic Information Council and New York State's geographic information officer, says that because of the unique role GIS leaders play in government, collaboration is essential.
"Many of us have heard the term 'data is the new oil,' right? One of my colleagues has said, 'yeah, it's the new oil, but it's maybe the crude oil.'" Winters says. "It's messy. It needs to be refined. We clean that data in a way that removes its caveats, removes its impediments for scaling, so that lots of people can go ahead and [use] it."
On the podcast:
Frank Winters, geographic information officer, New York
Karen Rogers, enterprise GIS and data visualization coordinator, Wyoming
Things to listen for:
Used correctly, GIS data can "move the dial on the economy," Winters says. With spatial analysis, not only can governments provide better services, but it can offer more usable data to the private sector so that "pizzas get delivered faster, and site development work happens faster."
NSGIC members have begun having conversations with the State CDO Network to talk about where the line of action is between state chief data officers' work and GIS lies. The conversations will also hopefully result in greater collaboration between the two roles.
The different geographies of different parts of the country present different challenges, Rogers says. For instance, due to the large amount of federal land in Wyoming, GIS is a key area of collaboration between the state and the federal government when it comes to permitting and other land-based projects.
Governance and building relationships through GIS can help break down silos and give government a "common operating picture," Rogers says.
GIOs and GIS leaders need to work to make their geospatial data understandable so any developer — regardless of whether or not they know about GIS — can add spatial data and spatial services to projects they have underway, Winters says.
This piece is part of StateScoop's Special Report on Data & Analytics.
GIS Addressed is a podcast from StateScoop and the National States Geographic Information Council about the role of geographic information systems in government. Catch up by listening to  Season 1 (2018), Season 2 (2019) and Season 3 (2020).
Catch all of StateScoop's podcasts on Soundcloud, Apple Podcasts, Spotify, Google Play, Stitcher or Alexa's TuneIn.