New York opens joint cybersecurity center to serve state and city needs
Gov. Kathy Hochul suggested the opening of the Brooklyn facility was accelerated because of rising tensions between the United States and Russia.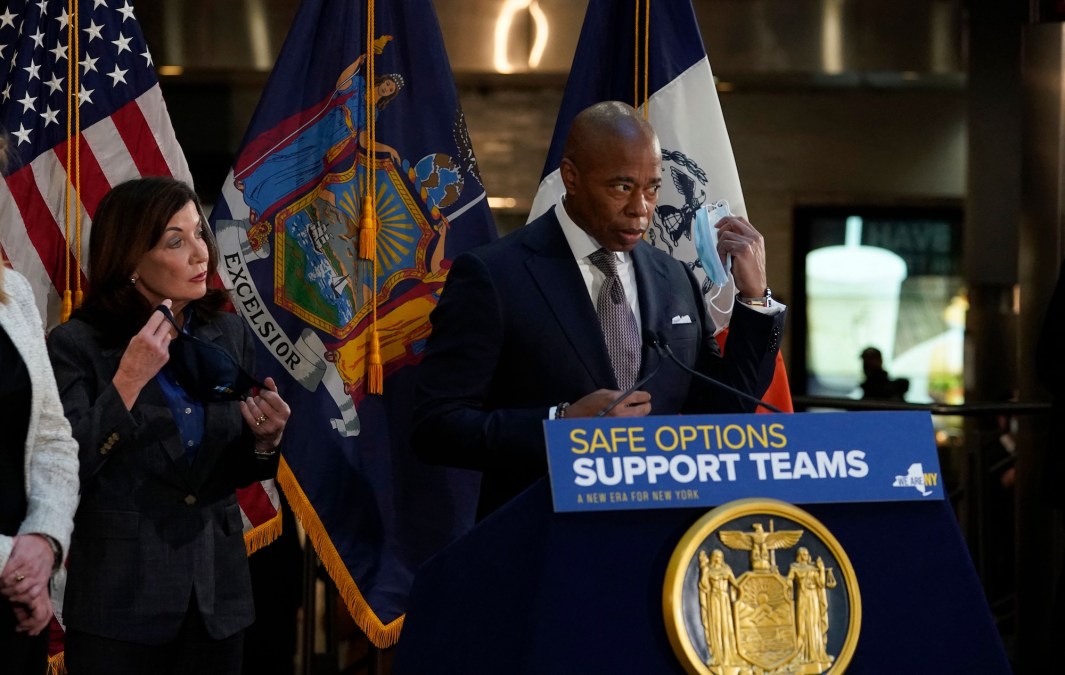 New York Gov. Kathy Hochul and a group of mayors from around the state on Tuesday opened what they called a "first-in-the-nation" operations center for state and local cybersecurity needs.
Speaking from the Brooklyn facility, Hochul said the new Joint Security Operations Center is designed to give New York's hundreds of municipalities more assistance in defending themselves from criminal threats like ransomware and potential activity by foreign government-backed actors.
"We can't expect cities and counties to go it alone," Hochul said, adding that the center's development was inspired partly by post-9/11 counterterrorism polices like the widespread expansion of FBI-led Joint Terrorism Task Forces, which now number more than 200 nationwide.
Hochul said the new cybersecurity center will also serve the private sector and state's critical infrastructure operators, including the Metropolitan Transit Authority, the New York Power Authority and the Port Authority of New York and New Jersey. Its 117 desks will be staffed primarily by employees of New York City Cyber Command, along with federal and state officials as well as representatives from city and county governments from around the rest of the Empire State.
"By collaborating and sharing one space we're going to be able to respond to any attacks as well as prevent them," she said.
'Our way of life'
The center's opening came shortly after Hochul proposed a $216 billion budget for the 2023 fiscal year that includes $62 million for cybersecurity, which she said would be more than double what the state's spent in recent years. And while the center has been planned for months, the governor suggested its opening was moved up in response to Russia's actions against Ukraine and escalating tensions with the United States.
"We've been talking about this for a while, I said how do we get this up and running immediately," she told reporters.
Hochul also said that the White House held a call last week for governors on the situation with Russia and that she has spoken directly in recent days with Homeland Security Secretary Alejandro Mayorkas.
"We know we're always going to be in the line of sight for terrorists who want to disrupt our way of life," she said.
Cyber liaisons
New York City Mayor Eric Adams said that in addition to the center's opening, he also signed an executive order Tuesday requiring all municipal agencies to appoint a "cyber liaison" to work with New York City Cyber Command. That agency last month was consolidated under a new citywide technology office that's being led by Adams' chief technology officer, Matt Fraser.
"This is a threat that touches all New Yorkers. Everyone who participates in this city must be protected," Adams said.
Adams also said that last December, as he was preparing to take office, then-Mayor Bill de Blasio had him over to Gracie Mansion and said cyberthreats posed the greatest risk to the city.
"He was clear: 'Eric, your real crisis is going to be cybersecurity,'" Adams said. "What COVID did to our bodies, cybersecurity is going to disrupt the anatomy of our city and our state. Just look toward Atlanta and Newark" — which suffered major ransomware attacks in recent years — "and see what happened with them and how those outside entities were attempting to hold cities and municipalities held hostage."
The New York City Law Department also went through an incident of its own last year, Adams noted.
Two other mayors whose cities have suffered ransomware attacks in recent years said the center's collaborative nature could be a boon to local governments that often lack for resources.
"With the JSOC, Yonkers will have some of the most brilliant minds and resources that will be at our fingertips," said Yonkers Mayor Mike Spano, whose city just north of the Bronx went through a "vicious" ransomware incident last September. (Spano said the city's IT team was able to prevent any data compromises.)
And Albany Mayor Kathy Sheehan said that when New York's capital city was hit in 2019, she relied on workers from the state Office of Information Technology Services during the remediation process.
"We as cities can't do this ourselves. The state was there alongside us when we had our cyberattack. We know the bench strength," she said.