Former White House digital service adviser picked to lead Beeck Center
Lynn Overmann, a veteran of the Biden and Obama administrations, is the new head of Georgetown University's Beeck Center for Social Impact.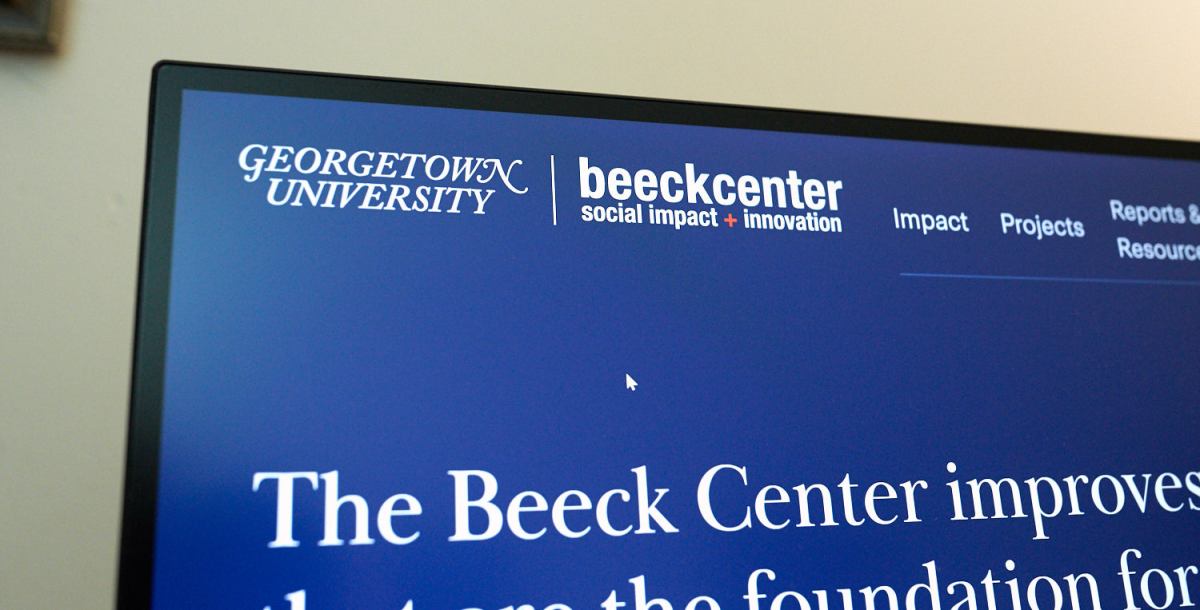 The Beeck Center for Social Impact and Innovation at Georgetown University recently named Lynn Overmann, a former senior adviser at the U.S. Digital Service, as its new executive director, at a time the civic-tech-oriented think tank is flush with new donations to build out its work on safety-net programs.
Overmann, who's worked on tech policy for both the Biden and Obama administrations, started at the Beeck Center on March 6, filling a vacancy created last summer when its previous executive director, Cori Zarek, jumped to the White House as deputy administrator of the USDS. In an interview, Overmann described the Beeck Center as the only organization for which she had considered leaving the White House.
"I think the thing that's most attractive about the Beeck Center is they are very much focusing in an area where I think there's a lot of need, which is this intersection between how we help governments effectively deliver services, leverage these tools of data technology and digital delivery," Overmann said. "If I've learned anything in all my experience, while government has come a long way in understanding the need to use those tools, there's still a lot of work that needs to get done and actually helping them do it."
Overmann joined the Beeck Center just a few weeks after it received $11 million to expand its work on helping state governments to improve their digital delivery of benefits like unemployment insurance, nutrition assistance and housing vouchers. The new funding came from several sources, including the family of Alberto Beeck, the center's namesake, as well as the Bill and Melinda Gates Foundation.
"There's so much unbelievably good work already underway, and I would say particularly the Digital Benefits Network and the Digital Services Hub," Overmann said, naming two of the Beeck Center's ongoing programs. "I think there's a range of different, really critical needs that are coming to the fore that the team is already addressing and where I'm eager to find opportunities to expand our work."
An attorney by training, Overmann started her career in government as a public defender. She joined the Obama administration in 2009 as a Justice Department adviser on reducing wrongful convictions. In 2012, she was detailed to then-Vice President Joe Biden's office as a policy specialist working with tech companies to address human trafficking. That experience, she said, led to more tech-focused roles, including as a senior adviser to the federal chief technology officer.
"I had zero knowledge of technology at that point," she said. "They were not bringing me to the CTO's office because I knew how to do anything, they would bring me because of the subject matter expertise. So I started to learn about what at the time seemed like very magical tools that they had to try to effectuate some of the policy implementation and delivery that were so important to me. And so I have always had one foot in policy world and one foot in digital delivery world."
Overmann returned to government in 2021, joining the Biden administration first as an adviser to Agriculture Secretary Tom Vilsack on equity in USDA programs like farm loans, and IT modernization across the department. She returned to the White House in February 2022 as an adviser to the Domestic Policy Council on implementing administration policies using data, technology and human-centered design.
Still, even with her career transition from criminal justice to digital services, Overmann said she continues to rely on her origins as a public defender in Miami.
"I have this running joke that everything I learned in my career I learned as a public defender. And the most important thing I learned was keeping the human beings that we're trying to serve at the center of everything that we do," she said. "I happen to think that data technology and digital services are dramatically underutilized tools. They are tools that will help you get to a better outcome more quickly. But it's usually a combination of policy change, process change, kind of shifting focus to be more human-centered."