Gov. Jerry Brown orders audit of California DMV
The state legislature failed last month to pass a proposal to audit the department, which has struggled with long wait times, IT outages and technical glitches for months.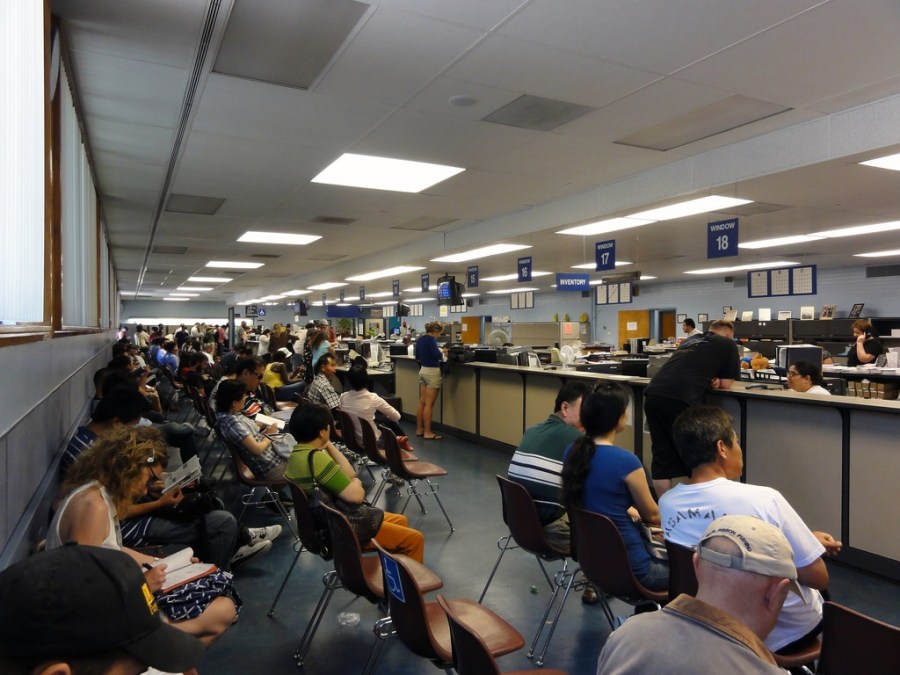 The California Department of Motor Vehicles narrowly avoided an audit proposed by the state legislature last month, but in the face of rising wait times for services, Gov. Jerry Brown ordered the audit anyway on Friday.
The governor's order comes after months of technical problems at the department and just a day after about 70 offices encountered an issue with a router that prevented staff from processing driver's licenses, identification cards and vehicle registrations, according to spokeswoman Jessica Gonzalez, the Associated Press reported Friday.
Also on Friday, Brown vetoed five bills related to the DMV, including the introduction of a "veteran" designation for driver's licenses and identification cards and a proposal for new specialized license plates. The governor said that the bills "may have merit," but that they have arrived on his desk at an inopportune time.
"Reducing wait times in field offices and addressing the urgent need of customers is the top priority," he wrote in a veto letter. "The programming required to implement these bills will delay the department's ability to fully modernize its aging information technology systems."
Lawmakers have been scrutinizing wait times and complaints against the agency. The Sacramento Bee reported that Republican Assemblyman Jim Patterson called the DMV "incompetent" and said its administrators "simply cannot be trusted to fix the problems that they have created."
Data published by the DMV in July showed that wait times had gone up 46 percent statewide in the past year. The department reported in August that its 40-year-old systems have seen 34 outages since January 2017.
California DMV Director Jean Shiomoto told lawmakers that the department's efforts to update its systems to meet upcoming federal compliance deadlines for Real ID cards have also caused wait times to rise.
Earlier this month, the DMV accidentally misregistered 23,000 voters , including more than 4,000 who did not even fill out a voting affidavit. Though attributed to "administrative error," and not a technical glitch, it was shown to be an unintuitive computer interface used by DMV staff that led to the mistake.
Frustration from the public with outages, errors and long wait times led to increased attention from lawmakers, who held a hearings in August discussing the possibility of an audit.
Officials from the department said an audit would strain their resources and make wait times worse — $16.6 million was provided to the DMV to help reduce wait times.
On Aug. 8, the Joint Legislative Audit Committee voted whether the DMV should be audited following a proposal from Assemblyman Patterson, but the proposal came up one vote short. Patterson accused three senators who voted against the audit of making "a rank political move."
The following day, the Sacramento Bee published a report pointing out that current and retired state legislators and their staff don't need to wait in the same DMV lines as everyone else because there's a secret DMV office in the Legislative Office Building in downtown Sacramento they have exclusive access to.
An audit report from the finance department is to be published March 2019. The audit is expected to cost the DMV up to $800,000.