The fashion of NASCIO midyear 2023
Take a look at what state tech officials and vendor representatives wore to the 2023 NASCIO midyear conference.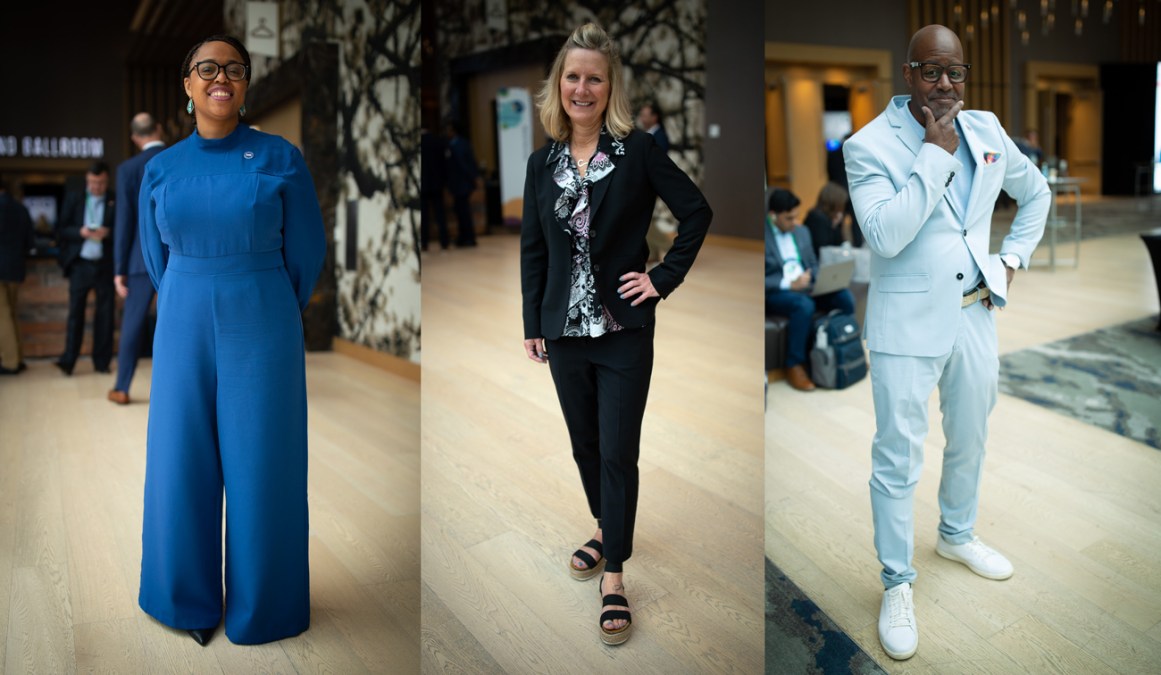 Fashion's biggest week of the year is here — and no, we're not talking about the Met Gala. We're talking about the National Association of State Chief Information Officers midyear conference in National Harbor, Maryland, which wrapped up on Wednesday morning.
State technology officials and vendors gathered for several days to mingle and share ideas about the latest and greatest in public sector tech. The looks this year were wide and varied, and tech leaders sported everything from formal suits to casual slacks, or even blazers paired with sneakers. To get at the heart of NASCIO culture, StateScoop asked — what are you wearing, and more importantly, why?
Consistently, we heard that comfort was key in deciding what to wear on conference days. It seems as though the days of stuffy suits at conferences are gone, and that was partially by design. Doug Robinson, executive director of NASCIO, said the change in expected attire at conferences was a welcome one, and it's something he's been hoping would help facilitate a more relaxed environment.
"This is a much more inviting kind of atmosphere. It's become more about relationships and friendships," Robinson said. "This is us, and not being all formally attired helps that."
Written by Keely Quinlan, photography by Colin Wood.
Lisa Jammer, chief people and culture officer, Texas
Jammer sported a blue jumpsuit from New York & Company. "It's very comfortable, but I love it because it's our agency color but it's also the color of the conference." Her advice on what to wear to NASCIO involves being confident, but also practical. "I think you get a wide mix here of people who are wearing jeans all the way to people wearing suits, but you kind of have to plan for the weather, so bring a sweater or jacket with you, but come comfortable because it's a long day and you want to be your best. But you want to enjoy a little fashion, too."
Suzan Tasvibi-Tanha, COO, Arizona
Arizona's chief operating officer donned a black blazer and blouse with slacks, and coordinated her gold, sparkly Crocs with her bag. "I'm wearing my business attire with the Crocs because last night I did a lot of walking and these are my go-to's when I have to work and walk the data centers," Tasvibi-Tanha told StateScoop. "It's coordinating and that's a whole look." She advised conference goers to wear something sensible and comfortable: "Fashion is nice, but if you can't walk on it then you can't get to where you need to go."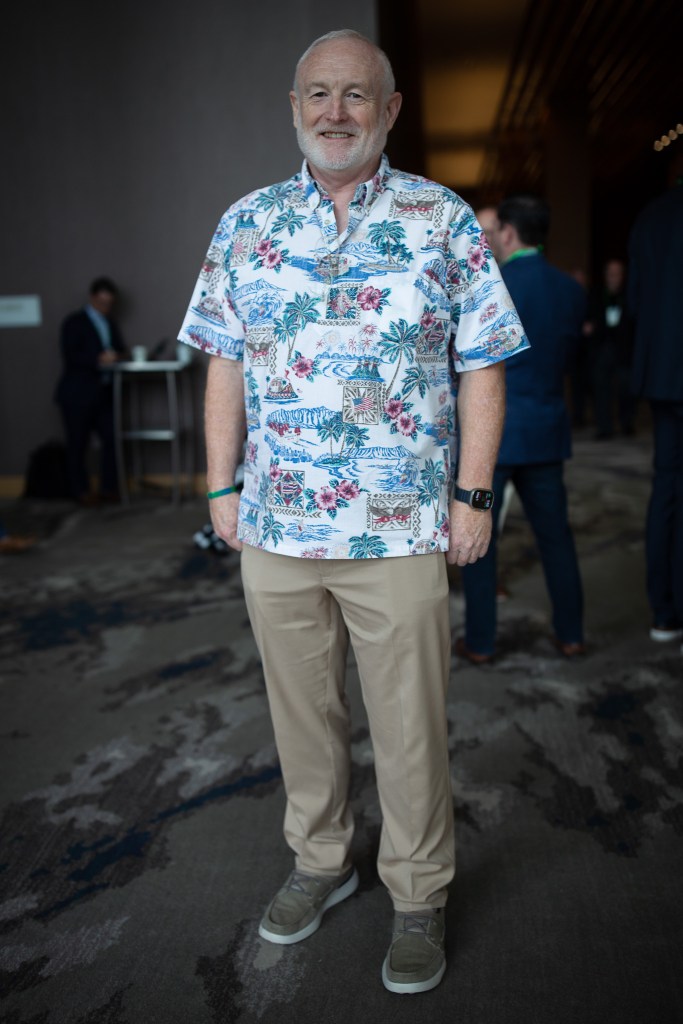 Doug Murdock, CIO, Hawaii
In a true tribute to island time, Honolulu's top tech official sported a Reyn Spooner Aloha shirt from the summer of 2022. Murdock told StateScoop the Aloha shirt is the standard for government officials in Hawaii. "I just like to show people the Aloha spirit and it's good for the vendors to know that I'm the person from Hawaii so they can easily identify me in the crowd and come up and have a discussion," he said. "I think they should wear something that shows the character of where they're from. I think that's kind of fun."
Tarek Tomes, CIO, Minnesota
This year's GoldenGov: State Executive of the Year award winner told StateScoop that he had no idea what he was wearing, and that it was likely something his wife picked out. But the reason he picked the gray blazer and paired it with blue slacks and brown shoes was because it was comfortable and sporty, which is very on brand for the former professional basketball player. "Be yourself, don't try to be anyone else," he said.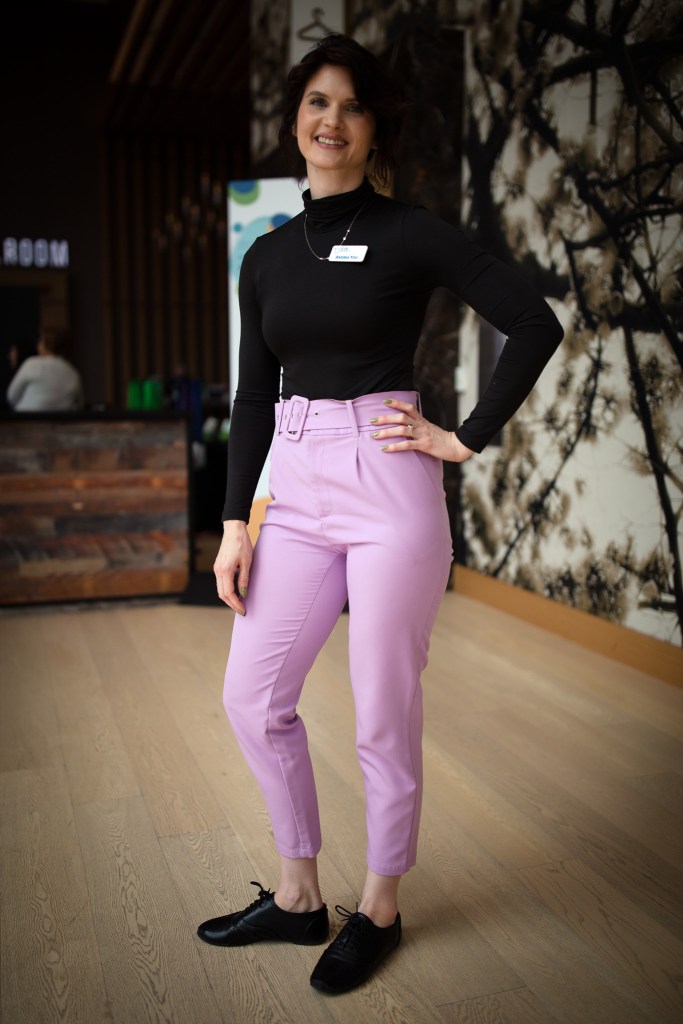 Andrea You, membership coordinator, NASCIO
One of the wonderful folks responsible for putting on the NASCIO midyear conference, You said she believed her entire outfit was ordered on Amazon. The purplish-pink slacks — which she said she picked because they had pockets and were comfortable — paired smartly with a black blouse. She also said that a conference outfit must include layers. "Be comfortable, have versatility, make sure that you have layers to some extent because the rooms get cold and then they get hot."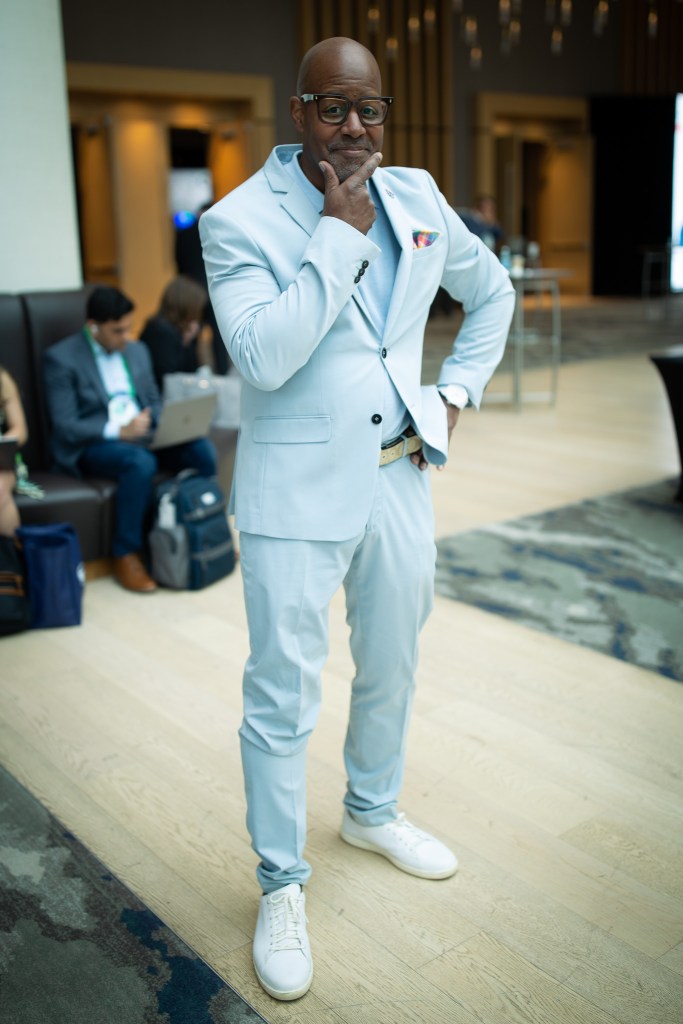 David Hunter, business development adviser, state and local government west, World Wide Technology
Leaning into the monochromatic moment, Hunter rocked a powder blue suit, which he said took him an entire year to buy. "I found the jacket at one H&M, and when I flew down to Los Angeles, I went to one there and they had the pants that matched." He paired it with blue-light glasses from Zeelool, and even his silicon wedding band also was matching the blue theme. He layered the look with a knit top and a complimentary pocket hanky from Banana Republic. "At these events, part of my brand is to wear something that's not outrageous, but pops."
Anushree Bag, CIO, Indiana Department of Child Services
Indiana's CIO at the Department of Child Services went the colorful and creative route, choosing to pair a dimensional silk shirt with trousers and accessorizing with a Murano glass necklace. "You need to add some color, you need to add some variety and you also need to break the myth that, you know, women are not in IT careers a lot," Bag told StateScoop. "They probably see this as an austere setting, that they always have to be in suits with no color, and I want to break that myth."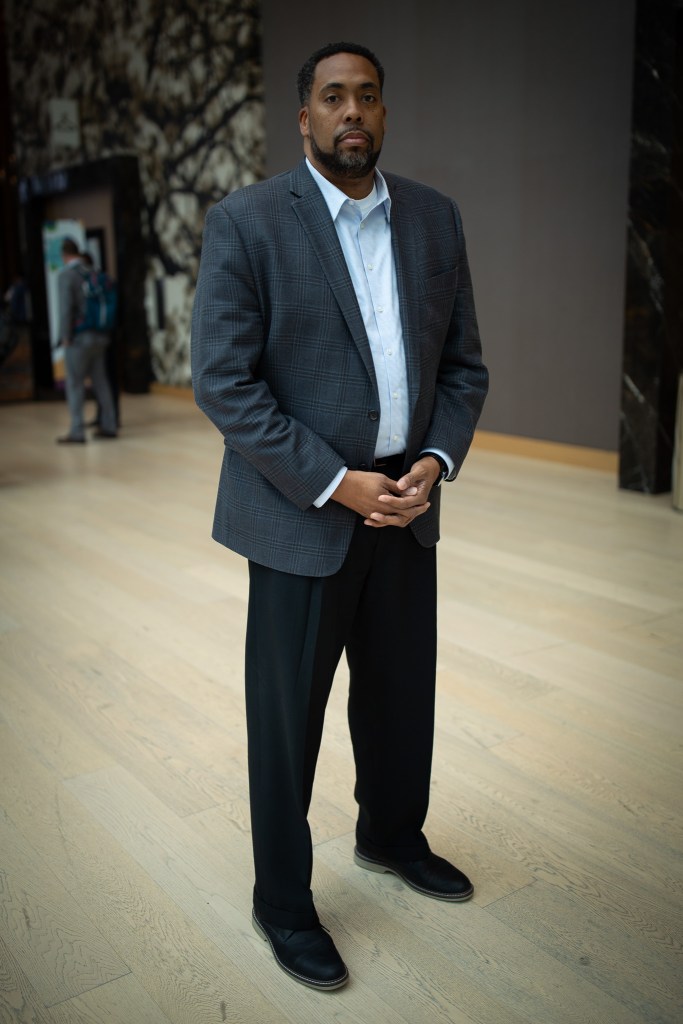 Tracy Barnes, CIO, Indiana
Barnes went classic, opting for slacks and a sports coat. "This is my usual," Barnes said, adding that dressing respectfully is important. "There's no reason to be over flashy or over colorful, but definitely make sure you are keeping yourself at the level of the landscape." In fact, he said being underdressed actually bothers him. "When I see individuals who have not taken the time to respect the footprint of what we do, and the impact that we have, and really be a little bit more flippant towards."
Stephanie Dedmon, CIO, Tennessee
NASCIO's president wore a pants suit paired with a ruffled blouse and platform sandals. She told StateScoop that she loves adding feminine touches to a look through pops of pink or fun textures. "I would say comfort is important. Yesterday I had to change my shoes since I was on my feet longer than I really thought about," Dedmon said, adding that representing your state and your workforce is important. "I'm probably a little bit more old-school in terms of dressing professionally, but I think it's important to represent in a positive way."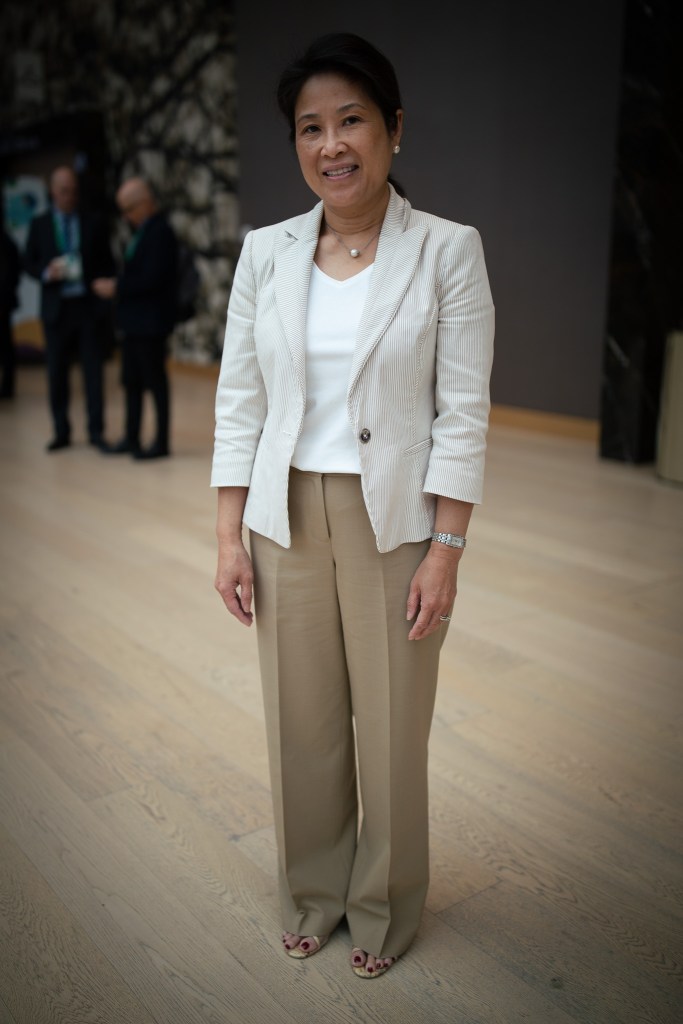 Anh Le, chief of business operations, Georgia Technology Authority
The business chief of Georgia dressed for the part with coordinating pieces from Ann Taylor and Banana Republic. A lawyer by trade, she said her more conservative style was built around easy choices and naturally complementary tones. "I would like to get more into the next, coolest fashion, but I just am not cool enough to know how to put it together, so these are your classic pieces that are kind of put together for you," she said. "We were always taught in school that your first impression was your marketing statement."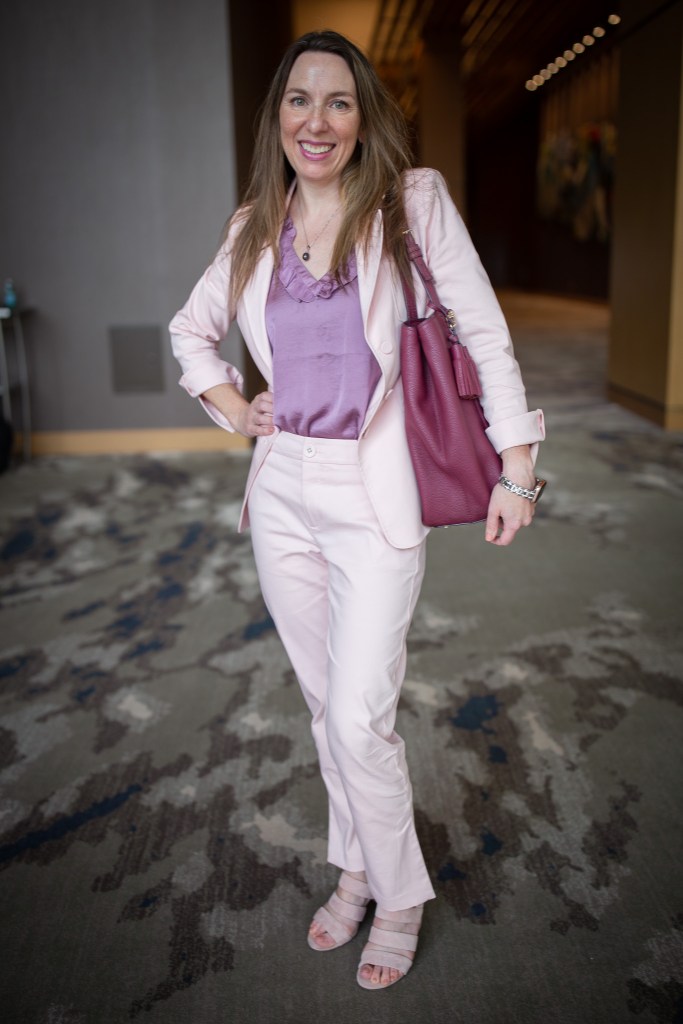 Katy Ruckle, chief privacy officer, Washington state
Washington state's privacy chief donned a light pink Cabi suit and accessorized with Kate Spade earrings, watch and bag. "I just love Cabi because it's so easy to shop at home and then it's fashionable every season, and this is spring and I was excited for spring today," she said. Her heels are by Vionic, and she said that comfortable shoes are a must for any conference. "Even though my heels are high, they're still comfortable," she continued. "Dress professionally, stand out, but also be comfortable."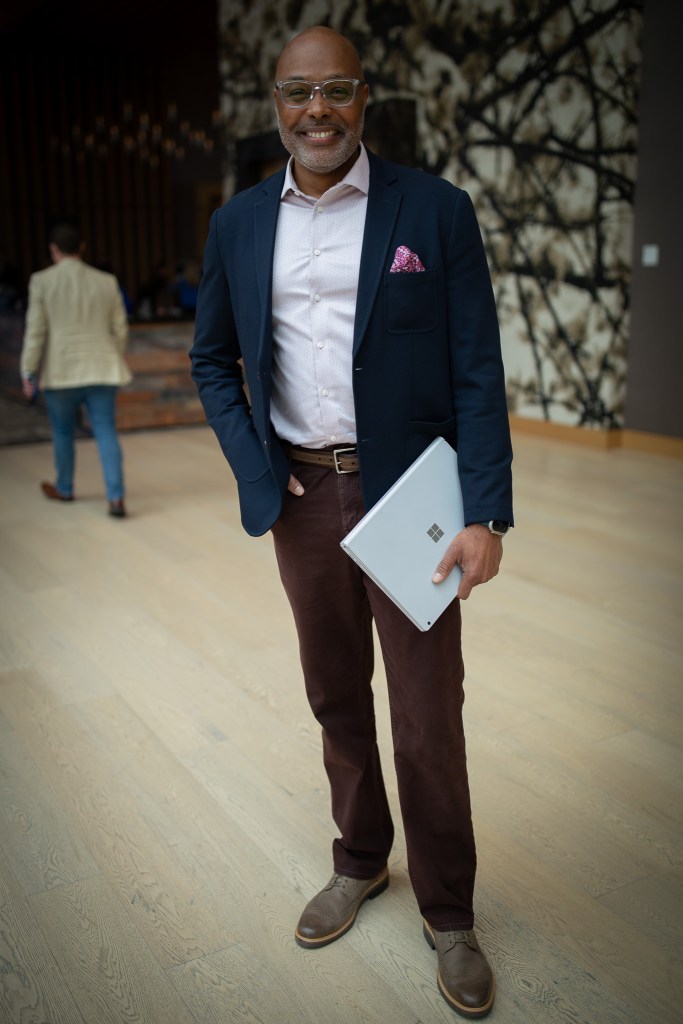 James Collins, general manager, U.S. state and local government industry, Microsoft
The former Delaware CIO sported a blazer and chinos, which dresses down the jacket when paired with what Collins called his "old man rubber-bottom shoes." Those, he said, were the most important component of a conference outfit because the wrong shoe choice can make or break a day. "The pocket square is what really adds a little seasoning, a little dash of something," he said. He also accessorized the look with a very on-brand piece of tech.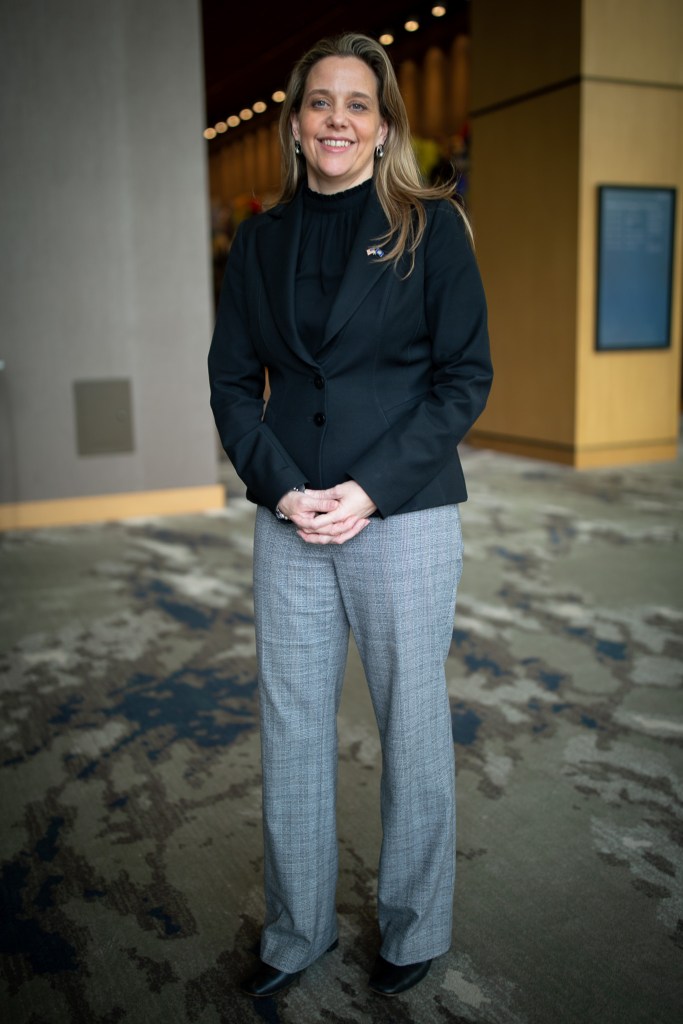 Jennifer Lorenz, acting CIO, New York State
The acting top tech official of the Empire State told StateScoop that she wasn't exactly sure which labels she was wearing on the first day of NASCIO midyear, but she did divulge that she prefers online shopping. Her black blouse layered under a black blazer, with contrasting light gray plaid slacks were an easy pick. On her recommendations for how to pack for conferences, Lorenz said, "Look sharp but be comfortable, because it's a long day. I would also say layers because you go from hot to being cold to being hot to being cold. It's a lot of talking."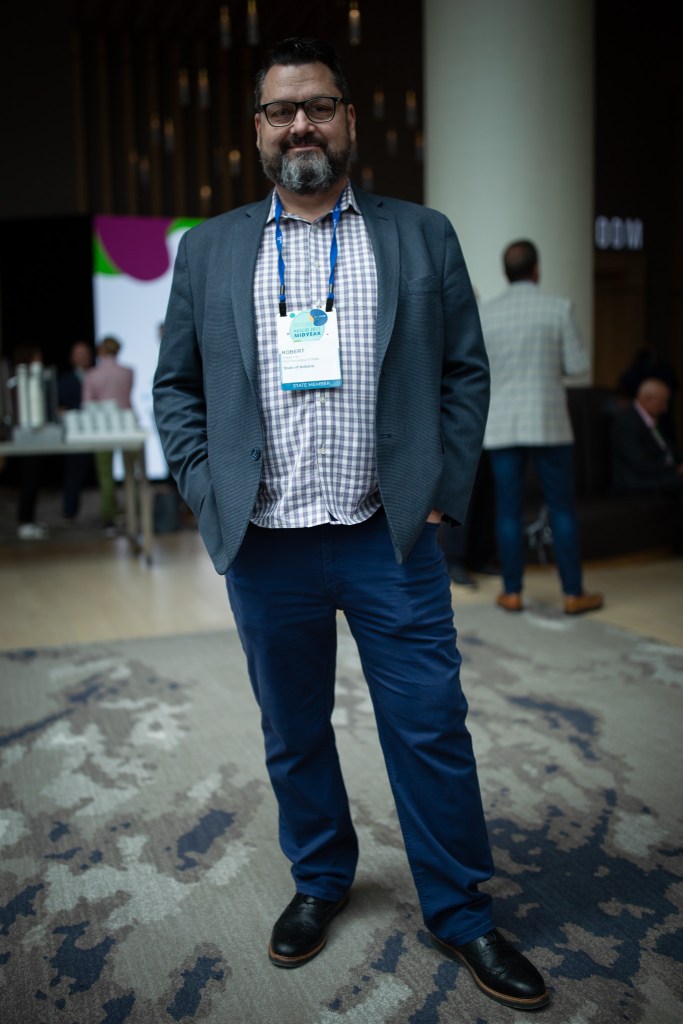 Robert Fulk, CIO, Indiana Secretary of State's office
The tech chief in the Hoosier state's Secretary of State's office described his NASCIO look as "snappy casual." He opted to mix different shades of blue going with a bluish gray blazer, deeper blue pants and a tattersall blue dress shirt to spice it up and look more professional. "Go casual, some folks are a little too formal," he said.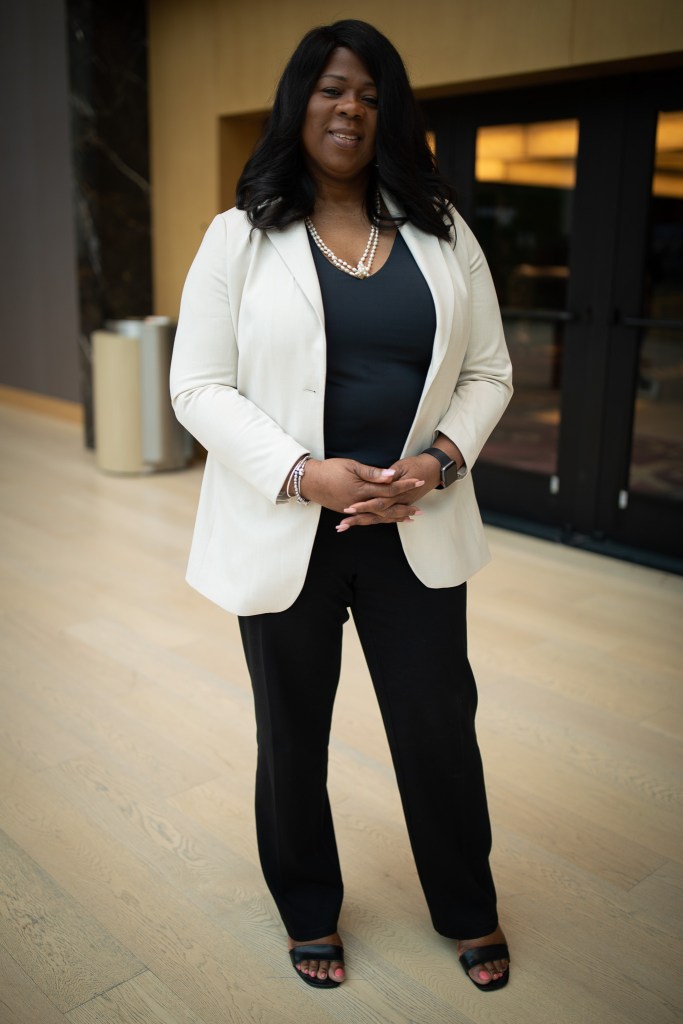 Shawnzia Thomas, CIO, Georgia
Georgia's top tech official went with a classic business casual look, but opted for an elongated silhouette with a white "boyfriend jacket," which she said is more comfortable and can go with anything. "This is always business casual, and you can dress it up," she said, adding that her choice of pearl accessories spiced up her outfit. "Always bring comfortable shoes because of the night life, the outings we go to, there's a lot of walking. There's a lot of talking, there's a lot of mingling, so you want to have your feet comfortable. But just be you."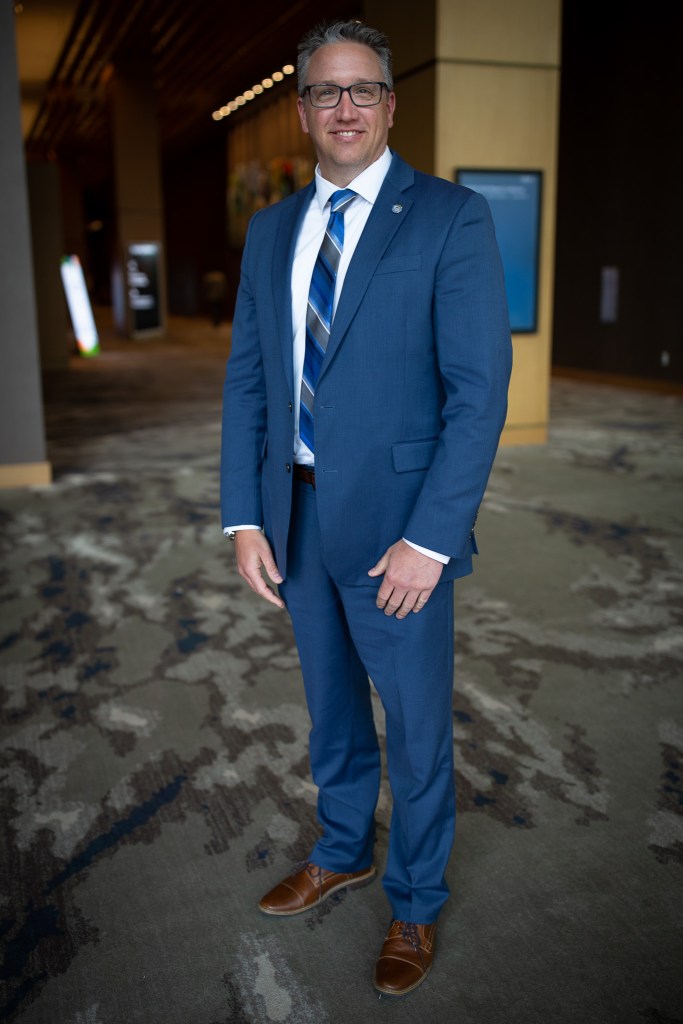 Jason Clarke, CIO, Delaware
Delaware's top tech official sported a Stafford blue suit, which he called his "traditional uniform for work." Clarke also urged the importance of comfort, since NASCIO events run the span of the day and can often run into the late evening. "We get invited to a lot of things and there's not always a lot of time to freshen up or change or anything like that," he said. "I might lose the tie later if I get crazy."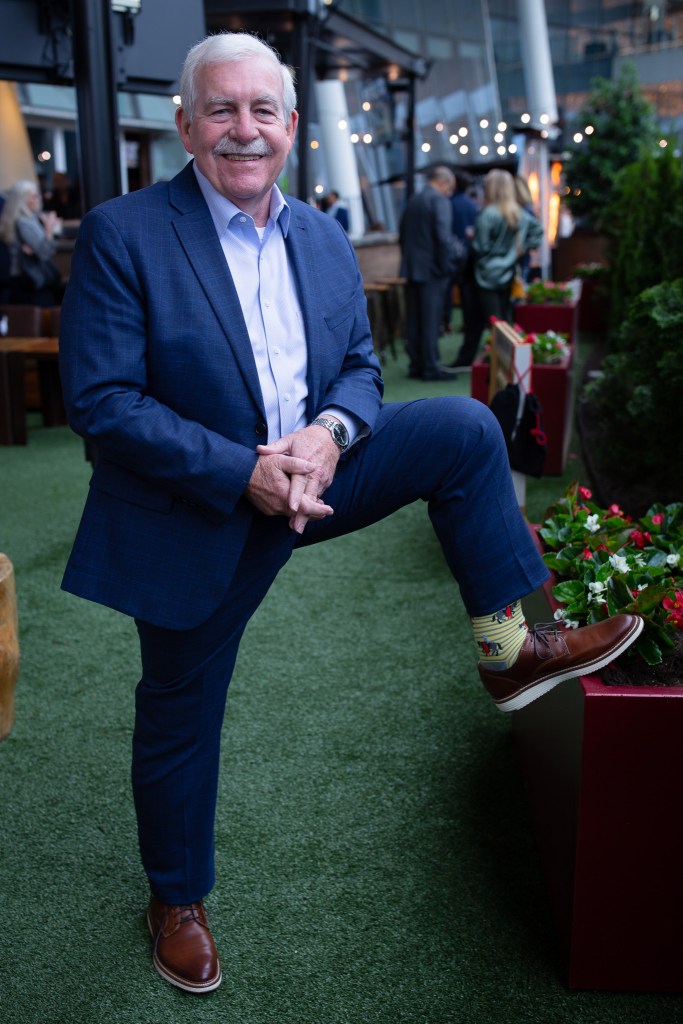 Doug Robinson, executive director, NASCIO
NASCIO's executive director went with a Kentucky blue suit and opted for keeping it more casual with a simple button-up underneath. He said that even though NASCIO is a tech conference, it should be thought of as more of a leadership conference, which is why it's important to make connections and build relationships. One of the ways to do that is to lose the tie, he said, and personalize a look with fun socks. "It's Derby Week, and I have an opportunity to make a fashion statement with the socks."