Election tech vendor Smartmatic demands retractions from right-wing media over misinformation
Smartmatic, which has been the subject of baseless conspiracies, said reports on Fox News and other channels have led to death threats against its employees.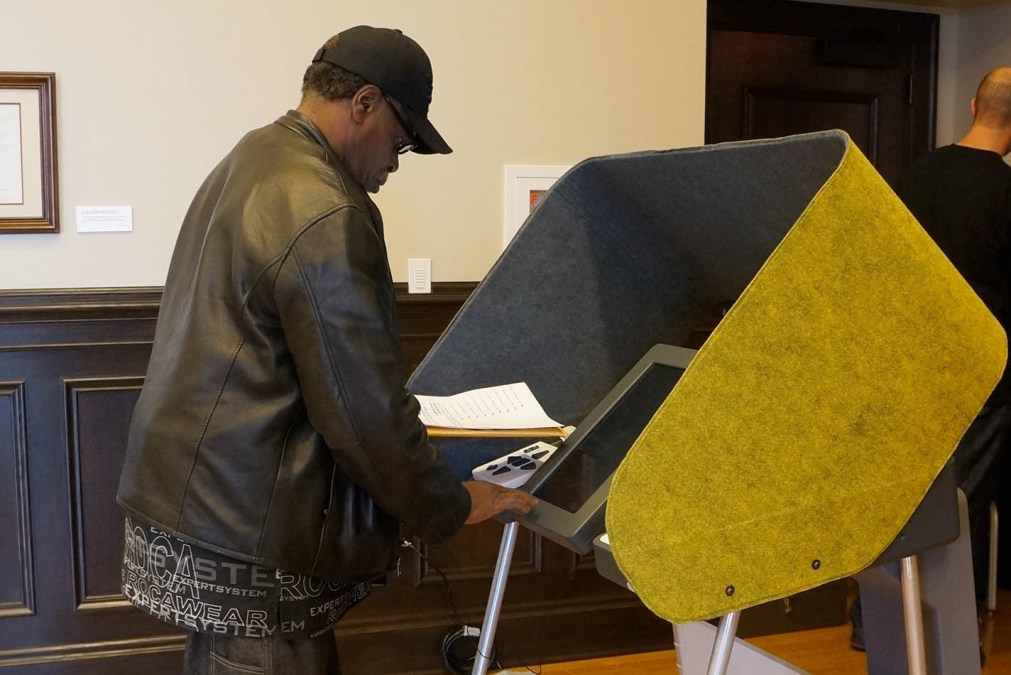 Voting equipment manufacturer Smartmatic on Monday sent legal notices to Fox News and other conservative media organizations threatening legal action if they do not retract stories that have promoted "false and defamatory" claims about the company and its products in the weeks following the presidential election.
In the letters, which were also sent to One America News and Newsmax, an attorney for Smartmatic said Fox "engaged in a concerted disinformation campaign" as Fox hosts and guests have repeatedly pushed discredited conspiracy theories and other misinformation to claim, falsely, that the election was "stolen" from President Donald Trump.
Misinformation about voting equipment has been present since before Election Day, but has surged in the weeks since as Trump and his allies have pursued dozens of unsuccessful legal battles to overturn the results. And despite efforts by election officials and the federal government to debunk these phony claims — an effort for which Trump fired the head of the Cybersecurity and Infrastructure Security Agency — Trump and his allies have not backed down, which has resulted in state and local election workers being harassed and threatened.
In its letter to Fox, Smartmatic wrote that the company's employees have also received threats of violence and death and that its executives and their families have been targeted on social media.
Smartmatic specifically has been the subject of baseless claims, frequently broadcast on Fox and the other networks that received letters, that its software was entangled with another voting equipment vendor, Dominion, to alter Trump voters' ballots in favor of President-elect Joe Biden, in a supposed scheme that included — among other unlikely participants — the late Venezuelan dictator Hugo Chavez, who died in 2013.
Many of the segments citied in the Fox letter involved Rudolph Giuliani and Sidney Powell, lawyers who've represented Trump in his losing legal battles to overturn the election, but the letter also names individual Fox News hosts, including Maria Bartiromo, Lou Dobbs and Jeanine Pirro.
"While Fox News holds itself out as a trusted news source, it has continually and repeatedly published demonstrably false information and defamatory statements about Smartmatic," the letter reads. "As a result, your false and defamatory statements regarding Smartmatic have irreparably damaged the company's reputation with millions of individuals and government officials."
Smartmatic is a Florida-based company with a corporate parent located in London and is unaffiliated with Dominion Voting Systems, the second-biggest vendor of election technology.
Smartmatic also only provided election technology this year to a single jurisdiction: Los Angeles County, California, where it worked with county officials develop a system that combines touchscreen interfaces with paper ballots. (There is also no evidence the company has connections to Venezuelan dictators, past or present.)
But the company says that the ongoing misinformation campaigns being waged by Fox News and the other networks threaten its future and the public's confidence in the voting process.
"Our [legal] efforts are more than just about Smartmatic or any other company," Smartmatic CEO Antonio Mugica said in a press release. "This campaign is an attack on election systems and election workers in an effort to depress confidence in future elections and potentially counter the will of the voters, not just here, but in democracies around the world."
A company official, speaking to StateScoop on background, said that potential contracts worth "potentially hundreds of millions of dollars" with other jurisdictions both in the United States and internationally, have been jeopardized by the misinformation.
Fox News and the other outlets have not responded to the letters.