11 Digital Trends Shaping How Government Connects
11 Digital Trends Shaping How Government Connects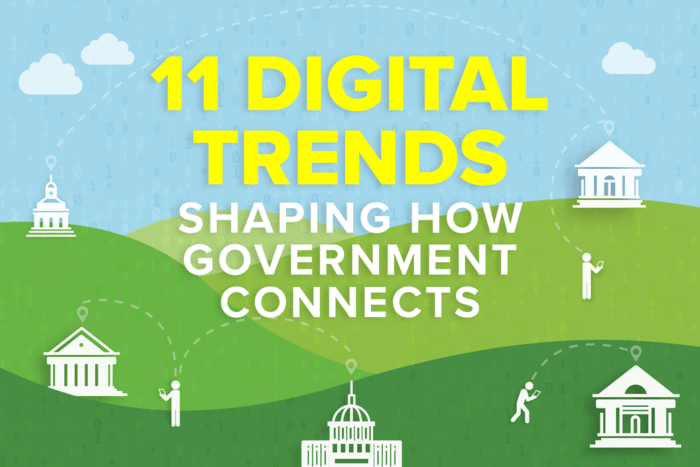 Start a timer the next time you talk to a CIO and see how long it takes before the phrase service delivery comes up. For many state and local government technology leaders, finding ways to better deliver services to the public is why they get out of bed in the morning.
Through StateScoops daily reporting of emerging trends in state and local government, and with help from the National Association of State Chief Information Officers (NASCIO), we have compiled herethe trends that are changing how government worksand the most illustrative examples of how it uses technology to connect more frequently and more meaningfully with the people it strives to serve.
---
Data collection is more distributed and more accurate
Project spotlight: Citizen-Sourced Data Toolkit

Recruiting community volunteers has forever been at the heart of the civic tech movement, but new mobile tools are making it easier for people to participate in a meaningful way. The result is more than just the warm fuzzy feeling that comes along with helping the community. These projects are transforming how government is run and what the communities they govern look like.
Census data collection is a prime example of how citizen-sourced data is changing both how government operates and who is empowered to influence important outcomes for cities,such ashow much funding they get. A project in San Jose led by a coalition of cities called Cities of Service equipped a group of volunteers with text-messaging reporting tools that allowed them to aggregate a more accurate master address file that the city can now provide the U.S. Census Bureau.Armed only withsmartphones, San Jose citizens helped ensure thoseresidents would be counted in 2020.The goal is ensure the city gets as muchfunding as possible from the federal government one estimate sayseach hard-to-count resident is worth $2,000 annually that can be used to improve the quality of life for everyone who lives there.
Tools like this one are helping governments track abandoned buildings and properties, better understand homeless populationsand collect other crucialdata. New insights like the fact that 64 percent of low-income Americans report owning a smartphone also inform how new and existing services for residents are developed.
Crowdsourcing efforts have been around for years, but the level of sophistication both in the tools and the thinking behind them is proving to deliver quantifiable change helping government to realize outcomes that can deliver quantifiable change.
---
Mobile and web technologies are allowing government to give itself a makeover
Project spotlight: New York Citys court date text reminders

While government has long and often rightly been criticized for its confusing processes and inscrutable paper forms and documents, technology is simplifying things in places that are willing to recognize those shortcomings. Frequently, the result is organizations that perform more efficiently and that present a more approachable face to the public.
A simple program that sends text reminders to people who have court dates in New York City yielded a 26 percent decrease in the number of failure-to-appear warrants being issued. The city is showing the public that it doesnt have to be afraid of the process.
By recruiting a behavioral design firm to assist with crafting its messages and approach, the city discovered that the messages that were the most effective were the ones that shared practical information about the punishments associated with not showing up, but also information like directions to the courthouse and what to expect in court. The city eliminated some of the uncertainty and mystery from what is for most people sure to be an already unpleasant experience.
This theme can be found translated across much of government. New public-facing websites, like Massachusetts beta website launched last year, use public input to guide development.Like products from the consumer tech industry, the sites also have a more user-centered design approach. Similar examples can be found in many states and big cities like Boston, Pittsburgh and New York City, which have each refreshed their web presences, not only for the sake of functionality, but also to appear more like the massive easy-to-use websites like Amazon known for their effective and streamlined service delivery.
---
Digital input is expanding beyond the basic internet
Project Spotlight: Georgias Amazon Echo initiative

A revolution from paper forms to online ones was a big step for many government offices and still one that many still need to take but an equally large step involves expanding the types ofhardware thatpeople can use to input information.Not content simply to allow users to enter their information using a physical or smartphone keyboard, state and local governments are offering services on a wider array of platforms there are services that allow access via voice-enabled devices like Amazon Echo and Google Home, request platforms that users can reach through social media and chatbots that both alleviate workforce shortages and provide added convenience for users who wants simple answers immediately.
While the expansion of how government provides its services to the public represents flexibility and a willingness to adopt to a changing world, it also represents an opportunity for government to meet a common mandate of catering to all of its citizens equally. Voice-assisted technologies are being marketed as a mainstream convenience tool today, but their roots are in helping people with disabilities. Thats how the State of Georgia is pushing its voice-enabled initiative, migrating 50 of its most commonly used services onto the Amazon Echo platform.
GeorgiaGov Interactive Director Nikhil Deshpande tells StateScoop that its no longer good enough for government to prop up a website and expect people to find it you have to meet the audience on the services they use.
Utah is also experimenting with voice-assisted technology, offering a home practice exam for the transportation departments drivers license test on Google Home.
A recent chatbot hackathon in Illinois produced several new opportunities for the state to reach its citizens in new ways, including an experts as a service tool that integrates several chatbots together.
The states approach is emblematic of a common sentiment in state and local government, which is that there should be no wrong door for residents to pass through to approach them.