11 Digital Trends Shaping How Government Connects
11 Digital Trends Shaping How Government Connects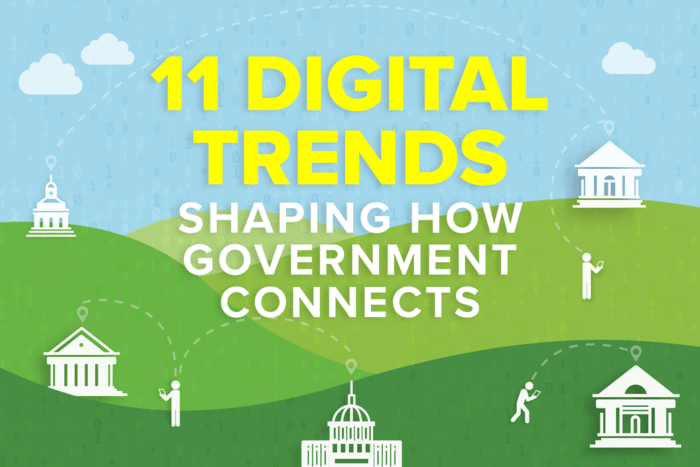 A media-rich culture is driving tech adoption that helps keep the public safe
Project spotlight: FirstNet

Ten years ago, asking government to augment critical communications systems with functionality to relay additional layers of information like images, video, and location data may have seemed an insurmountable task, but today its happening, thanks in large part to sophisticated mobile tools that are easily available in the consumer market. Government doesnt need to invent the smartphone it just needs to integrate with it. It'sproven to bea much lower bar to clear.
The federal agency known as the First Responder Network Authority (FirstNet) and its primary vendor, AT&T, are developing a national data network expected not onlyto enable interoperable communications across jurisdictions, but also put multimedia tools into the hands of first responders like police officers, firefighters and paramedics that can inform better decision-making in times of crisis. FirstNet describes its application ecosystem as a place where a rich new set of tools can be developed for public safety, enabling emerging technologies like the Internet of Things and wearable devices to help first responders deliver better service.
The preparation happening now at all levels of government is to ensure that public safety perhaps one of governmentsmost taken-for-granted services is operating firmly in the digital era. At the local level, this means upgrading 911 infrastructure to meet national standards on next generation 911, new technology to upgrade the public safety answering the points and allow people in trouble to report their emergencies using text, photo, video or social media.
The push to upgrade is largely driven by a recommendation from the NG911 Now Coalition, a group that recommends upgrades before the year 2020. And dozens of states and localities are making progress, including major urban areas like New York City and Chicago, while states like New Jersey and North Carolina also lead upgrades.
---
Online services are continuing to streamline backoffice operations and save money
Project spotlight: The Maine Online Sportsmans Electronic System (MOSES)

Devices that talk to the user, modern web designand artificial intelligence are emerging technologies thateach hold great promise for government, but sometimessimpler, plainer things canmake the biggest difference. The Maine Online Sportsmans Electronic System is a no-frillswebsite that allows residents and visitors to apply online for hunting and fishing licenses and permits. But since being deployed in 2016, that simple website has transformed how the state operates.
Entirely funded by statutory agent fees, the website now handles 40 percent of the states license and permit sales. The state reports that a shift to online sales has generated savings on printing and staff time. Since being launched, the state estimates the website has saved the state more than $1.5 million.
While stories like this are increasingly common Wisconsins Department of Natural Resources launched a similar system called Go Wild in 2016 there are still many government services for which there are no modern solutions and each instance represents a lost opportunity to improve efficiency and save money.
---
Digital government is supporting broader economic development and education initiatives
Project spotlight: Illinois Student Assistance Commission Student Portal

CIOs often talk about technology as an enabler, a reference to the idea that new tools and systems are meant to serve the missions of agencies that were there long before modern technology came along. The idea is that the technology serves the organization and never the other way around. And new technologies like the cloud and mobile devices are showing that they are capable of enabling those broader missions and goals of their administrations more effectively than ever before.
Technology doesnt only serve governments core services but can support economic development goals and needs in education, too. A web application developed by the Illinois Student Assistance Commission called the Student Portal is perhaps one of the shiniest examples of this principle. The application is designed to serve as a central location for hosting higher education planning materials for students, families and schools.
The state reports that by moving off a third-party solution to custom solution informed by research with local high school students, its new portal, which came online in 2016, is not only a more thorough solution to the problems it was designed to solve, but it is also saving the state $500,000 annually.
In 2017, the state reported it was seeing exponential growth, having already reached 8,000 unique users who were coming to the portal for information about services available and to plan their futures and eventually enter the workforce.
---
Mobile apps are supporting public health
Project spotlight: Pennsylvanias myCOMPASS PA app

After discovering that more than 80 percent of its target users were also smartphone users, the Pennsylvania Department of Human Services began developing a mobile application in 2016, called myCOMPASSPA, that it hoped would improve customer service, reduce processing times, and facilitate the delivery of health services more efficiently. Since launching in March 2017, the state reports that it has done all of those things and has even saved $910,000 through paperwork reduction and backoffice processing work. The state projects that at the current rate of adoption, the efficiencies created by the app will save the state $3.2 million annually.
While cost savings and operational efficiency are a big draw for management, helping to meet the mission of a health and human services department is one of the most relatable and qualitative missions on governments agenda. Gov. Tom Wolf praised the app after it was released for how it is driving efficiency in government, but most of all, the state says its proud of the way its new process puts the people at its center.