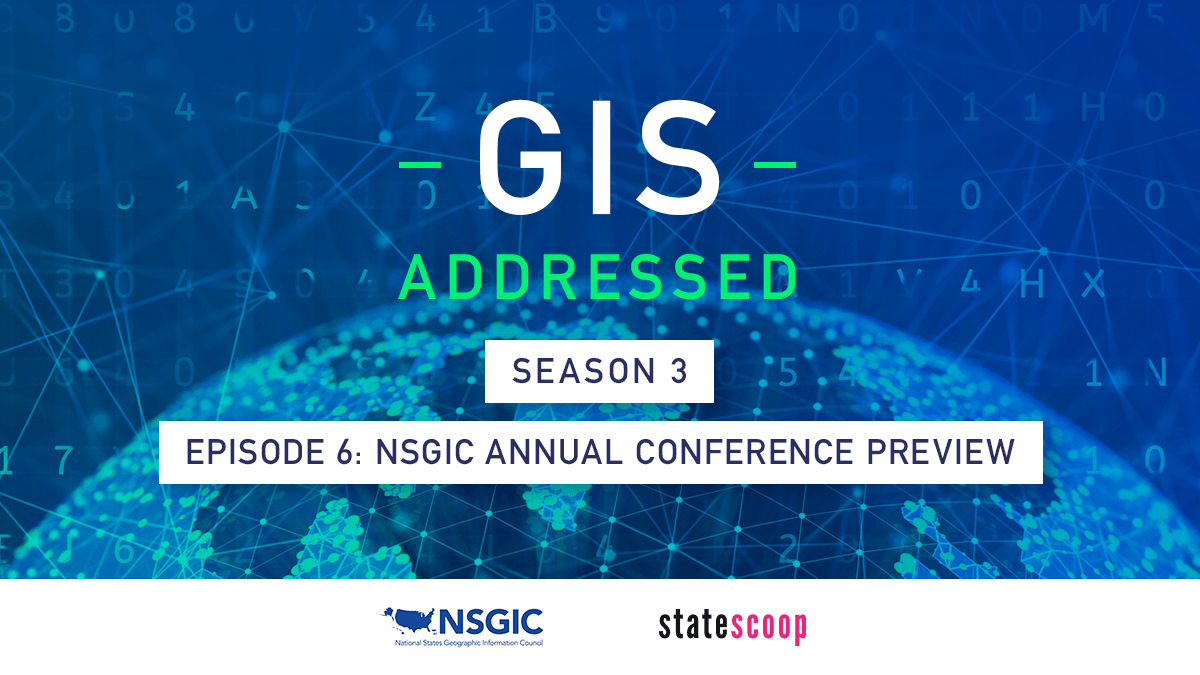 In virtual conference, NSGIC to highlight GIS in COVID-19 response
As industry conferences everywhere move to virtual settings, the National States Geographic Information Council is also preparing to hold its annual summit at a distance next week.
Originally scheduled to be held in New Orleans, the conference is intended to be as immersive as possible, organizers said, with ample time for networking and social activities. NSGIC leadership is encouraging attendees to behave as if they were traveling to the conference — which traditionally begins with breakfast sessions as early as 7 a.m. and has networking and reception opportunities into the late hours of the evening. For attendees, that means an emphasis on not trying to sneak in work activity while only half-paying attention to sessions.
"We've worked with our members and partners to create a really dynamic experience," Molly Schar, NSGIC's executive director, says on StateScoop's GIS Addressed podcast. "I think we've turned a corner in terms of leveraging technology to meet and collaborate and build relationships [with virtual collaboration tools]."
The timing of the conference couldn't be more key, Schar says, because geospatial information systems are playing central roles in states' responses to the coronavirus pandemic.
"I think this situation has really reinforced the importance of the role of the state GIO and GIS in providing those data-driven decision making tools in real time," Schar says. "I think there's a recognition that GIS is not just useful in analysis after the fact, but in real time, too."
On an episode of GIS Addressed earlier this year, GIS officials in Maryland and Montana also said GIS played a role in how their states established real-time coronavirus data dashboards to help track the spread of the virus. Applications of GIS like these are among the pressing topics to be covered at next week's online event, Schar says.
"It's not that we went from an in-person meeting and it's now the same meeting in an online format," she says. "It's really meant reinventing, reimagining what it means to come together as a community and learn from one another, and lean on one another."
On this episode:
Molly Schar, executive director, NSGIC
Jake Williams, associate publisher, StateScoop
Things to listen for:
NSGIC is looking at the next six or seven years into the future and strategizing about what societal changes and public health changes will be on the horizon so that it can inform future programming.
That foresight, Schar says, is a combination of "forecasting" and "soul-searching," and it's something happening not just at an association like NSGIC, but across the entire professional landscape.
The conference features plenary sessions, deep dives on technology and specific use cases, as well as on-demand content for attendees, in addition to networking time.
Turning the corner into a more virtual, collaboration-friendly world will change the way associations like NSGIC operate, Schar says, but could also enhance the amount and level of communication between members.
"One of the brighter notes, I think, is seeing how much grace so many of us are extending to each other and how much we're able to embrace this as a learning experience, how some of that polish and veneer has faded a bit in a good way. We're seeing each other as human beings who are doing our best in challenging circumstances," Schar says.
NSGIC's annual conference is free for members of the association. Registration and other pricing is available here.
GIS Addressed is a podcast from StateScoop and the National States Geographic Information Council about the role of geographic information systems in government. Catch up by listening to Season 1 (2018) and Season 2 (2019).
Catch all of StateScoop's podcasts on Soundcloud, Apple Podcasts, Spotify, Google Play, Stitcher or Alexa's TuneIn.