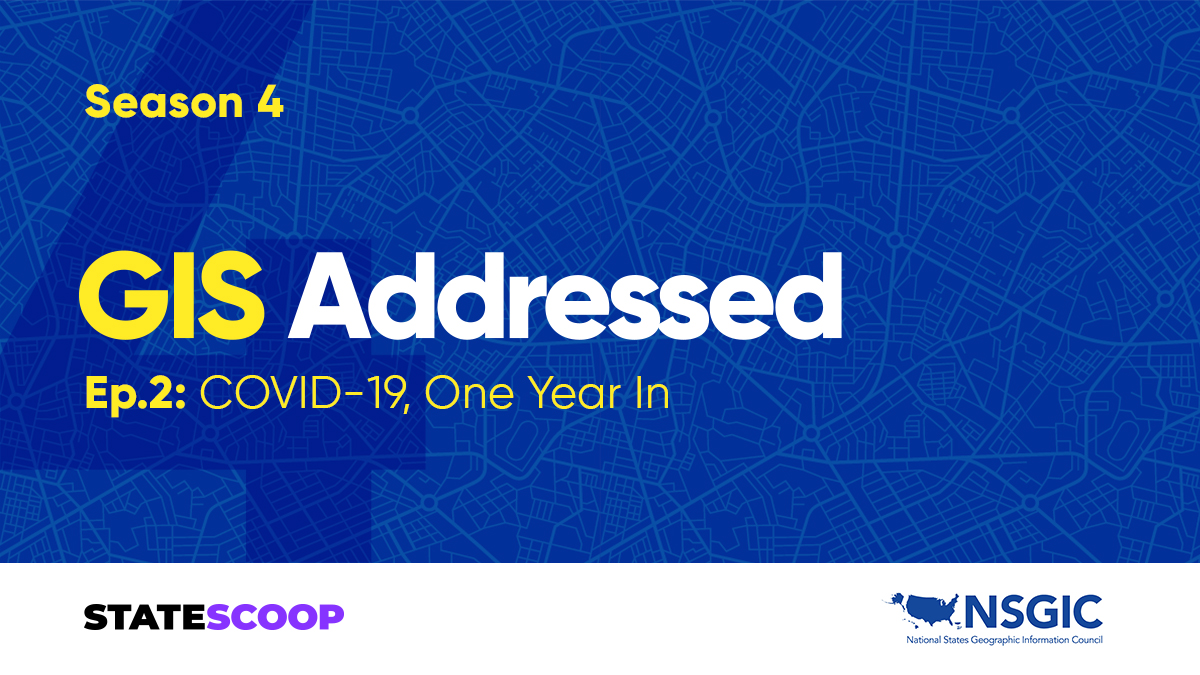 COVID-19 brought GIS 'into the limelight,' state officials say
The coronavirus pandemic bolstered the role of technology officials, including geospatial information systems professionals, within state government. And after 13 months of response, GIS leaders are still finding their roles are as pertinent as ever.
"We had an opportunity a year ago to step into the limelight," Maryland Geographic Information Officer Julia Fischer says on GIS Addressed. "We hit the gas and haven't hit the brake since."
In Maryland, Fischer led development of the state's COVID-19 dashboard, which evolved into a hub for residents to get information on how the pandemic was affecting the state. Since the launch of the website — which includes information on testing, vaccines and public-health guidelines — it's reached millions of visitors seeking an authoritative source of information.
"We're just very honored to have been able to continue to provide and participate in the solutions," Fischer says. "We continue to look to the weeks and months ahead to offer transparency within funding, within economic development, as well as some of these additional ancillary support features and functions. It's all because [state leaders] have seen the power and potential that GIS has to offer."
Erin Fashoway, Montana's GIS coordinator, says on the podcast the pandemic accelerated her state's use of automation technologies and demonstrated a need for additional GIS staff.
"We really just took our workflow, and we just reduced the amount of time we were spending on daily updates. We introduced automation and it really just changed things drastically," Fashoway says. "We went from being under the gun to getting information out there within minutes."
Fischer says the heightened exposure GIS officials received during the pandemic now offers a new opportunity.
"We are in a bit more of a steady state regarding our support," Fischer says. "The position has really been seen as a leader representing the state at the national level, and I want to make sure that my voice is amplifying the voice of the community and not the voice inside my own head."
On the podcast:
Julia Fischer, geographic information officer, Maryland
Erin Fashoway, state GIS coordinator, Montana
Jake Williams, VP – Content and Community, StateScoop & EdScoop
This story is part of StateScoop & EdScoop's special report on one year of the COVID-19 pandemic.
GIS Addressed is a podcast from StateScoop and the National States Geographic Information Council about the role of geographic information systems in government. Catch up by listening to  Season 1 (2018), Season 2 (2019) and Season 3 (2020).
Catch all of StateScoop's podcasts on Soundcloud, Apple Podcasts, Spotify, Google Play, Stitcher or Alexa's TuneIn.