Arizona launches digital ID pilot at motor vehicles division
Arizona's Motor Vehicle Division has announced a pilot program to begin accepting digital IDs at its drivers services center in Scottsdale.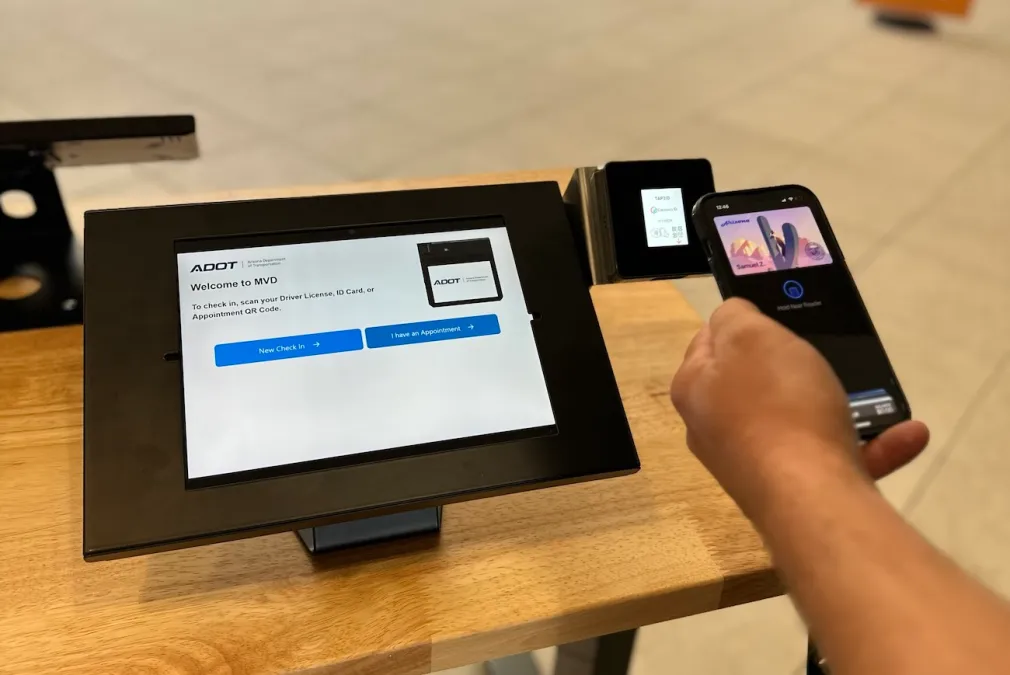 Arizona's Motor Vehicle Division on Thursday announced a new pilot program that will allow its Scottsdale branch to begin accepting digital IDs next week.
Even though digital IDs were first rolled out in Arizona in 2021, there weren't many places that accepted them. As a result, residents were still encouraged to carry their physical IDs for other instances that require identity checks, like liquor stores and encounters with law enforcement.
"Now, [the first digital ID] wasn't designed to be a driver license, it was just designed to be a electronic form of identity," Eric Jorgensen, Motor Vehicle Division director at the Arizona Department of Transportation, told StateScoop. "But it was very useful, and it allowed us to do things that we otherwise couldn't do online, allowed the customer to do it."
In 2022, Apple announced that Arizona would be the first to have its driver's licenses and state IDs offered in its Wallet app. To further the adoption, the state partnered with the Transportation Security Administration to begin accepting digital IDs as part of the airport security screening process at Phoenix's Sky Harbor International Airport.
The state is now deploying digital ID readers on a pilot basis, starting at the Scottsdale MVD. They'll allow residents to check in by tapping their mobile devices. The reader — or Tap2ID — solves what Brian Shell, a senior partner at Kyndryl, the Arizona MVD's systems integrator, called "a chicken and the egg situation."
"If there's not enough adoption, organizations and companies don't necessarily want to invest in the receiving network. But if there's not a receiving network, then citizens are kind of like, well, it's a novelty, but where do I use it?" Shell said.
Selective sharing
The MVD's Jorgensen said the reader, which also incorporates technology developed by mobile biometric and credential authentication provider Credence ID, also allows residents to maintain a higher level of privacy. Handing over a physical ID currently means handing over additional personal information that might not be relevant to the purpose of identification. The reader only displays relevant information, he said.
"So like, if it is a bar, what do they need to know? They need to know you're over 21, they don't need your birthdate, they don't need your address, they don't need any of that other information," he said. "So now that you're only sharing that piece of information, but to do that, you do have to have a reader."
The digital IDs will eventually also be able to provide identity verification for more complex transactions within an MVD, such as transferring car titles, he said. Jorgensen said that this summer, the MVD will begin to roll out kiosks where residents using their digital IDs to identify themselves as buyers and sellers, and transfer titles between parties without interaction with MVD staff.
"That's what we call letting the humans do the human work, and the robots do the robot work," Jorgensen said. "A lot of our staff will say, are robots gonna take my job, and the answer is no — we've got plenty of work to do."
Future uses
While not all MVDs in the state are slated to receive a reader for contactless check-in — Jorgensen said some of the state's 44 MVD offices are better suited for in-person only services — they are exploring installing them where the processes and office flow make sense and would benefit from the option.
And even though the readers are only being piloted in MVDs for now, Shell said that in the future, Kyndryl hopes to get the readers adopted as part of the normal technology landscape. However, he said, their focus right now is on getting the technology off the ground.
"I could see lots of scenarios where this [technology] would make sense, from the rental car industry, to the grocery store industry to alcohol and any kind of age verification sales," he said. "It's obviously already being used in some airports. The banking industry I think could make use of it. There's a lot of places out there that I think this would make sense for."