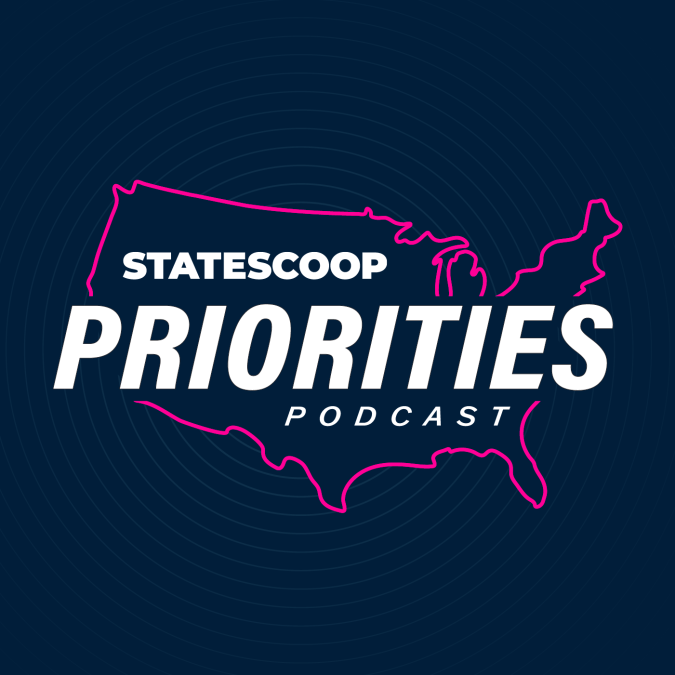 Maryland CIO to focus on 'clarifying' enterprise services
On the Priorities podcast, Maryland CIO Katie Savage says she plans to offer agencies more clarity on enterprise services the state's IT department offers to other agencies.
"There's a lot of value that we can provide at the enterprise level," Savage says. "We want to make sure that agencies know what we offer, and where they're better positioned than we are to support their own agency."
The focus on enterprise services builds on Savage's experience in the federal government. Before her appointment in January by Maryland Gov. Wes Moore, Savage was director of the Defense Digital Service, the Pentagon's software-development and and user experience office.
"I come from the digital service world, I'm really excited to bring product management, product design, UX, UI, data science and engineering talent to [Maryland's IT office]," Savage says.
Also on the podcast, StateScoop's Lindsay McKenzie offers an update on the FCC's new broadband map, and Matt Behrens, Iowa's state CIO, joins the show to talk about local government cybersecurity collaboration. Cisco's Mike Witzman, a 2023 StateScoop 50 Award winner, also joins the show to highlight how industry leaders can help states work through their workforce challenges.
In the news this week:
North Carolina has a new chief risk officer. Torry Crass will become the state's new cybersecurity lead. He previously worked as CISO for the North Carolina State Board of Elections. Crass fills the vacancy left last winter with the retirement of former chief risk officer Rob Main.
Virginia will drop college-degree requirements for the majority of state government in July, including positions within the Virginia Information Technologies Agency. The change will cover nearly 90% of the commonwealth's hourly and part-time jobs and is part of Gov. Glenn Youngkin's efforts to mitigate workforce issues and improve hiring processes.
The U.S. Labor Department is making more than $650 million in funding from the American Rescue Plan available to states to help modernize their unemployment insurance systems. The announcement is the latest in several rounds of pandemic relief funding from the Labor Department and is designed to target fraudulent unemployment claims that tallied up to at least $60 billion during the pandemic.
StateScoop's Priorities Podcast is available every Thursday. Listen more here.
If you want to hear more of the latest across the state and local government technology community, subscribe to the Priorities Podcast on Apple Podcasts, Google Podcasts, Soundcloud, Spotify and Stitcher.