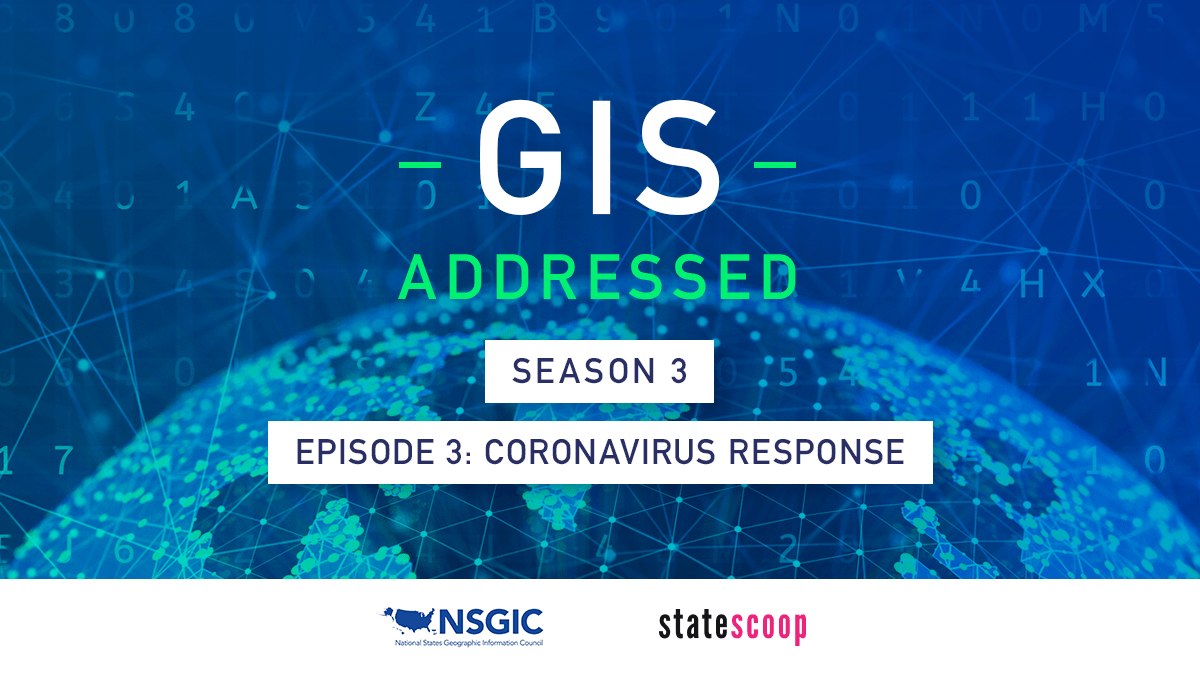 GIS plays critical role in states' response to coronavirus pandemic
Geospatial data is at the core of how states are responding to the coronavirus pandemic, experts said on the latest episode of StateScoop's GIS Addressed podcast.
"We have a unique opportunity," Julia Fischer, Maryland's geographic information officer says on the podcast. "GIS is more than just dots on a map. It's been a little stressful, as you can imagine … but we are honored to have the opportunity to utilize our talents and the platforms that we have available to support the response to this event."
In Maryland, the state's coronavirus response website is built on Esri's ArcGIS platform, which displays a map of where cases have been confirmed throughout the state, while links direct users to information on the illness itself, details about the importance of social distancing and a frequently asked questions page.
As part of Montana's response to the pandemic, Erin Fashoway temporarily left her desk as the state GIS coordinator at the state library and moved into the state emergency coordination center to serve as its full-time GIS staff support. Fashoway had previously been building "story maps," maps that are accompanied by text, to brief state government officials on the pandemic. Now, those maps are being shared on state's coronavirus portal.
"[State leaders] have seen what the power of GIS can do, they've just been asking for more, they're hungry for GIS," Fashoway says. "Honestly, being able to dive in and use [the data] real-time to support disaster relief has just been phenomenal."
Fashoway has also used an Esri surveying tool to gather data from local and tribal officials on actions they are taking in the wake of the pandemic. Gathering that data has enabled Fashoway to map in near real time the facility closures and changes in service status across the state.
"All this is being used by the COVID-19 Governor's Task Force to make their decisions, to see what's going on and basically take the pulse of some of these items that we're currently monitoring," Fashoway says.
In Maryland, Fischer says she has been aided by the state's emergency management agency, which has a team of GIS analysts who roll out services as they're needed. But the true power of the services the state is deploying, she says, comes from its ability to be maintained by non-GIS leaders.
"Much of the content [on the maps] is actually being maintained by non-GIS people from the Maryland Department of Health," Fischer says. "The fact that they were able to be hands on … it didn't feel like GIS, it felt like editing. We're just getting started."
On the podcast:
Julia Fischer, geographic information officer, Maryland

Erin Fashoway, GIS coordinator, Montana

Jake Williams, associate publisher, StateScoop
Things to listen for:
Maryland's GIS-powered coronavirus response site didn't cost state taxpayers a single dime. Instead, it was built on a platform the state had already purchased and didn't involve any additional features that would have come at a cost to the state (4:08)

Montana's already-existing spatial data infrastructure has been a great resource for the state as it responds to the coronavirus pandemic. (8:17) 

The collaborative relationship between Maryland's Department of Information Technology and Maryland's Emergency Management Agency helped state government officials deliver GIS resources rapidly and with the correct data right off the bat. (12:10)

After the initial response to the coronavirus outbreak is over, Fischer and Fashoway say they hope that GIS will continue to be a part of the way their respective states respond to disasters (24:38)

GIS can also be used in how the state responds to the after-effects of the coronavirus pandemic, including its effects on the economy and workforce. (34:11)
This is part of StateScoop and EdScoop's special report on coronavirus response. Read the rest of the report.
GIS Addressed is a podcast from StateScoop and the National States Geographic Information Council about the role of geographic information systems in government. Catch up by listening to Season 1 (2018) and Season 2 (2019). 
Catch all of StateScoop's podcasts on Soundcloud, Apple Podcasts, Spotify, Google Play, Stitcher or Alexa's TuneIn.